Heading towards retirement comes with making some big decisions about your super – such as how to manage your super savings and how to choose the best strategy for your ideal retirement.
You've worked and saved hard to build a super nest egg for your retirement. Now that you're starting to think about the next stage of your life, it's important to think about how you want to manage your money. You could be retired for more than 20 years, so choosing an option to keep growing your money is something to consider.
First, take the time to understand when you can access your super and the entitlements you could be eligible for, such as the Government Age Pension.
When you can access your super and the Government Age Pension
The minimum age you must reach to access your super is your Preservation Age, and it varies depending on the year you were born. But don't forget, there are other conditions1 you need to meet to access your super, such as:
Your Qualifying Age is the age you can access the Government Age Pension, if you're eligible, and it's slightly higher than the Preservation Age for super.
READ MORE: AM I ELIGIBLE FOR THE GOVERNMENT AGE PENSION?
4 options to consider to help manage your super in retirement
Below are some common options to consider when deciding how to manage your retirement savings.
1. Leave it in your super account until you need it
Many people start using their super savings as soon as they retire, but it's not legally required. If you have other income sources or savings to live on, you could leave your savings in your super account. This means your money stays invested and could continue to benefit from investment returns.
2. Take your balance as a lump sum
You may choose to take your super as a lump sum and manage it yourself. This can be done by withdrawing your super and putting it into a bank account. Once that's done you could manage your money in several ways:
Use a savings account
Taking your super as a lump sum means your money is in the bank. In doing so, you may consider putting some of this into a savings account or term deposit to receive interest.
However, it's important to remember that interest rates on savings accounts are at an all-time low right now2, so your savings may not keep up with rising costs of living due to inflation. It's also worth considering that if you withdraw your super as a lump sum, depending on your age and contribution caps, you might not be able to get it back into super (and therefore an account based pension) later if you change your mind.
Invest in property or shares outside super
There could be opportunities to earn returns from investing in assets such as property or shares outside of super. Personal investing success can depend on the market conditions and your risk appetite, and requires a high level of knowledge and expertise – and often time – to get right. It's worth considering that you won't benefit from the concessional tax rates on earnings that come with investing in super too.
For some people, becoming an investor makes for a new focus once they finish up at work. While for others, it can add pressure and get in the way of enjoying their retirement So, consider speaking to a financial adviser to help you decide if this is right for you.
Set up an SMSF (Self-Managed Super Fund)
Established by an individual, couple or family, SMSFs are a means of looking after your own super savings. You can choose your own investments and make provisions to draw an income from your SMSF after you retire – similarly to having an account based pension with your super fund.
Managing your own superannuation, and even that of your family members, can be an appealing idea for some people. But it involves a lot of work, expertise and tax administration, and can come with some risk.
READ MORE: SELF-MANAGED SUPER FUNDS: WHAT YOU NEED TO CONSIDER
3. Start a Transition to Retirement strategy
Making a transition to retirement – rather than completely stopping work – gives you the flexibility to get ready for retirement based on your needs.
An AustralianSuper Transition to Retirement (TTR) Income account helps if you want to work fewer hours by balancing out your reduced salary with payments from your super. Or you can use a TTR account to reduce the amount of tax you pay on additional contributions to your super.
READ MORE: TRANSITION TO RETIREMENT IN YOUR WAY
4. Open an account based pension
An account based pension keeps you in control of your super balance in retirement by allowing you to take your super as a regular income payment – just like when you were working.
There's a lot that goes into investing your super wisely to ensure it delivers the best possible retirement outcome. In most cases, making successful investment decisions requires financial expertise and a strong knowledge of how to manage risk.
AustralianSuper's global investment team of more than 170 experts manage $188 billion in assets on behalf of 2.3 million members3. This capability has resulted in AustralianSuper's Choice Income Balanced option ranking as one of the top performing funds over 10 years4.
FIND OUT MORE: CHOICE INCOME ACCOUNT BASED PENSION
The difference an account based pension could make
Let's look at the example of Sunil and Pia, both aged 65 and both have a super balance of $75,000 when they retire.
Sunil works as an IT services manager, and when he retires he puts his super balance into a savings account. He budgets well and makes sure he's careful about how much he withdraws each fortnight.
Pia works as a nurse and opens a Choice Income account with AustralianSuper when she retires. She likes the benefit of keeping her super invested and knows she has the flexibility to withdraw extra money anytime she wants.
Now, let's consider the difference Choice Income could make. Sunil and Pia's fortnightly income payments and Government Age Pension payments are the same. But because Sunil's money is put into a savings account – instead of staying invested with Choice Income – his balance runs out 7 years before Pia's.
How an account based pension ensures your super can go the distance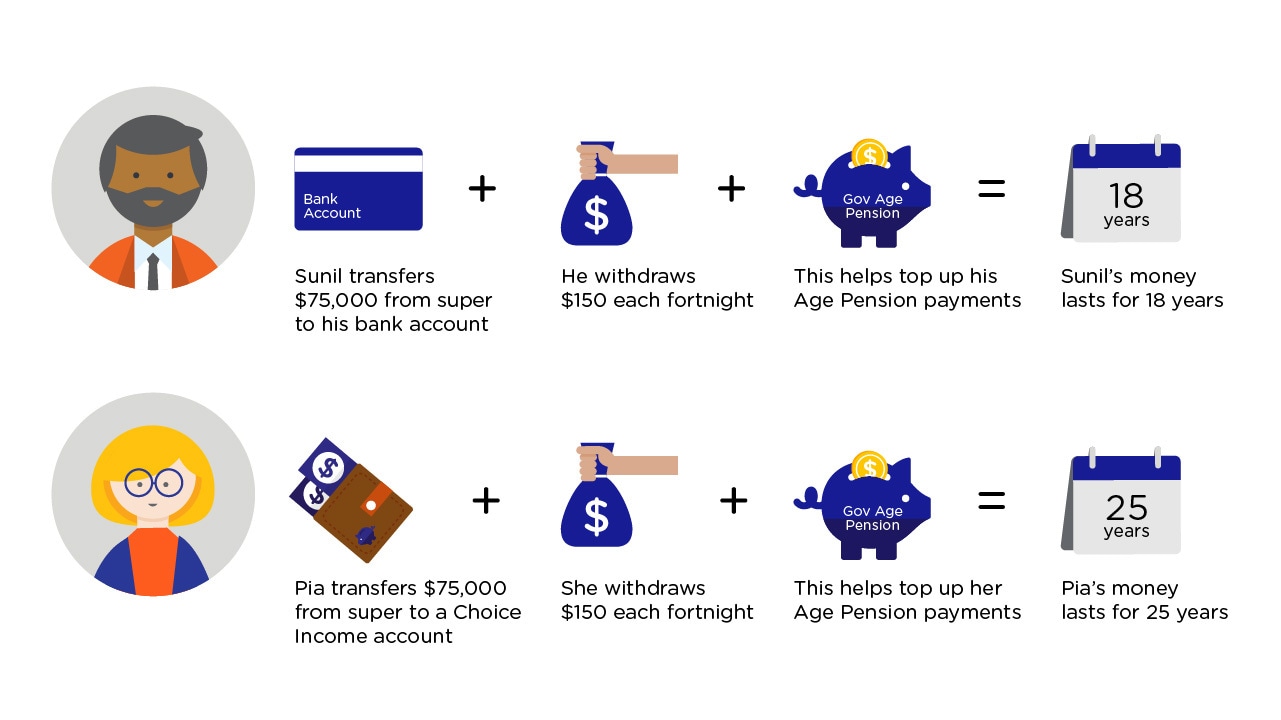 To make the calculations, the following assumptions were made. Choice Income account returns are 6% a year and bank interest is 3% a year. (a mixture of term deposits and cash). The income increases each year in line with inflation of 3.5%. No fees from the regular bank account. We've included the competitive fees of $117 a year plus 0.11% of a member's balance for a Choice Income account. The projection is only an estimate and isn't a guarantee. The actual benefits you receive will depend on a range of factors including future economic conditions, investment performance and legislative change.
The above comparison highlights how important it is to decide what to do with your super when you finish working, and how it can shape your retirement.
READ MORE: SUPER FUND OR BANK ACCOUNT – WHAT TO CHOOSE IN RETIREMENT
Manage your money your way
Whatever your plans for retirement, it's good to know you can use your super to receive a regular income after you stop working. Plus, you can be confident in the fact that your super balance stays invested, where it could keep growing thanks to compounding investment returns.
Choice Income is an award-winning
5
account based pension with a history of strong, long-term performance, with the Balanced option returning an average of 9.60% a year over the past 10 years
6
.
EXPLORE OUR ACCOUNT BASED PENSION TODAY
The benefits of Choice Income
You're in control of your super. You can decide how much income you want to receive and how often. And you can withdraw extra money from your super balance to pay for bills, holidays or unexpected expenses whenever you need it.
You can keep growing your super and control how it's invested. Choose from a range of different investment options, from PreMixed and single asset classes to picking listed securities, exchange-traded funds or term deposits. Assets – including property, super, savings and investments.
Investment earnings are tax free. Payments from your account based pension are also tax-free from age 60, too. Before you turn 60, you may receive a 15% offset for the tax you pay on your income payments.
Choice Income's history of strong, long-term performance is worth considering when planning for retirement. By staying invested, you could help your super balance last longer – and stay in control of your money.
Notes & Sources:
1. To withdraw your super, you must meet a condition of release under super law.
2. RBA Cash rate November2020, RBA rate 0.1%
3. As at 30 September 2020.
4. Investment returns are not guaranteed. Past performance is not a reliable indicator of future returns. Top 10 performing fund for the 10 years to 30 September 2020, based on returns for the AustralianSuper Choice Income account. Balanced investment option compared to the SuperRatings Pension Fund Crediting Rate Survey — SRP50 Balanced (60–76) Index. Returns are updated daily for all AustralianSuper investment options here.
5. Received the Canstar 5-Star Rating for Outstanding Value Account Based Pension in 2020. Awards and ratings are only one factor to take into account when choosing a super fund.
6. Returns for the Choice Income account 6. Balanced Option as at 30 September 2020. Investment returns aren't guaranteed. Past performance isn't a reliable indicator of future returns.
This information may be general financial advice which doesn't take into account your personal objectives, situation or needs. Before making a decision about AustralianSuper, you should think about your financial requirements and refer to the relevant Product Disclosure Statement. AustralianSuper Pty Ltd ABN 94 006 457 987, AFSL 233788, Trustee of AustralianSuper ABN 65 714 394 898.