Having to retire unexpectedly can put a dent in your retirement plans and knock your confidence. But you may be more ready than you realise – both financially, and in terms of embracing your new lifestyle. Find out how to prepare for an unexpected retirement.
A significant number of Australians retire before they intend to. According to the Australian Bureau of Statistics (ABS), the average age people plan to retire is around 65 years old. But the actual average retirement age is closer to 55 years1.
Unexpected circumstances such as redundancy, ill health, being unable to find work, or having to care for a loved one are all reasons retirement can come sooner than planned.
Planning your perfect retirement
The ideal retirement will look different for everyone. For some, it's a holiday every year or a campervan road trip. For others, it's volunteering in the community or simply spending more time with the grandchildren. Either way, some planning and goal setting can really help.
4 actions to take for an unexpected retirement
1. Review your current financial position
If you had to retire today, how is your retirement balance looking? Knowing how much money you could have available if you stopped work unexpectedly is a good first step in your planning.
Consider your assets when you're reviewing your finances, as well as any government assistance. For example:
your superannuation
any savings you have
income from personal investments such as shares or property
your eligibility for the Government Age Pension (this can be accessed when you reach your qualifying age, approx. age 65.
2. Calculate your living expenses
Once you understand your assets and income sources, it's a good idea to calculate your living expenses to estimate how much you'll need to spend each year in retirement. This often includes bills, food and entertainment, holidays, insurance home or car repairs, and health expenses.
It can be hard to know how much super is enough to last you in retirement, or if your savings will give you the lifestyle you want. Try a tool like the super projection calculator to help you see how much income you could have in retirement and how adding extra money to your super could increase your balance over time.
TRY THE SUPER PROJECTION CALCULATOR
3. Know when you can access your super
Super is usually held back until you reach a minimum age called your preservation age. This is set by the government. Currently, the preservation age is between 55 and 60, depending on when you were born.
Calculating your preservation age
| birth year | age you can access your super |
| --- | --- |
| Before 1 July 1960 | 55 |
| 1 July 1960 to 30 June 1961 | 56 |
| 1 July 1961 to 30 June 1962 | 57 |
| 1 July 1962 to 30 June 1963 | 58 |
| 1 July 1963 to 30 June 1964 | 59 |
| 1 July 1964 or after | 60 |
To access your super you need to have reached preservation and also:
have permanently retired, or
want to transition to retirement while you're still working, or
have changed jobs on or after turning 60, or
have turned 65 (even if you're still working).
In some cases, such as financial hardship, compassionate grounds, or if you're a temporary resident who's leaving the country, you may be able to access your super early before your preservation age.
4. Explore how to turn your super into a regular income – account based pension
If retirement comes unexpectedly and you've reached preservation age you have a few options. These include taking your super as a lump sum or moving it to a specially designed retirement account, such as an account based pension. With an account based pension you can:
Receive regular income payments from your super – similar to receiving a salary or pay-check from your employer
Access extra money from your super for whatever and whenever you need
Keep your money invested where it has more time to grow.
FIND OUT MORE: ABOUT THE BENEFITS OF AN ACCOUNT BASED PENSION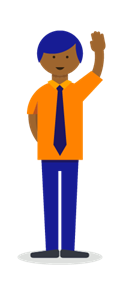 Example case study: Jim's story
Jim, 58, had to retire in 2020, 7 years before he planned to because of health issues. While he was happy to stop working and focus on his health, it meant he had less money put aside for his retirement than he'd intended.
Before he stopped working, Jim earned $80,000 a year (before-tax), plus the Superannuation Guarantee (SG) contributions from his employer, which were 9.5% at that time. This meant $7,600 was added to his super balance each year.
Retiring 7 years earlier than expected meant Jim had 7 years less super than he had planned. Over those 7 years his SG payments would have added up to $53,200. He would also have earned compound returns on that money, meaning it would have grown his super balance further.
Having reached his preservation age – and being permanently retired – Jim chose to open an account based pension with AustralianSuper, Choice Income, and draw a regular income to cover his living and health expenses. This means he can keep his super invested with the potential to grow, which could help to make up for the 7 years of SG payments lost.
The following assumptions were made in the example above: No salary increase over 10 years. The amount in SG paid was 9.5%.
HOW INVESTING IN RETIREMENT CAN HELP GROW YOUR RETIREMENT INCOME
Get professional financial advice
Retiring earlier than planned means relying on your super for longer. This can be daunting, but don't worry. It can help to speak to a professional adviser, who can help you understand and feel more confident in your finances. It's often hard to see what's possible, but the earlier you start planning, the more control you will have.
For AustralianSuper members, there are several education and advice options available, including free retirement webinars. These provide an insight into planning and managing your finances. We also offer members different types of advice to suit the level of help you're looking for. This ranges from simple super advice to putting you in touch with a trusted and qualified financial adviser.
EXPLORE YOUR RETIREMENT ADVICE OPTIONS
Feel confident as you approach retirement
Retiring unexpectedly can be stressful and knock your confidence. But, as shown in the AustralianSuper-Monash University Retirement Confidence Index (RCI), retirement confidence is about a mix of 4 key factors:
Financial awareness and skills
Health and wellbeing
Social connectedness
Retirement awareness and planning.
Dr Eraj Ghafoori, a behavioural economist at AustralianSuper, says it's a common belief that if you don't have enough money by the time you retire, you're in real trouble. But that's not necessarily the case.
Explore the Retirement Confidence Index to see how Australian's feel about retirement.
---
Investment returns are not guaranteed. Past performance is not a reliable indicator of future returns.
This information may be general financial advice which doesn't take into account your personal objectives, situation or needs. Before making a decision about AustralianSuper, you should think about your financial requirements and refer to the relevant Product Disclosure Statement available at australiansuper.com/pds. AustralianSuper Pty Ltd ABN 94 006 457 987, AFSL 233788, Trustee of AustralianSuper ABN 65 714 394 898.