The Australian Industry Group (Ai Group) advocates for Australian business, representing the interests of over 60,000 businesses, which employ more than 1 million Australians.
The Ai Group's Business Prospects report surveys CEOs from companies across Australia, combining the views of more than 250 leading decision-makers and industry leaders.
AustralianSuper sat down with AI Group Chief Executive Innes Willox to talk about the 2020 report.
'While Ai Group's latest survey reaffirms an immediate outlook for the economy that is flat at best, we can secure our future economic prosperity with timely and multifaceted action to address substantial headwinds,' he says.
The conversation covers a wide range of topics, including business sentiment, the factors that feed into it, and what Willox sees as the biggest challenges facing businesses.
Innes Willox – 2020 Business outlook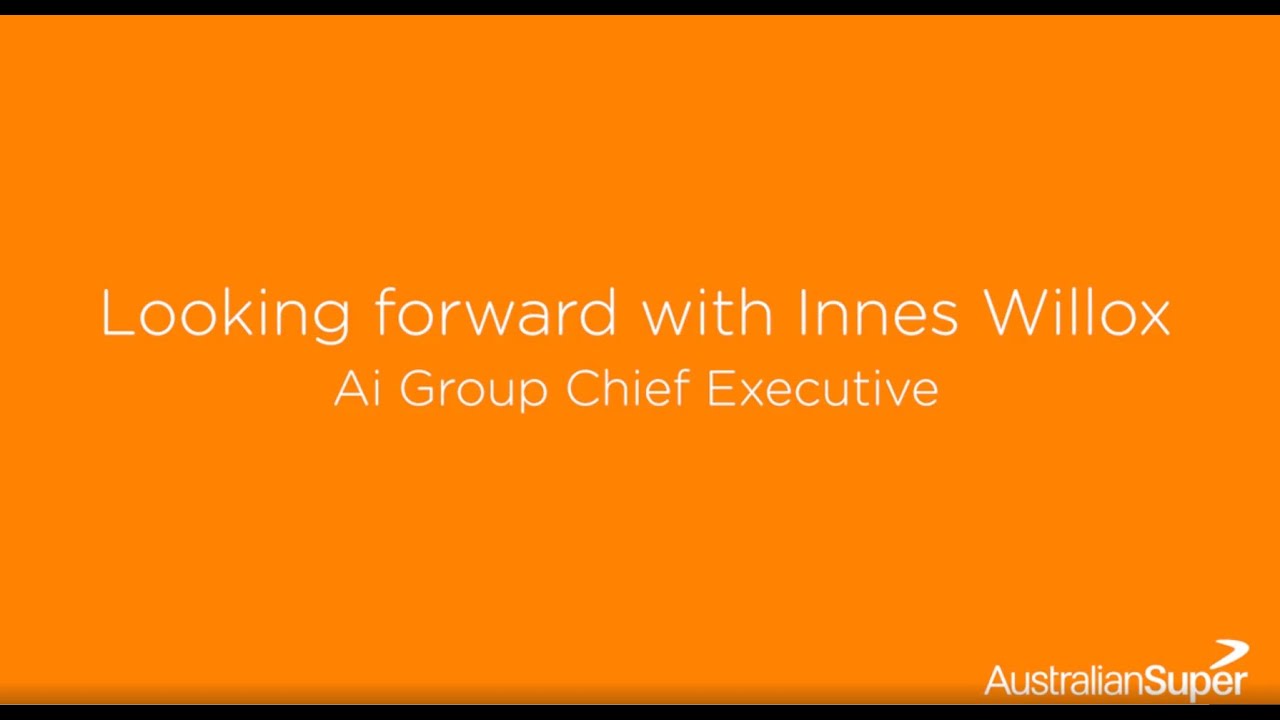 Show Transcript

Hide Transcript

What are the Ai group's main concerns for 2020?

Well we've got a few. I mean, we think 2020 can be, overall, a pretty positive year. So the concerns are this, the economy is in a slow patch. We say we're in a period of slowth, slow growth, and we have been for a while. The resources sector is still very strong. And that's driving a lot of that growth, particularly through resources exports. But for the rest of the economy, we're seeing, that things are just sort of I'd say just puttering along. What do we see as the big challenges? Still things like energy costs, energy costs were enormous burden for business, at the moment. Regulatory uncertainty continues to be a problem, incentives to get companies to invest in R&D, research and development, is a big concern. And we're not seeing businesses really wanting to do that, and that would give us another boost to our economy if we could stimulate that. And the big concern underlying it all is ongoing consumer confidence issues, consumers not spending. We saw through the last round of tax cuts, that about 80% of that money that was allocated for tax cuts went on paying down debt. Which is fine, but it's not productive. I was at an event this week, with John Chambers, the former head of Cisco, big global company. And he said, the one country around the world that gives him concern at the moment is Australia, because we've had 30 years of uninterrupted growth, for a range of factors, and we've gone through a lot of waves in that time. But you get into a complacency, as he put it, around just wanting to keep doing the same things, because it's worked in the past, and if you just keep doing the same things, the world will overtake you.

And given what you've just described, how can public policy evolve to better support businesses going forward, and, what will the Ai group be advocating for in the public policy space in 2020?

So, at Ai group, we talk to government and opposition at both federal and state level all the time on a range of policies, so, and policy objectives, so where are we focusing at the moment? As I mentioned, energy policy, tax, R&D, skills and training. We haven't even got into this conversation yet around the skills for the workforce of the future that we'll need. Education policy, all of these areas are front and center of what we're doing every day of the week to advocate for Australian business as a whole. And, what we're trying to do is, in a non-partisan way, is to shift or nudge these debates along. Recognising that if we don't get some certainty in those sort of policy fields or we don't get a clear direction or we don't get agreement between state and federal governments, always, or often a big problem, then you're not gonna get that policy certainty to allow business to invest and to make wise, considered decisions. The point we keep making to governments is that capital truly is mobile, it doesn't have to come to Australia, we don't have a God-given right to be an investment centre. We have to work for it, and, we have to earn it. As one member CEO said to a very senior minister when I had a meeting with them, 'My company headquartered overseas is not going to invest in Australia because the sun shines. We need to see that there are real policy settings in place to attract us here.' So there's the sort of things we're advocating for.

Innes, thank you so much for talking to us here at AustralianSuper, and here's to a very robust 2020 for Australian business.

Let's hope so. It can be good.
Interview conducted January 2020.
READ THE FULL REPORT: NATIONAL CEO SURVEY
About Ai Group
Innes Willox is an Employer appointed Director of AustralianSuper. The Australian Industry Group (Ai Group) is a peak employer organisation representing traditional, innovative and emerging industry sectors. They are a national organisation which has been supporting businesses across Australia for more than 140 years. To read more about Ai Group visit
aigroup.com.au
.
---
The views expressed are those of the interviewee based on their experience and expertise, and not AustralianSuper. Before deciding on AustralianSuper read the Product Disclosure Statement at australiansuper.com. AustralianSuper Pty Ltd ABN 94 006 457 987, AFSL 233788, Trustee of AustralianSuper ABN 65 714 394 898.