In the first half of 2020, the COVID-19 pandemic delivered significant impacts to economies, financial markets, and businesses across the globe. As the Australian economy starts to reopen, we take a look ahead to understand what the road to recovery might look like. AustralianSuper's Global Economist Mark Tierney provides a forecast on the economic outlook for the remainder of 2020, June - December.
Over the 3 months to March 2020, the Australian economy shrank slightly. Official forecasts from the Reserve Bank of Australia (RBA), however, show that GDP is expected to decline in the June quarter possibly by as much as 10%.
Tierney says it's not just the scale of this downturn that's a concern, it's also the fact that it's occurring so quickly and with so little warning.
Australia's GDP is expected to fall
The economic downturn has resulted in significant weakness across many financial markets, particularly those which are considered higher risk, such as stocks and corporate bonds. The rise in volatility in these markets further increased investor uncertainty.
Australian share market volatility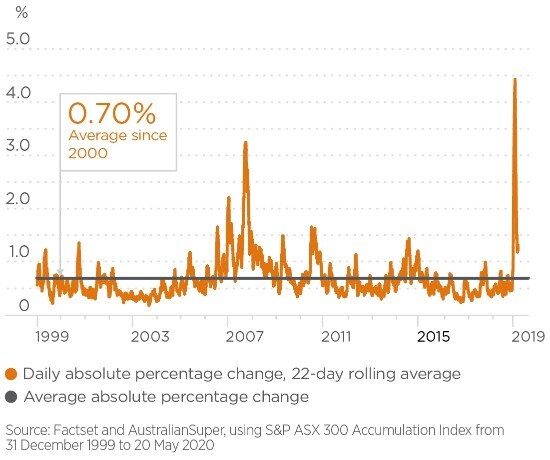 Policies in response to COVID-19
Around the world, central banks and governments have acted quickly to put in place policies to address the economic challenges.
In Australia, interest rates have dropped to record lows. The Reserve Bank of Australia (RBA) reduced its policy interest rate to 0.25% in March 2020 and bought government bonds to lower longer-term interest rates. Additionally, the Commonwealth Government implemented massive fiscal stimulus focused on supporting employment across both businesses and employees.
Employment and hours worked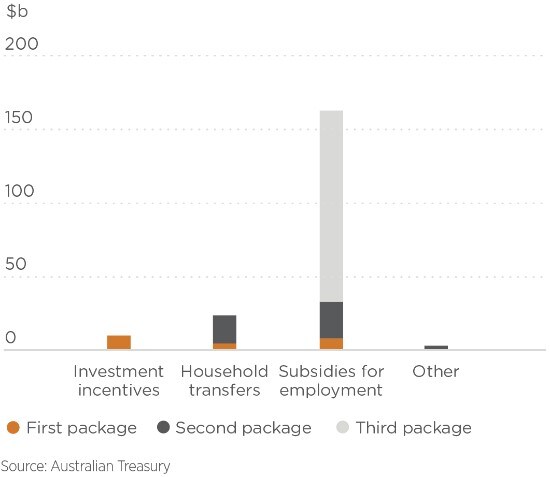 Employment in Australia expected to recover slowly
Tierney expects that despite the Australian economy starting to reopen through June, we're not yet past the low point. Unemployment should peak around June and July, possibly reaching 10% before it declines. It's worth noting, however, that without government support in the form of the JobSeeker and JobKeeper payments, this figure would have been much higher.
From around July onwards, employment should start to rise as businesses reopen, although the speed of the employment recovery will differ between industries.
READ MORE: RE-OPENING THE ECONOMY – WHAT DOES IT MEAN FOR SUPER INVESTMENTS
Companies with employees in contact with the public, and therefore at greater risk of catching coronavirus, may find that their road to recovery is slow in comparison to businesses with little to no public interaction. As a result, the anticipated improvement in the level of employment for the remainder of 2020 is low.
However, Tierney says that we're likely to see a faster recovery for the total number of hours worked. Many Australian workers have had their work hours cut by more than 20% since March, at least, and this reduced hour working week is likely to continue. The JobKeeper program gave some support to businesses, but RBA forecasts suggest that these hours are unlikely to bounce back until the latter half of 2020.
Announced fiscal stimulus in Australia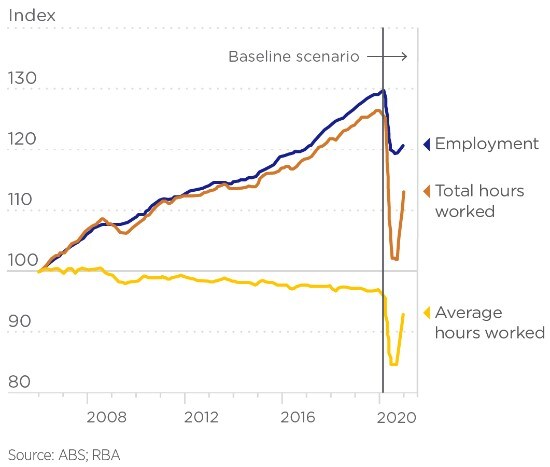 It's predicted that the level of both employment and hours worked will be lower at the end of 2020 than it was before the COVID-19 pandemic hit. It's likely to take years before employment numbers and the unemployment rate return to this starting point. Given this fragility in the labour market, both monetary and fiscal policies will have to provide ongoing support for the economy.
Fiscal policy is uncertain because the Commonwealth Government is sticking to its original timetable and planning to end the JobKeeper program at the end of September 2020. This timetable may need to change unless employment growth is much stronger than expected.

Interest rates expected to remain or go lower
There's greater certainty that interest rates will remain at current levels or will go lower. The RBA has stated that it will not push its policy rate much lower, and it remains opposed to the introduction of negative interest rates. If more interest rate support is needed, the RBA could try and implement more unconventional monetary policies to lower market interest rates such as mortgage rates or business loan rates.

Australian cash rate target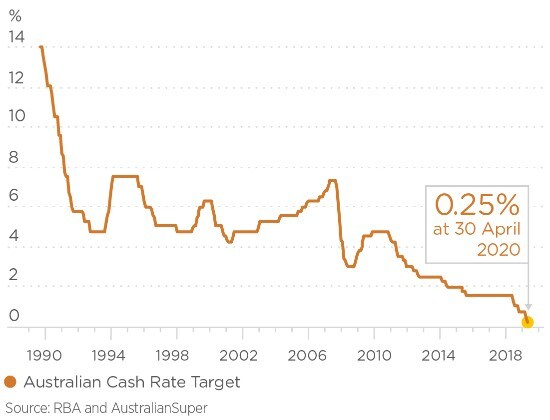 If Australian economic growth is slower than expected, the RBA could be forced to introduce negative interest rates. However, this is a decision that would not be done lightly.
How is AustralianSuper responding to the economic downturn?
In preparation for a possible economic downturn, the Fund had been reducing risk in the investment portfolio since December 2018, while increasing the weight to international equities relative to Australian equities. Together with the strategy to capitalise on a weaker Australian dollar, this active management has offset some of the sharp decline in Australian equities.
Even when including the severe weakness in many financial markets in March 2020, the Balanced option still returned 8.52% per annum for the 10 years to 31 May 20205.
WATCH NOW: INVESTMENT PERFORMANCE UPDATE WITH CHIEF INVESTMENT OFFICER


Liquidity has also been an important issue, partly because of the government's decision to allow temporary early access to super for those who have suffered severe financial hardship as a result of the coronavirus (and were eligible).
The liquidity of assets is monitored daily by the Fund's investment team to ensure that each investment option meets its liquidity requirements, while remaining aligned to its long-term investment strategy. Though as a precaution, cash levels in the Balanced option were raised slightly.
READ MORE: UNDERSTANDING LIQUIDITY AND YOUR SUPER
Central bank policy stimulus has also helped to suppress financial market volatility since March. Because there may be positive news on a vaccine or, alternatively, a second wave of infections, we could see short bouts of volatility over coming months. If so, our Investments team will be looking to take advantage of any market uncertainty to seize opportunities that are in line with our long-term investment philosophy to deliver maximum returns for our members.
FIND OUT MORE: HOW AUSTRALIANSUPER INVESTS
Sources:
Australian Share Market Volatility graph from FactSet and AustralianSuper, using S&P ASX 200 Accumulation Index from 31 December 1999 to May 2020
Announced Fiscal Stimulus chart from Australian Treasury
Employment and Hours Worked graph from ABS and RBA data
Australian Cash Rate Target graph from RBA
AustralianSuper Balanced Option returns as at 31 May 2020
* Investment returns are not guaranteed. Past performance is not a reliable indicator of future returns.
This has been prepared and issued in May 2020 by AustralianSuper Pty Ltd. The content is of a general nature and does not take into account any individuals' personal objectives, situation or needs. Before making a decision about AustralianSuper, individuals should consider their financial requirements and read our Product Disclosure Statement, available at australiansuper.com/pds. While all reasonable effort has been taken to ensure that the information is correct at the date it was prepared, the information is subject to change. AustralianSuper does not take responsibility for any action that may be taken as a result of receiving this communication.
AustralianSuper Pty Ltd ABN 94 006 457 987 AFSL 233788, Trustee of AustralianSuper ABN 65 714 394 898
Compare Us
Choosing the right fund could mean more money in the future, giving you more confidence in your long-term retirement plan performance.
Find out more