Paying super is an important part of your responsibilities as an employer with your contributions forming an essential part of your employee's retirement savings. And AustralianSuper is here to help.
Employer super contributions – what you need to know
Do you need to pay super?
As an employer, you're legally required to pay a minimum level of super which is known as the Super Guarantee (SG) of 10.5% of your employee's before-tax wage, if they are 18 years or older from 1 July 2022.
If your employee is under 18, they must also have worked at least 30 hours in a week in that calendar month to be eligible for super, regardless of how much you pay them.
Reportable superannuation contributions
Employers who make extra super contributions for their employees must report these through Single Touch Payroll (STP) or on the employee's annual payment summary.
This applies when an employee asks you to deduct money from their pre-tax income, and pay it into their super fund as salary sacrifice.
Learn more about reporting requirements
How much super to pay
Your super payments – called Super Guarantee contributions - must be paid into a complying super fund at the rate of 10.5% of your employee's ordinary time earnings. These are before-tax earnings based on an employee's ordinary hours of work, and generally exclude overtime. The SG rate will rise incrementally until 1 July 2025 where it will be 12%.
These increases aim to reduce financial pressure on the Age Pension, off-set Australia's ageing population and improve financial outcomes at retirement.
Calculate how much super you have to pay
When is super due?
You're required to pay super for eligible employees from the day they start their employment by the quarterly super due dates.
You can choose to make payments more frequently - fortnightly or monthly for example. If you do, you'll need to ensure you pay your total super guarantee (SG) contribution for the quarter by the due date.
Super due dates
You'll find the quarterly payment due dates in the table below. When a super due date falls on a weekend or public holiday, you can make the payment on the next business day.
| SG quarter | Date payment due |
| --- | --- |
| 1 July - 30 September | 28 October |
| 1 October - 31 December | 28 January |
| 1 January - 31 March | 28 April |
| 1 April - 30 June | 28 July |
What happens if you miss a super payment?
Employers who don't make the minimum SG contributions required on behalf of eligible employees risk having to pay the Super Guarantee Charge (SGC), a charge imposed under the Superannuation Guarantee (Administration) Act 1992. The charge is made up of the super guarantee that's owed, interest on the outstanding amount and an administration fee. Paying super on time also means you can claim the payments as a tax deduction. and avoid late penalties.
Five steps to managing super payments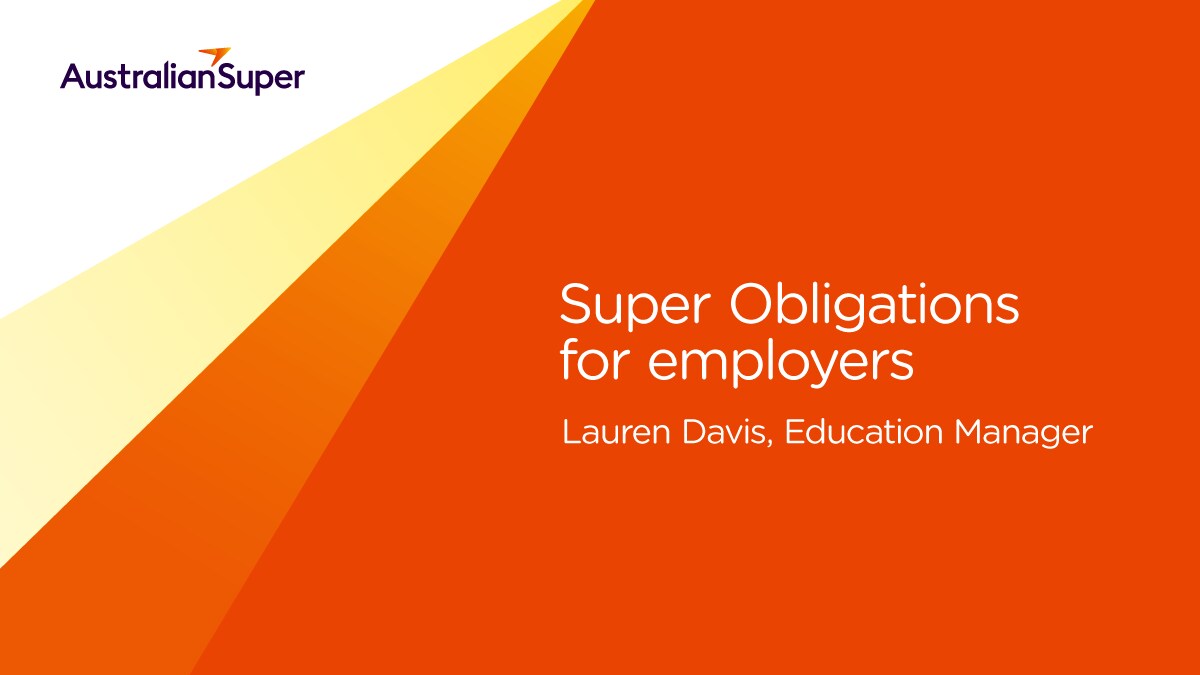 Show Transcript

Hide Transcript

Hello and welcome to this quick snapshot of Super rules for employers and how we at AustralianSuper can help.

I'm Lauren Davis and I'm an education specialist with AustralianSuper.

Before we start, I'd like to begin by acknowledging the traditional owners of the land on which we meet today. I'm speaking on the land of the Wurundjeri people of the Kulin Nation. I'd also like to pay my respects to Elders, past, present and emerging.

As an education specialist, I work with business owners and employers across many different industries and backgrounds, from small and local to medium and large global enterprises.

There's a lot of passion and dedication I see every day, which brings me to super – something I'm passionate about!

We at AustralianSuper recognise that although super is our main priority, it might not be yours. Growing your business and looking after your people has to come first. And that's something that has become even more challenging over the last 18 months or so.

Well, the good news is, we're here to help make the super part easier for you. So what is super and why is it important?

The super you pay on behalf of your employees is money that's saved for them to use in their retirement, when they may use it to supplement other forms of income like the age pension or savings.

Super can make a big difference to the lifestyle people have in retirement, and that's why it's a legal requirement under Super Guarantee - Government legislation.

So what are the responsibilities when it comes to super?

Well, all employers must make super contributions for eligible employees. Generally, this includes employees who are 18 years old or over.

For employees who are under 18, they'll generally be entitled to super if they're working more than 30 hours a week.

On your choice of default fund, - choosing one that has a history of strong long-term returns, low fees and puts members first is always a good option!

You'll then need to set up an electronic payment system to pay super.

For employers that use AustralianSuper, you'll have access to QuickSuper*, a clearing house offering participating employers a secure online payment solution.

The next step in setting up your super is to offer your employees the option to choose their super fund and also keep records to show that you've done so.

If your employee makes a choice at this point, you simply pay super into the fund they've chosen, which could be your default super fund.or a fund of their choice.

If your employee doesn't fill out the Superannuation standard choice form, you'll need to pay super into their stapled super fund, or, if they don't have a stapled fund, the fund that is stipulated by your EBA or workplace agreement.

If there is no stapled fund for the employee and no Fund stipulated by an EBA or workplace agreement, you can pay their super into your businesses default super fund.

And finally, Once your employee gives you their tax file number (TFN), you must pass it on to their super fund within 14 days of the employee giving you the form or when you make the first Superannuation Guarantee contribution on their behalf. You may be fined $2,220 if you're late providing an employee's TFN.

And that's the end of our overview.

I'd like to finish by saying that we're here to help. If you have any questions, would like to explore some scenarios, or obtain some more detail on the super rules and your business, please get in touch.

You can call us or email us through using the 'Contact us' button at australiansuper.com/contact-us

And please, provide us your email details so we can keep you up to date with super updates and news.

On behalf of AustralianSuper, thanks for joining us.
Frequently asked questions
What if my circumstances change and I don't need to pay super?

There are a number of reasons you no longer need to pay super for an individual staff member or group. It may be that your worker are seasonal or no longer work for you. Whatever the reason, keeping AustralianSuper informed is always a good thing so we don't expect the payment to come in and believe you have fallen into arrears. Here are some common circumstances and what to do:

When employees leave your business, or have irregular works patterns (casuals and seasonal workers for example), email us with the relevant details. This may include termination dates for employees who have left. Or, let us know if your employees are casual or seasonal and aren't entitled to super payments for a period of time.

You don't need to make any contributions for the period in question – Let us know by submitting a nil contribution advice form

You've recently changed ABN or your businesses has multiple entities - Email us to let us know if one of these entities is now making payments under this employer number or if employees are being paid under a new ABN so we can update our records.

Your business has ceased trading - Email us to notify us of the date your business ceased trading.

What is super stapling and where can I find more information?

Starting from 1 November 2021, the government's super stapling measure means working Australians will be attached to one super fund for life unless they choose otherwise. Employers need to request a new starter's 'stapled fund' details from the ATO if they if they don't nominate a fund for their super contributions.
Choose  AustralianSuper as your default fund
*QuickSuper is a registered trademark and a product owned and operated by Westpac Banking Corporation ABN 33 007 457 141. Westpac's terms and conditions applicable to the QuickSuper service are available after your eligibility for the free clearing house service is assessed by AustralianSuper. A Product Disclosure Statement (PDS) is available from Westpac upon request. AustralianSuper doesn't accept liability for any loss or damage caused by use of the QuickSuper service and doesn't receive any commissions from Westpac if employers use this service. You can choose to make your contributions using a different service, but it needs to meet the government's minimum data standards as legislated in Stronger Super reforms. To learn more about Stronger Super visit
australiansuper.com/StrongerSuper
or visit
ato.gov.au