Superannuation (or 'super') is money set aside while you're working to support your financial needs in retirement. Your super is invested in a range of assets to help grow your balance so you can have the best possible retirement outcome.
How superannuation works
If you're eligible*, from the moment you start working your employer will need to start contributing to your super.


Your super savings can grow because your employer pays a compulsory sum of money into your super account. This sum, called the Superannuation Guarantee, is 10.5% of your before tax income.


You can add more money to your super by choosing the option that works best for you like before or after tax contributions#.


When you join AustralianSuper, you'll automatically be invested in the Balanced option, unless you choose another investment option.


Your super account can also come with different types of insurance cover that you can access if you're unable to work due to illness or injury. Cover includes Total & Permanent Disablement Income Protection and Death.


As you get closer to retirement, you can transition from your super account into a Choice Income account to pay yourself a regular income in retirement.
*To be eligible for super you must be 18 years or older. If you're a private or domestic worker, or are under the age of 18 you must work more than 30 hours per week.
#
Before adding to your super, consider your financial circumstances, contribution caps that may apply, and tax issues. Salary sacrifice may affect some Government benefits and employee benefits. Consider getting financial advice before deciding what's right for you.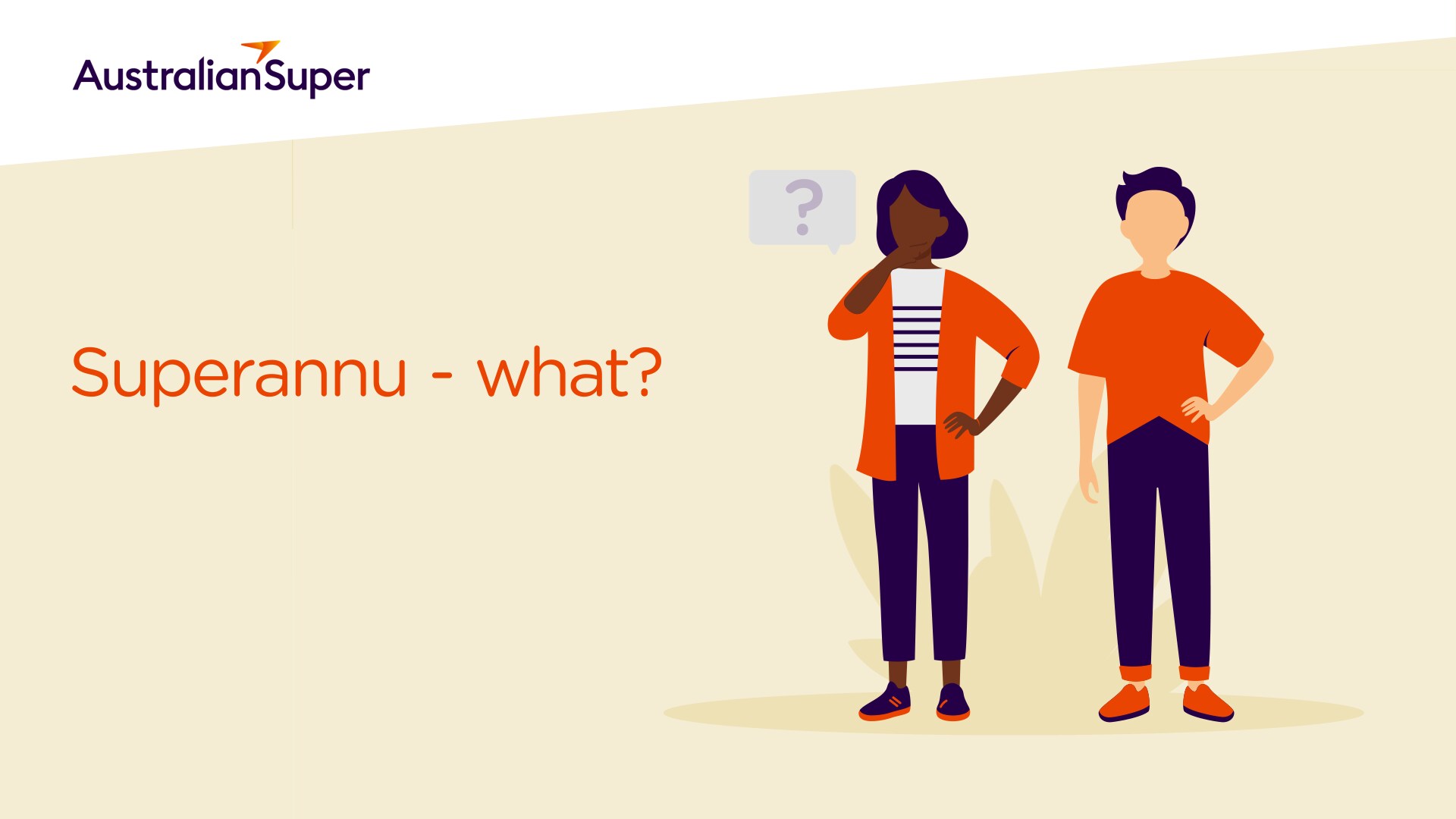 [0:00]

Superannu... What? You've heard the term, you've seen it on your pay slips, but what does superannuation actually mean?

Super or superannuation is money set aside while you're working that you can access later on when you retire so you can enjoy life when you stop working.

So how does it work?

[0:22]

When you have a job, your employer pays your salary and puts some of that money, 10.5% or more, into a super account where it is invested for you until you retire.

These investments are managed by expert teams who invest your super in a range of assets and stocks to deliver the best possible long-term returns.

[0:43]

You can choose which super fund you want your money going into or you can go with your employer's choice. This choice could make a big difference to how much super you end up with so it's important to compare super funds.

When comparing funds, you should consider each super fund's long-term investment performance and fees to ensure it can deliver the most for your future.

[1:11]

It's also a good idea to consider having one super account so you're not paying multiple fees. You can consolidate your super if you have multiple accounts and remember to take it with you when you change jobs.

[1:26]

Most funds provide insurance cover along with your super account. This will offer a basic level of protection in the event of injury, illness or death. It can also help protect you and your loved ones financially.

[1:40]

The idea of retirement might seem a long way off but there are a few things you can do now to ensure your future is taken care of.

One, make sure your super fund has your tax file number or TFN so you don't pay more tax than you need to.

Two, tell your employer which fund you want your super paid to.

Three, keep your details up-to-date so your super fund can contact you with important information about your account.

[2:11]

Being in control of your super is super important. That's why AustralianSuper offers expert advice, education, and resources when and where you need it; online, face-to-face or over the phone.

To learn more, visit australiansuper.com

Find out more about how super works with AustralianSuper.

[2:34]

End transcript
I'd like to learn more about…