How does AustralianSuper compare?
Choosing the right fund can mean more money when you retire. We make it easy to compare super funds and account-based pension products, so you can feel confident in the future you've worked so hard for.
How your fund performs over the long-term makes a big difference to your retirement outcome. At AustralianSuper, we focus on what that means for the net benefit of your super. This is what your overall financial position could be after investment earnings and fees.
Super performance
Pension performance
Our history of strong performance and low fees has given members an advantage over the long term. The following table compares AustralianSuper's net benefit against others. This shows investment earnings to 30 June 2019 less admin and investment fees, and it's one of the best ways to see how funds stack up.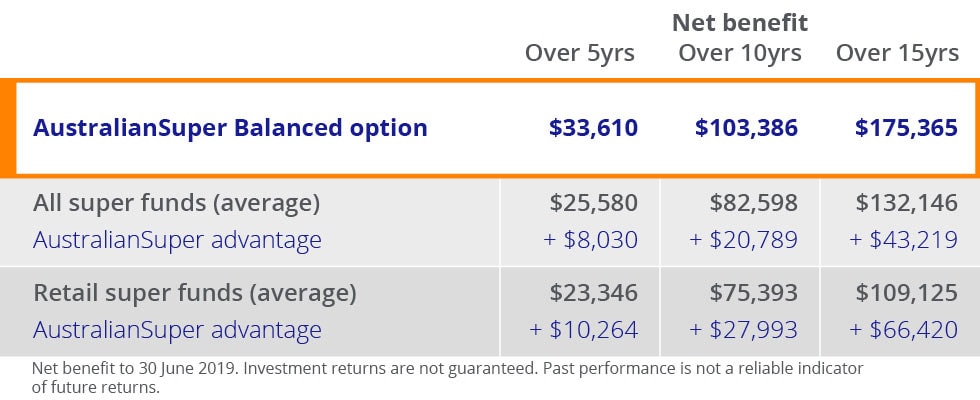 See the 'Net benefit methodology' below.
The comparison shows what a member would have for 5, 10 and 15 years to 30 June 2019, in addition to a $50,000 starting balance and employer contributions, assuming they started with a $50,000 annual salary.*
*Net benefit methodology

Crediting rates are the investment return less investment fees, the percentage-based administration fee (applicable from 1 April 2020) and taxes. Investment returns aren't guaranteed. Past performance isn't a reliable indicator of future returns.

Comparisons are modelled by SuperRatings, commissioned by AustralianSuper. Modelled outcome shows the average difference in 'net benefit', a measure of past investment earnings after administration and investment fees and taxes have been taken out. The results compare the AustralianSuper Balanced option and the main balanced options of funds tracked by SuperRatings that have a comparable option and performance history, for historical periods to 30 June 2019. The model uses return and fee data that is submitted to SuperRatings. Insurance premiums and other fees and costs may apply. Outcomes vary between individual funds. See Assumptions for more details about modelling calculations and assumptions. The comparison does not consider the new percentage component of the administration fee of up to 0.04% pa of your total account balance which was introduced from 1 April 2020. This fee is deducted from investment returns daily before they are added to your account.

Returns from equivalent investment options of ARF and STA are used in calculating AustralianSuper's returns for periods that begin before 1 July 2006. Investment returns are not guaranteed. Past performance is not a reliable indicator of future returns.

Note: the comparison uses data for periods to 30 June 2019. From 1 April 2020, the AustralianSuper administration fee for super (accumulation) account holders increased. See australiansuper.com/feechanges for more details.
I'd like to learn more about…
Joining us is easy
Find out how you can join a community of over 2.2 million members working towards the retirement they deserve.
How to join
---
Past performance is not a reliable indicator of future returns.
+AustralianSuper received the Canstar 5-Star Rating for Outstanding Value in Superannuation and Account Based Pension in 2018. Full methodology available here https://www.canstar.com.au/star-rating-reports/superannuation. Ratings are only one factor to be taken into account when choosing a super fund.