We know that a strong economy helps support business profits and growth. After a year of big disruptions to the way we live and work, many businesses are uncertain about the health of our economy and what to expect in the months ahead. AustralianSuper's Global Economist - Mark Tierney shares his thoughts on current economic conditions and his outlook for 2021, to help you and your business plan with greater confidence.
To help us assess the strength of our economy, we look at a wide range of statistics or economic indicators. Some of the most important indicators include gross domestic product (GDP), employment, wages growth, inflation, consumer and business confidence and business growth.
While we can expect some bumps in the road to economic recovery, a review of these indicators suggests the Australian economy is strengthening.
Australia's Gross Domestic Product is now growing
The gross domestic product (GDP) growth rate is one of the most important indicators of the health of an economy. It measures the value of all goods and services produced in a country. The rate of GDP growth is an indication of whether an economy is growing or facing a recession.
After the COVID-19 outbreak in the first half of 2020, Australia experienced a sharp decline of 2.4% in its gross domestic product (GDP). Australia's GDP increased 3.4% over a 3-month period (1 July to 31 September 2020). A rise of 3.1% followed in the period 1 October 2020 to 31 December 2020.
The Australian economy staged an impressive turnaround in late 2020 and in early 2021. This is thanks to initiatives such as the COVID-19 vaccination roll-outs, low interest rates and government stimulus programs like JobKeeper and JobSeeker.
Recovering the losses of Australia's GDP in early 2020 should be achievable in the short term, based on these insights. The long-term outlook is also positive. It's expected that Australia's GDP will rise by about 4% in 2021 and 3% in 2022.
If this proves to be correct, then the recovery in the Australian economy will be considerably stronger than looked likely in the middle of 2020. This will help deliver growth for many Australian businesses.
Australia's GDP growth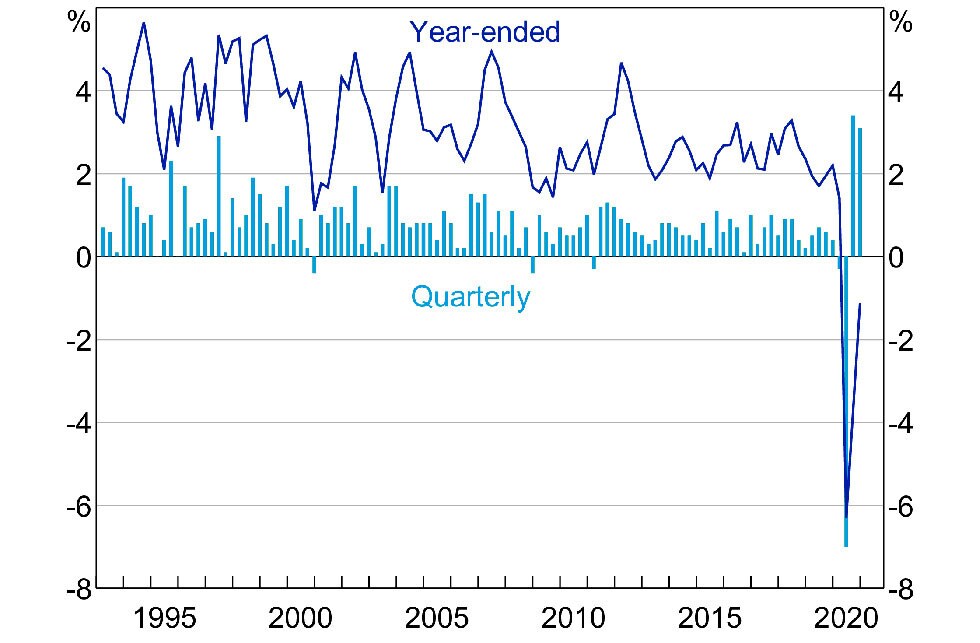 Source: ABS Data Released on 7 April 2021 (data updated to 1 April 2021).
Consumer and business confidence levels are rising
The National Australia Bank monthly survey shows that business confidence is now approaching a record high. Business confidence rose 4 index points in February, to +16 index points, its highest level since early 20101.
The rise in consumer confidence is great news for businesses as it's likely to support increased spending which will flow through to business growth. As with GDP, we're seeing significant improvement in both business and consumer confidence.
This has of course followed a collapse in confidence a year ago, and the current setbacks on the vaccination rollout across the country may prove to be a problem. However, the underlying trend is much better than expected.
Many businesses are growing
Many businesses – especially those connected with health, technology and health equipment manufacturing – are experiencing strong growth. Another stand-out sector is housing. This is experiencing a boom across the country.
The combination of low interest rates and direct government support in the form of the federal government HomeBuilder program is boosting demand for both new and existing homes. This is leading to high levels of home building and extraordinary increases in house prices.
Parts of the retail sector are also doing well, thanks to government programs like JobKeeper and JobMaker during the pandemic and the strong improvement in the labour market. Services held back last year, like hotels and restaurants are likely to show stronger growth in 2021.
While we're seeing growth in many sectors, this is not the case across the board. Sectors connected with tourism and international travel are continuing to feel the pain of on-going travel restrictions and border closures.
Employment is lifting but wages growth is weak
With the help of federal government actions, including significant spending on infrastructure projects and programs like JobMaker and HomeBuilder, employment levels in Australia are improving quickly.
The trend is expected to continue as the Australian economy grows. This will support even stronger consumer confidence and spending which should help fuel business growth.
While employment levels continue to improve, wages growth remains weak, especially in sectors like tourism. Given that improvements in wages growth will help support Australia's economic growth, the federal government is now focusing on policies to help lift wages. This includes monetary policies like low interest rates. The Reserve Bank of Australia (RBA) is indicating that official interest rates will remain at their extremely low levels until 2024.
Australia's employment and participation rates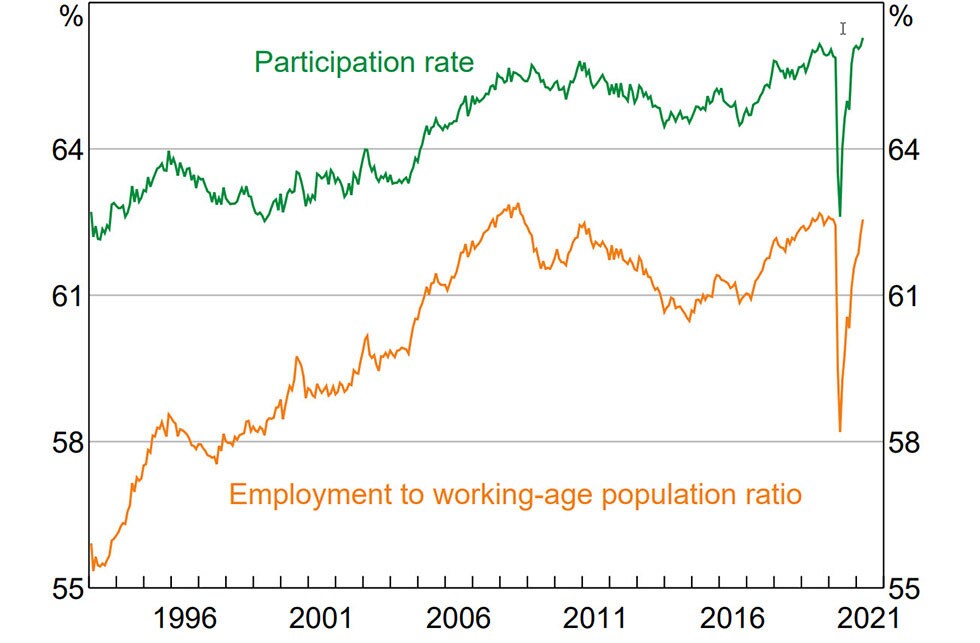 Source: ABS Data Released on 7 April 2021 (data updated to 1 April 2021).
Source: ABS Data Released on 7 April 2021 (data updated to 1 April 2021).
Another challenge for Australia's workforce is the level of unfilled jobs in industries that have relied heavily on international students for labour. This is despite continued unemployment among Australians. These weaknesses are pointing to an uneven outlook in our labour market – despite the encouraging rise in employment. And this is potentially the source of greatest uncertainty for Australian businesses.
The economic recovery is helping to grow employee super balances
As economies are growing across the world, investment markets are rising, helping to lift employee super balances.
For the 12 months to 31 March 2021, members in AustralianSuper's Balanced option (Super and TTR Income) have received a return of 21.95%.
This return means that the Balanced option has now recovered from the market downturn in 2020 and provided members with long-term returns of 9.06% per annum over 10 years.
READ MORE: MARCH INVESTMENT PERFORMANCE UPDATE
It's expected that economic growth, in Australia and overseas, will continue through 2021. So we've made some changes to the allocation of assets in the Balanced option. These changes will help us take advantage of potential growth opportunities for the future long-term benefit of members.
Here are some of the changes:
The portfolio now holds a higher allocation of growth assets like listed shares and private equity;
In the international shares portfolio we've lowered our exposure to defensive or interest rate sensitive shares;
Within Mid Risk assets, we now have a higher exposure to infrastructure assets and a reduced exposure to property investments – in line with the returns we're expecting for these types of assets;
The portfolio has a reduced allocation to foreign currency, as global reflation, higher commodity prices and strong economic recovery in Australia provide support for a higher Australian dollar.
Balanced option asset allocation position as at 31 March 2021

Footnote: The Trustee may alter the asset allocation or the composition of individual asset classes from time to time to suit prevailing market circumstances. Due to the Fund's different cashflow management approaches for Superannuation and Choice Income accounts, there may be a slight difference in the asset allocations for these options at any given time.
Sources:
NAB Group Economics - Monthly Business Survey: February 2021
This information may be general financial advice which doesn't take into account your personal objectives, situation or needs. Before making a decision about AustralianSuper, you should think about your financial requirements and refer to the relevant Product Disclosure Statement. AustralianSuper Pty Ltd ABN 94 006 457 987, AFSL 233788, Trustee of AustralianSuper ABN 65 714 394 898. Investment returns are not guaranteed. Past performance is not a reliable indicator of future returns.
---
Compare us
Choosing the right fund could mean more money in the future, giving you more confidence in your long-term retirement plan performance.
compare us