There are many myths about older workers. Most of them are outdated and do no favours to the older members of your workforce, or recognise the experience they bring to the table. In fact, a project led by worklife experts Transitioning Well for AustralianSuper has found the maturity these workers offer businesses can influence culture – as well as the bottom line.
Australia's population is getting older. This is likely to create both challenges and opportunities for organisations. So significant are these changes, the CSIRO named the ageing workforce as one of 6 'megatrends' in occupational health and safety over the next 20 years. Despite this, many Australian companies have been slow to engage with the realities of an ageing workforce.
A project initiated by AustralianSuper and work-life culture experts Transitioning Well is helping to highlight the issues. The Ageing Workforce Ready project (AWR) explores how to support workers' well-being as they move from late career stage into retirement. Transitioning Well is a national organisation that works with forward-thinking companies to support employees through a range of work-life transitions – including retirement. They provide guidance to assessing and improving practices within organisations.
If you manage an ageing workforce, consider the extra value older workers bring to your business, and how you can support them.
5 myths about older workers debunked
The AWR project explored and debunked some common myths about older employees in the workforce.
1. Myth: Mature age workers cost business more due to their experience
Common thinking is that mature age workers cost businesses more money due to their experience commanding higher wages. But the fact is older workers can help your business and save you money. The AWR project found increasing the number of workers aged over 50 by 10% adds $16 million in spending to the economy1.
The AWR project found increasing the number of workers aged over 50 by 10% adds $16 million in spending to the economy
Workers aged over 45 who stay in the same job is double the Australian average2. This gives you a more stable workforce and lowers your recruitment costs.
2. Myth: Older workers have lower productivity
Experience is a greater predictor of productivity than age. The key benefits of employing older workers is the significant experience they bring to the workplace and the professional knowledge they've acquired over many years3.
3. Myth: Older workers are more prone to health problems
In fact, workers over the age of 65 report the least number of work-related injuries and illnesses4. Additionally, those over 60 take fewer sick days5.
Workers over the age of 65 report the least number of work-related injuries and illnesses
4. Myth: Older workers don't understand technology
In fact, older people are the fastest growing users of technology. For example, 73% of people over 65 were internet users in 2019, compared to 14% in 20006.
Additionally, smartphone ownership and app usage in those aged over 55 reached 77% in 20187.
For many, forced working from home due to COVID-19 has tested and developed their technological skills. Whole workforces have embraced new online ways of working, with age being no barrier to how well people have picked things up.
5. Myth: Older workers are counting the days until they retire
Instead of counting down the days, the rising cost of living means people are staying employed longer. Australian Bureau of Statistics (ABS) data shows that 177,500 workers previously retired aged over 45 were either back at work or planning to return8.
Rising costs of living are a major incentive for older workers to stay employed for longer. With people living longer, you may need more money for your retirement years. Basic items such as a loaf of bread or bottle of milk may rise to over 50% more than the average cost in 2020.
The Association of Superannuation Funds of Australia (ASFA) has created a 'Retirement Standard'. The 'Retirement Standard' shows the average cost per year to live a modest lifestyle in retirement for a couple is $41,170, and for a comfortable retirement it's $63,3529.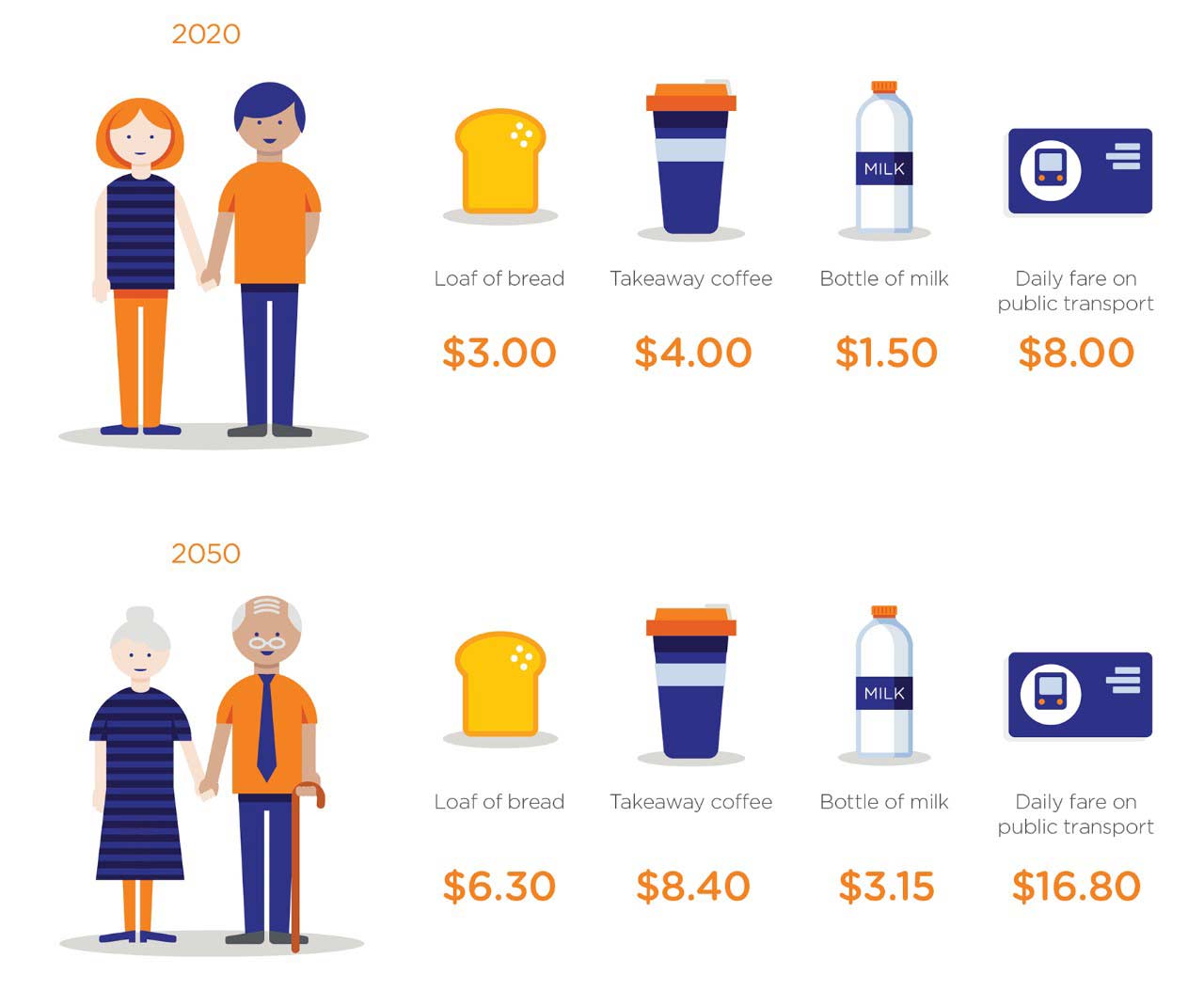 How you can support older employees in your business
Make sure you're aware of the common myths and the facts so you can support your workers.
To get started, the AWR project identified 3 key pillars your workplace can use to review support for older workers:
Recruitment: Policy, practice and hiring outcomes in relation to older people.
Retention: The extent to which people feel supported to stay productive and mentally healthy.
Retirement: Mechanisms to support a smooth transition from work, from the perspective of both the individual and the organisation.
Roadmap: The tool the organisation uses to guide and adapt its approach to supporting older workers.
Ageing Workforce Ready
Watch the video below to find out more about the Ageing Workforce Ready program by Transitioning Well and AustralianSuper.
Sources:
National Seniors Australia, 2012
HILDA, 2019
Human Rights Commission 2018
BUPA, 2012
CSIRO, 2018
Deloitte, 2018
Forbes, 2019
ABS data 2016-2017
ASFA Retirement Standard, June 2021
This information may be general financial advice which doesn't take into account your personal objectives, situation or needs. Before making a decision about AustralianSuper, you should think about your financial requirements and refer to the relevant Product Disclosure Statement. A Target Market Determination (TMD) is a document that outlines the target market a product has been designed for. Find the TMDs at australiansuper.com/tmd. AustralianSuper Pty Ltd ABN 94 006 457 987, AFSL 233788, Trustee of AustralianSuper ABN 65 714 394 898.
---