AustralianSuper members own more than two-thirds of the King's Cross estate redevelopment project in London. The estate is situated next to King's Cross Station – one of Europe's busiest train stations.
King's Cross is one of the largest urban regeneration project in Europe and is transforming a former industrial area into a unique place to live, work, study and play. When complete, the 740,000 square metre estate will house 7,000 residents, 30,000 workers and 5,000 students.
King's Cross is already a popular leisure destination with 26 acres of public space, cultural attractions and events, and four kilometres of retail frontage. Around 10 million people are expected to pass through King's Cross in 2017 – more than London's entire population of 8.8 million.
The prime location, facilities and community focus are attracting quality retailers, office tenants and residents who want to be part of this exciting estate, in London's newest post code N1C.
A new standard in sustainable development
The King's Cross development is built on sustainable principles, which are woven through its design, construction and operations.
In partnership with developer and part-owner, Argent King's Cross Limited Partnership, AustralianSuper is helping to create a Human City in the heart of London. At its heart, it's fostering more sustainable ways of living by combining minimal environmental impact with cultural and social diversity and community connections.
Sustainability initiatives include:
Affordable housing
Nearly 2,000 new homes are being built at King's Cross, a significant proportion of which are affordable. Across the development there is a mix of social rented apartments, supported housing apartments and shared ownership homes.
Employment
KX Recruit, an on-site recruitment agency, and the Construction Skills Centre are connecting local people with jobs and opportunities created by the development. Through its apprenticeship programs and training courses in construction, more than 550 students have achieved vocational qualifications since 2008 and 97 apprentices were placed on site each month in 2016.
Education
King's Cross Academy is a new primary school co-located with the Frank Barnes School for Deaf Children. The Academy teaches sign language with both schools sharing spaces for children to communicate and learn together. There are also collaboration and learning opportunities with King's Cross tenants Google, the Guardian and the Waitrose cookery school.
Wellbeing and community
The development is creating high quality safe space for social interactions, fitness facilities and satisfying working environments. Forty percent of the estate is made up of open public spaces. There is a thriving cultural and arts scene, with more 325,000 people attending the events program in 2016.
Environmental management
The office buildings have been designed to achieve environmental performance at least 40% greater than required in building regulations – seven buildings have achieved BREEAM Outstanding and Excellent ratings for building energy performance.
The development aims to provide more affordable access to low carbon energy and waste minimisation. The on-site energy centre provides close to 100% of the estate's heating and hot water needs and 80% of electricity needs are offset. Solar panels are expected to generate over 180,000 kwh of renewable electricity, powering the equivalent of 94 homes a year. Eighty-one per cent of public waste is recycled with 0% directed to landfill in the last two years. In 2016, 100,000 cubic metres of rain water and grey water had been collected and recycled, equal to around 42 Olympic swimming pools.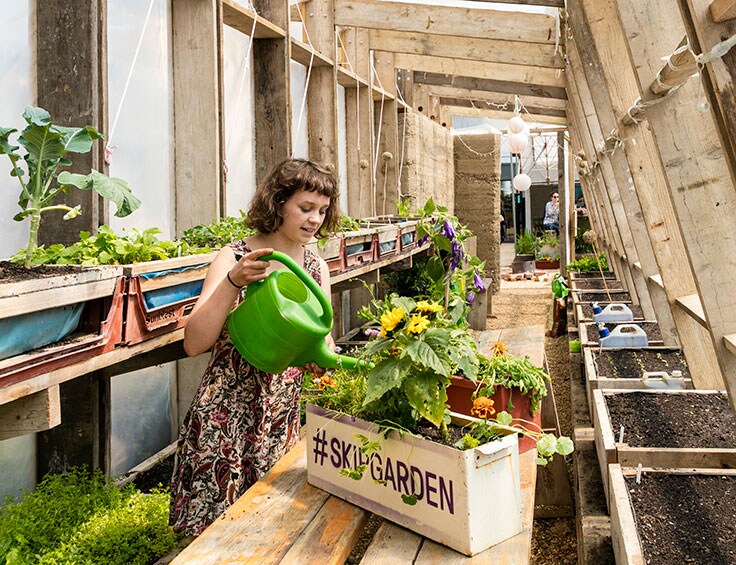 The Skip Garden is a series of mobile gardens in skips created by the community and volunteers to grow food that's sold and used in local restaurants. The Skip Garden Kitchen and Café provides opportunities and skills for young people and the local community such as carpentry, urban food growing, cooking and eating as well as communication, enterprise and leadership.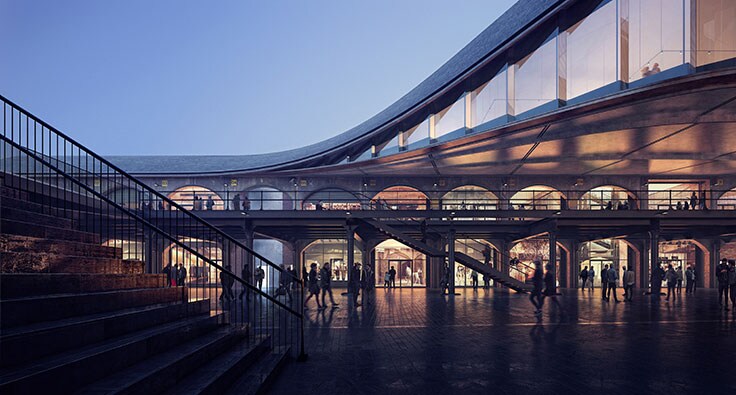 Coal Drops Yard
In Victorian London, King's Cross was London's coal store. The Coal Drops were built in the 1850s and comprise a series of grand brick viaduct buildings where trains would deliver coal. Coal's Drop Yard is being reinvented into an experiential shopping destination with up to 65 shops opening in Autumn 2018.
I'd like to learn more about...