15 September 2023
Financial markets have experienced more volatility recently. For members, it's important to stay engaged and remember that your future retirement security is in good hands.
It's valuable to understand what volatility is, what it means for your super and how we navigate market volatility for members.
What is market volatility
Volatility refers to the size and frequency of changes in investment prices – both up and down. It occurs when there are large swings in performance, often resulting from investor reactions to economic factors, company news or global events.
Remember, market volatility is more noticeable in the short-term. With any investing, it's fair to expect periods of increased short-term volatility from time to time. As you can see below, volatility has been more pronounced in the past few years.
Balanced Option Financial Year Returns

Returns from equivalent investment options of the ARF and STA super funds are used for periods before 1 July 2006. Investment returns aren't guaranteed. Past performance isn't a reliable indicator of future returns.
Why has volatility increased recently
Investment markets don't like uncertainty, disruption or instability. These cause markets to be more volatile. Several macroeconomic factors have contributed to increased volatility over the past few years. The transition from the COVID-19 pandemic led to labour shortages, greater levels of consumer spending and supply chains disruptions. The Russian invasion of Ukraine also added to global supply chain issues. These factors contributed to the highest inflation in decades.
High levels of inflation tend to tie in with increased market volatility and lower equity and fixed interest returns. As inflation erodes the purchasing power of future cash flows, it decreases the real value of an investment.
To bring down inflation, central banks have rapidly increased interest rates. We've seen the most widespread global tightening of monetary policy in decades. This has led to increased market volatility and underperformance in investment markets. We've seen this not only in Australia, but across the globe.
We began to see the impact of rising interest rates on the banking sector in early 2023. In March, three regional banks failed in the US, followed by Credit Suisse in Switzerland. Although central banks were quick to respond, these types of events increase market risk and uncertainty. That, in turn, increases market volatility.
What this means for your super
It's important to remember that ups and downs are a normal part of investing. Our investment team prepares for this type of market environment. During significant market events, such as the bank failures we saw in March, the investment team stress tests the portfolio against possible financial crises to make sure the Fund is reasonably positioned.
While market volatility is more noticeable in the short-term, your super is a long-term investment. As the graph below shows, even significant market events, like the Global Financial Crisis and COVID-19 selloff, appear relatively smooth in the context of long-term growth over the last twenty years.
Growth of a $100,000 from 30 June 2003 to 30 June 2023 in the Balanced option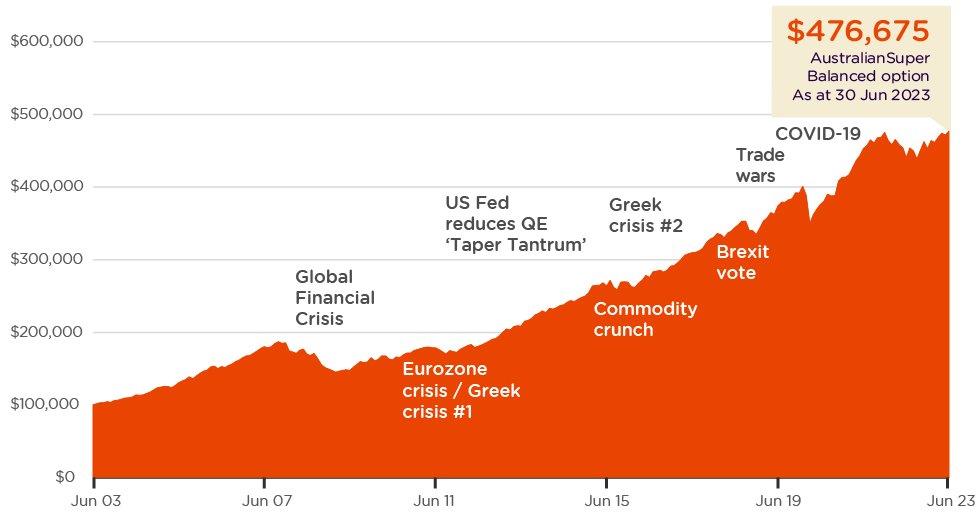 AustralianSuper investment returns are based on crediting rates, which are returns less investment fees and costs, transaction costs, the percentage-based administration fee deducted from returns from 1 April 2020 to 2 September 2022 and taxes. Returns don't include all administration, insurance and other fees and costs that are deducted from account balances. Returns from equivalent investment options of the ARF and STA super funds are used for periods before 1 July 2006. Investment returns aren't guaranteed. Past performance isn't a reliable indicator of future returns.
Portfolio diversification is key. Certain assets – like infrastructure, private equity and cash – can help cushion the portfolio during market downturns, while still positioning the fund to enjoy future upside when the markets recover. Diversification is a cornerstone of AustralianSuper's long-term investment strategy and a key factor in maintaining resiliency in the face of market volatility.
The Fund employs active management throughout every stage of the market cycle. This means repositioning the portfolio as necessary throughout the cycle. As markets sold off, we reduced the risk in the portfolio – by reducing our exposure to growth assets, in favour of asset classes that carry lower levels of volatility. In addition, short-term volatility can often lead to the mispricing of assets. This means we're searching for new investment opportunities with long-term intrinsic value.
LEARN MORE ABOUT THE BENEFITS OF ACTIVE MANAGEMENT
What can you do to protect your super
In periods of increased market volatility, remember, super is a long-term investment. While it can be tempting to switch options when markets become volatile, being invested in a diversified portfolio over the long run can help grow your super.
If you're concerned about changes to your balance and the impact on your retirement plan, consider speaking to an accredited financial adviser. This can help you review your retirement goals and identify the investment options that are best suited to you and your circumstance.
References:
Personal financial product advice is provided under the Australian Financial Services Licence held by a third party and not by AustralianSuper Pty Ltd. Fees may apply.
Investment returns aren't guaranteed. Past performance is not a reliable indicator of future returns.
This information may be general financial advice which doesn't take into account your personal objectives, situation or needs. Before making a decision about AustralianSuper, you should think about your financial requirements and refer to the relevant Product Disclosure Statement. A Target Market Determination (TMD) is a document that outlines the target market a product has been designed for. Find the TMDs at australiansuper.com/TMD
---
Compare us
Choosing the right fund could mean more money in the future, giving you more confidence in your long-term retirement plan performance.
compare us