7 December 2022
As Australia's largest super fund and one of the top 20 pension funds globally1, AustralianSuper is an active investor both in Australia and overseas. This breadth of investments means that members can benefit from growth opportunities from across the world and across different types of assets.
Members often want to know what their super is invested in. This article provides an overview of the different asset classes that AustralianSuper invests in along with examples of specific investments.
Asset classes and examples of AustralianSuper holdings
With over $260 billion in member retirement savings2, we invest in a broad range of asset classes including listed shares, private equity, unlisted property, unlisted infrastructure, credit, fixed interest and cash.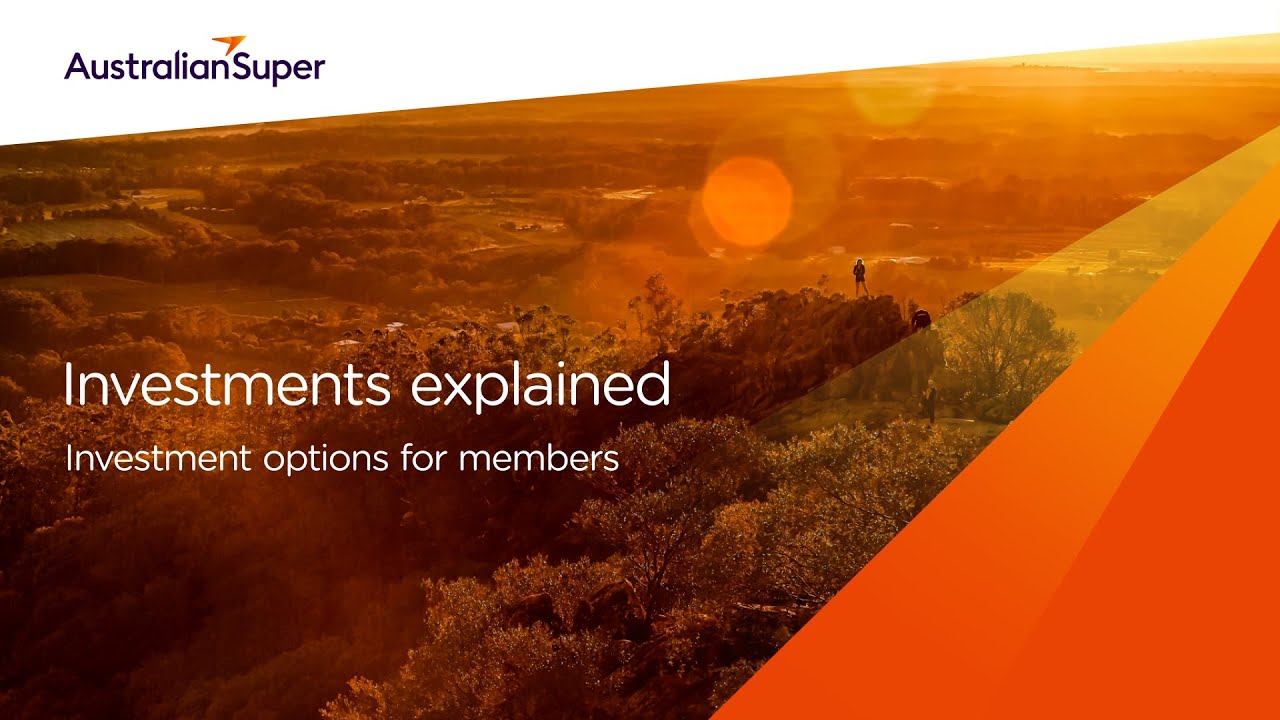 Show Transcript

Hide Transcript

Hi, I'm Emma, and I'm part of the investments team at AustralianSuper.

Welcome to the second video in our Super and Investment Explained series, exploring our investment options designed to help benefit members.

Last time, we spoke about six key factors that set us apart from other funds when it comes to investment – including our experienced global team and history of strong long-term returns.

In this video, I'll take you through three types of investments we can make with your super – and how they could help to grow your balance.

Then, I'll discuss the three investment options on offer and how they can give you control of your super.

Finally, I'll discuss three important factors to help you decide how to invest.

The investments we make can be put into three categories – growth, defensive and mid risk.

Growth investments offer a higher potential return than other types. But they also come with a higher level of risk.

The value of growth investments can fluctuate – and they can be volatile over the short term.

Examples of growth investments include listed Australian and international shares as well as private equity – investing in companies not listed on the stock exchange.

Next are defensive investments. These are lower risk compared to growth investments. They're designed to protect your super while providing returns that could grow your balance.

Just remember, returns will generally be lower than with growth investments.

Examples of defensive investments include cash products like savings accounts and term deposits as well as Fixed

Interest assets like government and corporate bonds.

The third type is mid-risk. Mid-risk investments offer moderate protection compared to defensive investments, while still offering the potential for growth.

They could still provide returns during fluctuating market cycles and could retain value even when markets are down.

Examples of mid-risk investments include direct property, private credit and unlisted infrastructure – such as investing in a new toll road.

Now, let's take a look at AustralianSuper's investment options – PreMixed, DIY Mix and Member Direct – designed to suit different types of investors.

The PreMixed option is for those who are happy to leave investment decisions in the hands of financial experts.

This option contains a mixture of growth, defensive and mid-risk investments. All you need to do is choose a combination that suits your needs and leave the rest to us.

PreMixed combinations include High Growth, Balanced, Conservative Balanced, Stable, Indexed Diversified and Socially Aware.

Over 90% of AustralianSuper members choose the Balanced option. It's invested in a diverse mix of assets, designed for medium to long term growth.

The next category is DIY Mix. You choose the assets you'd like to invest in, and how much you'd like to invest in each.

Our experts have put together a range of single asset classes you can use to make your own mixture, hence the name.

Classes include Australian Shares, International Shares, Diversified Fixed Interest and Cash.

The third category is Member Direct. This is designed for active investors who want to be in the driver's seat – and offers the greatest control and choice.

Investment types available through the Member Direct options include Australian Shares, Exchange Traded Funds, Listed Investment Companies, Term Deposits and Cash.

How your super is invested can make a big difference to your savings. There's three things to consider before you make a decision that suits your situation.

The first is your age, because this impacts how long you could be investing for before or during your retirement.

Some people prefer investment options that come with lower risk as they get closer to retirement. Others prefer growth options that give their balance the best chance to grow.

The second is knowing when you'll need to access your super.

Needing to use your money in the short term will shorten the time you'll be invested, and this could mean considering more conservative investment options.

The third is your tolerance to risk. Options that offer higher possibility of growth tend to come with higher levels of risk and volatility in the short term.

It can help to ask yourself how comfortable you are with the possibility your investments lose value at some point.

And remember, AustralianSuper's investment options are designed to offer you the best possible retirement.

If you're new to investing or need help making a choice, we can work through the different options with you to help you decide what's best for you and your circumstances.

To learn more about our investment options, head to the investments section of our website or call us on 1300 300 273.

End Transcript
Listed shares
Owning listed shares means owning part of companies that are listed on a public exchange, like the Australian Stock Exchange (ASX). AustralianSuper invests in Australian and international companies.
Listed shares generally make money in two ways – through an increase in the share price and when companies pay dividends. Share prices can go up and down and are affected by many factors including company performance and economic conditions. We aim to invest in high-quality companies that will perform better than the broader market over the long-term. Examples of some of the companies we could invest in include Commonwealth Bank of Australia, Woolworths and JB Hi-Fi in Australia. Examples of investments in international markets could include Microsoft, Alphabet (Google) and Amazon.
Private equity
Private equity involves investing in companies that are not listed on a public exchange like the ASX. AustralianSuper invests in private equity along with specialised private equity managers. By co-investing and co-underwriting transactions, our team gains deeper insights on private equity investments and is able to make larger investments (with lower costs) that may perform better than listed shares.
Read more: Investing like no other fund can
Unlisted property
As part of the unlisted property portfolio, we're invested in residential, retail, industrial and commercial real estate. This includes housing estates and apartments, shopping centres, warehouses and office buildings. Returns can be generated from increases in property value from development and price appreciation, as well as rental income. Good management of these investments can improve the value of the property as well as the income.
King's Cross Estate in the UK is an example of a large-scale regeneration project. Our investment in King's Cross Estate is one of the largest holdings in the property portfolio. This mixed-use precinct has provided beneficial returns for the portfolio.
The growth of digitisation and e-commerce has led to 2 property investments in Sydney:
The Moorebank Logistics Park joins 2 state-of-the-art facilities. One connects to Port Botany - supporting import-export freight and the other services the interstate rail network. The 243-hectare site has the capacity to develop up to 850,000 square metres of warehouse space.
The Mascot development site is a large-scale industrial asset in southern Sydney. The 13.8-hectare site provides opportunities for redevelopment into a state-of-the art mix of logistics and office facilities.
Read more: Understanding direct property
Unlisted infrastructure
Infrastructure investments are assets that provide essential public services. These include bridges, roads, airports and power plants. Investments like these help support economic development and improve living conditions for communities. AustralianSuper's portfolio includes large-scale infrastructure investments in Australia and international markets.
WestConnex is a toll road project in NSW, Australia that has a 70-kilometre network of roads. This includes the M4, M5 East and M8, as well as the M4-M5 link (due to complete in 2023) and the M5 West (from December 2026). As the largest infrastructure investment in the portfolio, it has the double benefit of providing better transport in NSW, as well as generating returns for members.
The portfolio also includes international infrastructure investments. The investment in Peel Ports, the second largest port operator in the United Kingdom, includes seven sites. The port group handles over 70 million tonnes of cargo per year and 15% of the UK's total port traffic.3
Credit
Think of credit as a loan. Credit investments involve providing finance for an agreed period in exchange for a return. AustralianSuper has a specialised team that invests in private credit opportunities directly in the property and infrastructure.
Examples of AustralianSuper's credit investments include loans to One Crown Place, UK to support residential construction in central London and loans to Heathrow Airport to provide extra liquidity during times of lower air traffic.
Fixed Interest
Fixed interest investments provide income from interest payments. These investments are traditionally defensive assets in a portfolio which can protect against market volatility because they can be less risky than asset classes like listed shares. Fixed interest investments include debt issued by governments and companies. Australian examples include bonds issued by the Commonwealth of Australia and companies such as AGL and Westpac. International holding examples include government debt from countries like the United States, Germany and the United Kingdom, and corporate debt from a range of international companies.
Cash
Cash investments are short-term money market instruments. These are issued by banks, like the CBA, NAB and Westpac, governments and companies. These types of investments are considered relatively low risk, however, the asset class generally has lower returns compared to other asset classes over time.
Global diversification
AustralianSuper has investments throughout the world. This helps support Australia's economy while members also benefit from growth in local and international markets. Importantly, this global approach can reduce investment risk through diversification.
About half of AustralianSuper's investments are in Australia. The chart below provides examples of assets and their locations. These include the United States, United Kingdom, India, Australia and New Zealand.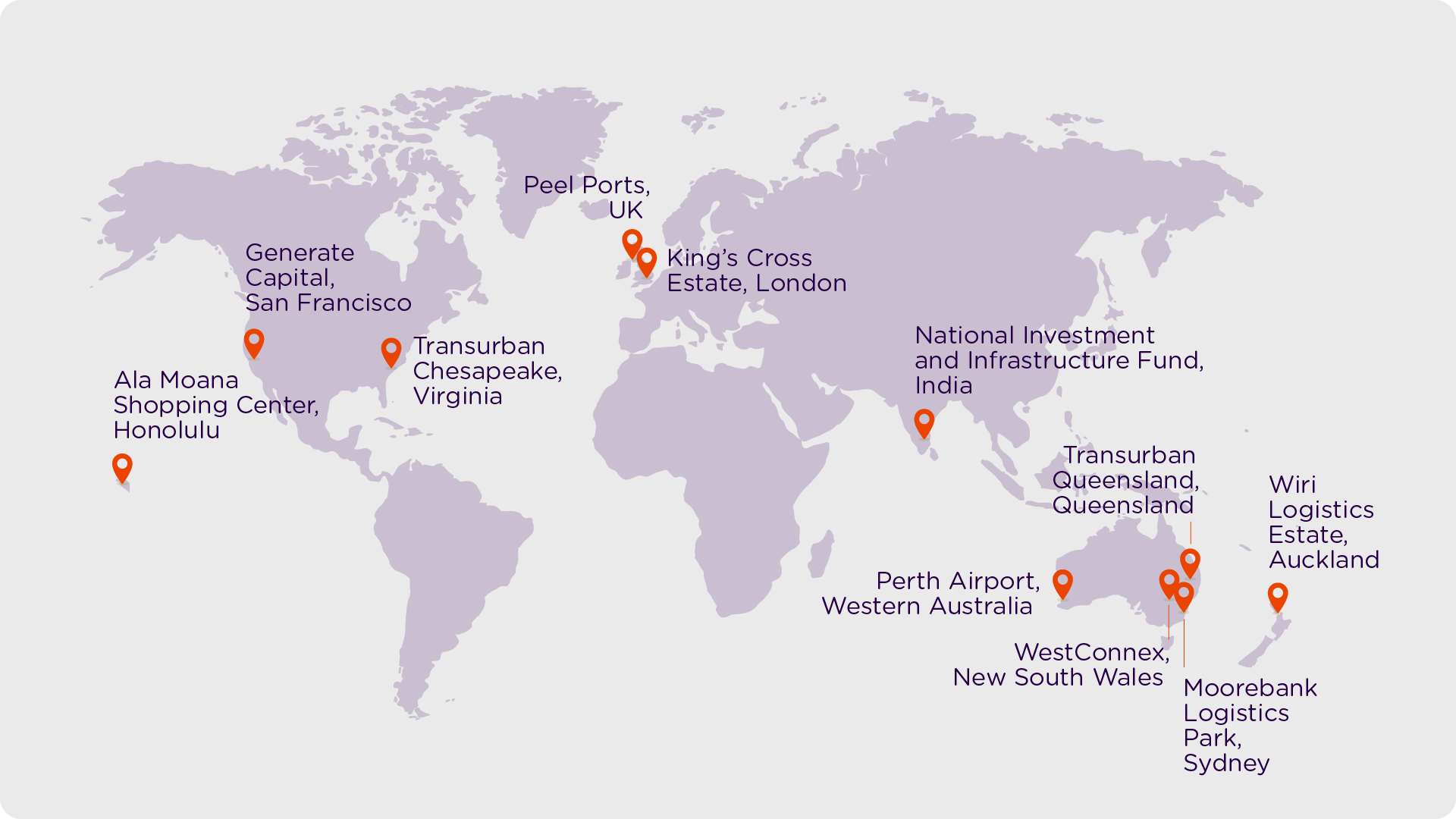 Source: AustralianSuper
A map of the world that shows the location of AustralianSuper investments. Locations include the United States, United Kingdom, India, Australia and New Zealand.
AustralianSuper currently has over 3,500 investments2. Twice a year, the Fund publishes a list of all investments to help keep you informed. For a comprehensive look at where your super is invested visit: What we invest in
What we invest in
We believe in transparency around our investments. You can view a full list of assets, and more information on which options invest in which.
What we invest in
Source:
1. Thinking Ahead Institute, Global top 300 pension funds, September 2022.
2. As at September 2022.
3. As at 1 December 2022. https://www.peelports.com/investor-relations
Investment returns are not guaranteed. Past performance is not a reliable indicator of future returns.

This may include general financial advice which doesn't take into account your personal objectives, financial situation or needs. Before making a decision consider if the information is right for you and read the relevant Product Disclosure Statement, available at australiansuper.com/pds or by calling 1300 300 273. A Target Market Determination (TMD) is a document that outlines the target market a product has been designed for. Find the TMDs at australiansuper.com/TMD.
AustralianSuper Pty Ltd ABN 94 006 457 987, AFSL 233788, Trustee of AustralianSuper ABN 65 714 394 898.
Compare us
Choosing the right fund could mean more money in the future, giving you more confidence in your long-term retirement plan performance.
compare us