25 September 2023
As one of the top 20 largest pension funds globally1, direct property plays an important role in our investment portfolio. In early 2022, we invested in a 50% stake in the Canada Water Masterplan, one of the largest mixed use regeneration projects in central London. In recognition of its scale and quality, our joint venture with British Land was awarded the coveted Property Week 'UK Deal of the Year – Commercial Property' in June 2023. This investment highlights how our global reach and scale continue to help members achieve their best financial position in retirement.
AustralianSuper formed a 50:50 joint venture with UK property developer, British Land, in the Canada Water Masterplan (Canada Water). The project will deliver new homes, workspaces and retail and leisure facilities. It will also deliver new health, social and educational infrastructure. It will be one of London's largest and most sustainable urban property regeneration projects.
Canada Water is AustralianSuper's second large-scale urban regeneration project in the UK. It follows the Fund's successful investment in the King's Cross Estate urban transformation project, of which we are a more than 70% owner.
What is Canada Water?
Canada Water is a 53-acre development in central London. It will be the first new town centre developed in the city in the last 50 years. It offers extensive open spaces, community facilities and transport links to London's key commercial areas. These benefits make it an attractive hub for both residents and businesses.
Once complete, we expect Canada Water to have up to 3000 net-zero homes, sustainable workspaces for approximately 20,000 workers and 12 acres of new open space. This will include a 3.5-acre park and important protections for historical wetlands and woodlands.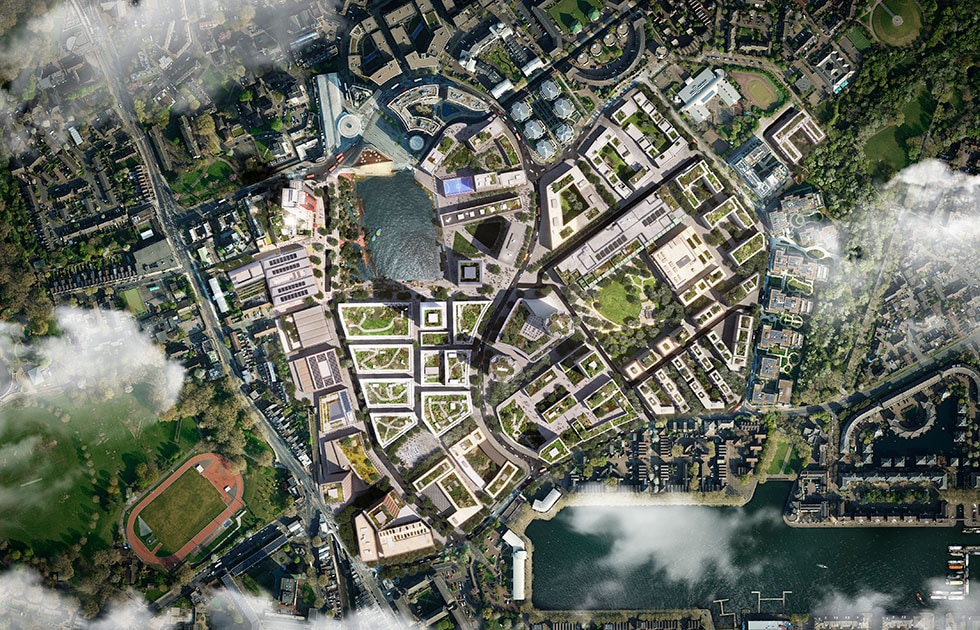 Pictured above: artist rendering of Canada Water aerial view.
We expect this strategic investment will provide long-term benefits to AustralianSuper members, as well as local Canada Water residents, businesses and the community for generations to come.
Head of European Property, Paul Clark, said, "We expect our investment in Canada Water will contribute to the retirement savings of more than 3.2 million members, whilst also being part of a once-in-a-lifetime regeneration project that will provide long-term benefits to the local community.
"The opportunity to come together with a partner of the calibre of British Land is a critical step in our ongoing expansion in the UK and Europe and closely aligns to our focus on high quality assets and responsible investment."
What is the timeline for Canada Water?
The first phase of the Canada Water development is well underway. In June this year, the joint venture completed the build of a temporary modular innovation hub, The Paper Yard, which is located adjacent to the TEDI engineering university campus backed by New South Wales, Kings College London and Arizona universities. The Paper Yard comprises laboratory space to support fledgling tech, research and life sciences incubator businesses. We expect to deliver the permanent Phase 1 buildings by the end of 2024, which includes 265 new homes, sustainable net zero office spaces, retail and leisure facilities.
Pictured above: Phase 1 of the Canada Water development is well underway.
Designed to be one of London's largest and most sustainable urban property regeneration projects, Canada Water has begun delivering against the aspiration. Phase 1 brings forward a new leisure centre providing key social infrastructure, 79 affordable homes for local people, new job opportunities, recruitment and skills training and a biodiversity net gain through the nature preservation and greening at the dock.
The full regeneration project will be completed within the next decade.
Expanding our global investment presence for the benefit of members
Our purpose is to help members achieve their best financial position in retirement. As Australia's largest super fund2, interest in investing in high-quality opportunities, both in Australia and around the world, continues to grow.
That is why we opened our UK office in 2016 and our North American office in 2021, to expand our presence in these markets and grow our team of investment professionals in London and New York.
We leverage local knowledge, relationships and expertise in these types of key markets. Our on-the-ground presence gives us access to world class opportunities – like Canada Water and King's Cross Estate – and industry leading partners – like British Land.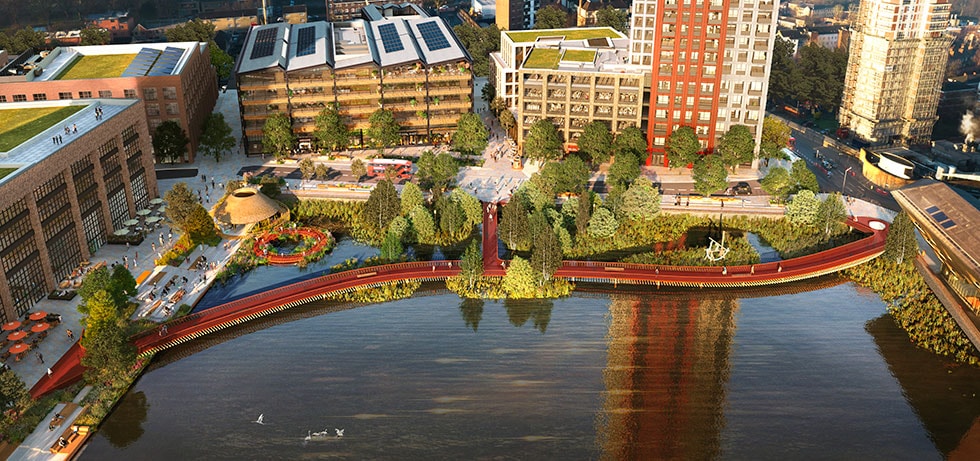 Pictured above: artist rendering of Canada Water dock being delivered as part of Phase 1.
References
Thinking Ahead Institute, Global top 300 pension funds. September 2023
APRA Annual Fund-level Superannuation Statistics, June 2022
Awards and ratings are only one factor to be taken into account when choosing a super fund.
This may include general financial advice which doesn't take into account your personal objectives, financial situation or needs. Before making a decision consider if the information is right for you and read the relevant Product Disclosure Statement, available at australiansuper.com/PDS or by calling 1300 300 273.A Target Market Determination (TMD) is a document that outlines the target market a product has been designed for. Find the TMDs at australiansuper.com/TMD.
AustralianSuper Pty Ltd ABN 94 006 457 987, AFSL 233788, Trustee of AustralianSuper ABN 65 714 394 898.
---