27 July 2023
You may not be looking to access your super now, but it's worth checking to ensure everything's in good order.
Whether retirement is a long way down the track or just around the corner, it's worth checking your super periodically. However, it's also important to remember that there can be short-term ups and downs with your super balance due to current economic conditions. Super is a long-term investment, so keeping a focus on long-term performance can allay any short-term fluctuations your super may experience.
Why check your super
For starters, you want to ensure your super is being paid into your account and that you're receiving the correct amount. So, it's worth checking your super for that reason alone. Checking your super is even easier with the AustralianSuper app.
Rising super guarantee
From 1 July 2023, the super guarantee increases to 11%. The super guarantee will continue to rise by 0.5% each year until it hits 12% on 1 July 2025. Be sure to check your super to make sure you're receiving these increases.
Looking at long-term performance
While it's good to engage and check on your super periodically, there are a few things to keep in mind regarding your balance.
The returns of an investment strategy can vary depending on economic and market conditions. Our investment team actively invests in strategies that include long-term assets like listed shares, private equity, unlisted property and unlisted infrastructure. While these investments can experience periods of lower returns, the portfolio is invested with the aim to enhance performance for members over the long term.
When you're checking your super balance, it's important to remember to focus on long-term performance and avoid making decisions based on short-term market movements. Over the long term, AustralianSuper's flagship Balanced investment option has delivered an average return of 8.60% each year over the last 10 years and 8.12% over the last 20 years to 30 June 2023.1
Hit your retirement goals
Another reason to check your super is to determine how your retirement savings goals are tracking. For instance, if you want to pay for things like holidays, entertainment or a new car once you've stopped working, it's important to know how much money you have. To reach your goals, you may want to consider boosting your super with steps like salary sacrificing2 or other voluntary super contributions3.
Managing market volatility
Markets have had downturns in the past, such as during the GFC or COVID-19 downturn. However, historically investment returns have recovered leading to increasing super balances over the long term.
AustralianSuper's focus remains on positioning our investment portfolios to help deliver the best outcomes for members over the long term. Our long-term investment strategy is designed to be resilient in the face of volatile markets. The Balanced option is constructed to help cushion the impact of downturns, whilst ensuring members benefit from growth as markets recover.
It's also worth noting that members who are in or close to retirement are likely to still be invested for some time, depending on their individual goals and circumstances. Staying focussed on the long term provides a more realistic perspective of superannuation investment returns.
By staying invested in a diversified portfolio, your super may have more opportunity to grow over time. If a member had invested in AustralianSuper's Balanced option 20 years ago without making any additional contributions since, they would have more than quadrupled their retirement savings:
Balanced option Super – returns to 30 June 2023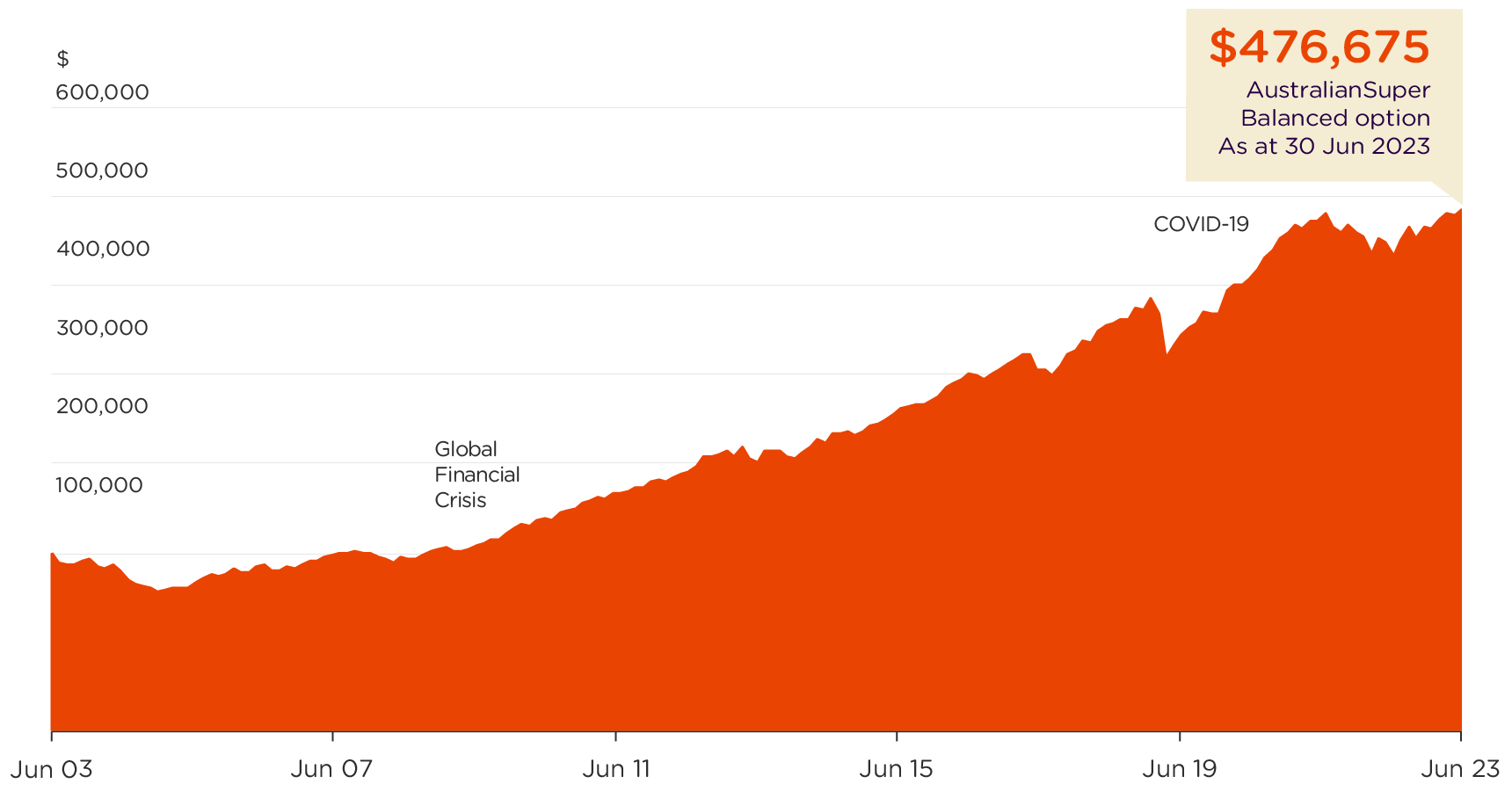 Check your super with the AustralianSuper app
Accessing your super on the go is easy with the AustralianSuper app. You can manage your super, anywhere, anytime. And it's the easiest way to get in touch with us.
References:
AustralianSuper Balanced investment option compared to the SuperRatings Fund Crediting Rate Survey - SRP50 Balanced (60–76) Index to 30 June 2023. Investment returns are not guaranteed. Past performance is not a reliable indicator of future returns. Returns from equivalent investment options of the ARF and STA super funds are used for periods before 1 July 2006.
Salary sacrifice may affect some Government benefits and employee benefits. Consider getting financial advice before deciding if a salary sacrifice arrangement is right for you. 
Before adding to your super, consider your financial circumstances, contribution caps that may apply, and tax issues. We recommend you consider seeking financial advice.
Based on an investment in the Balanced option from 1 July 2003 to 30 June 2023. AustralianSuper investment returns are based on crediting rates, which are returns less investment fees and costs, transaction costs, the percentage-based administration fee deducted from returns from 1 April 2020 to 2 September 2022 and taxes. Returns don't include all administration, insurance and other fees and costs that are deducted from account balances. Returns from equivalent investment options of the ARF and STA super funds are used for periods before 1 July 2006. Investment returns aren't guaranteed. Past performance isn't a reliable indicator of future returns.
Investment returns are not guaranteed. Past performance is not a reliable indicator of future returns.
This may include general financial advice which doesn't take into account your personal objectives, financial situation or needs. Before making a decision consider if the information is right for you and read the relevant Product Disclosure Statement, available at australiansuper.com/PDS or by calling 1300 300 273. A Target Market Determination (TMD) is a document that outlines the target market a product has been designed for. Find the TMDs at australiansuper.com/TMD. AustralianSuper Pty Ltd ABN 94 006 457 987, AFSL 233788, Trustee of AustralianSuper ABN 65 714 394 898.