5 September 2023
During your working life, your super grows through contributions and by being invested. But reaching retirement doesn't always mean that investing should stop altogether. While many people think retirement is time to live off their savings and avoid financial risks, there are potential benefits to staying invested.
The way you retire isn't set in stone. While it's easy to think that investing stops when you hit retirement, it may not be the best option for you. This article explores the potential benefits of continuing to invest in your retirement years.
Retirement can be long
Australians are living longer than ever before. According to the Australian Bureau of Statistics1, life expectancy at birth was 81.3 years for males and 85.4 years for females in 2019 to 2021. This is a big increase from around 30 years ago (1991) when life expectancy from birth was 74.4 years for males and 80.3 years for females1.
Living longer means your retirement funds need to last longer. And while the Age Pension provides a safety net in case money runs out, pension payments may not be enough to maintain a good quality retirement. That's why it's so important your retirement savings continue to be invested after your working days are over.
Inflation
Inflation measures the rate of increase in the price of goods and services over time. Although we can't be certain about what the cost of goods and services will be in future years, it's highly likely that the cost of living will continue to rise. As an example, using an average annual inflation rate of 2.5%, the value of your dollar is halved over 30 years.
Even this modest annual increase in the price of goods and services can put you at risk of having an income that no longer covers your living expenses in retirement. For example, today's $5.00 coffee could cost $10.49 in 30 years.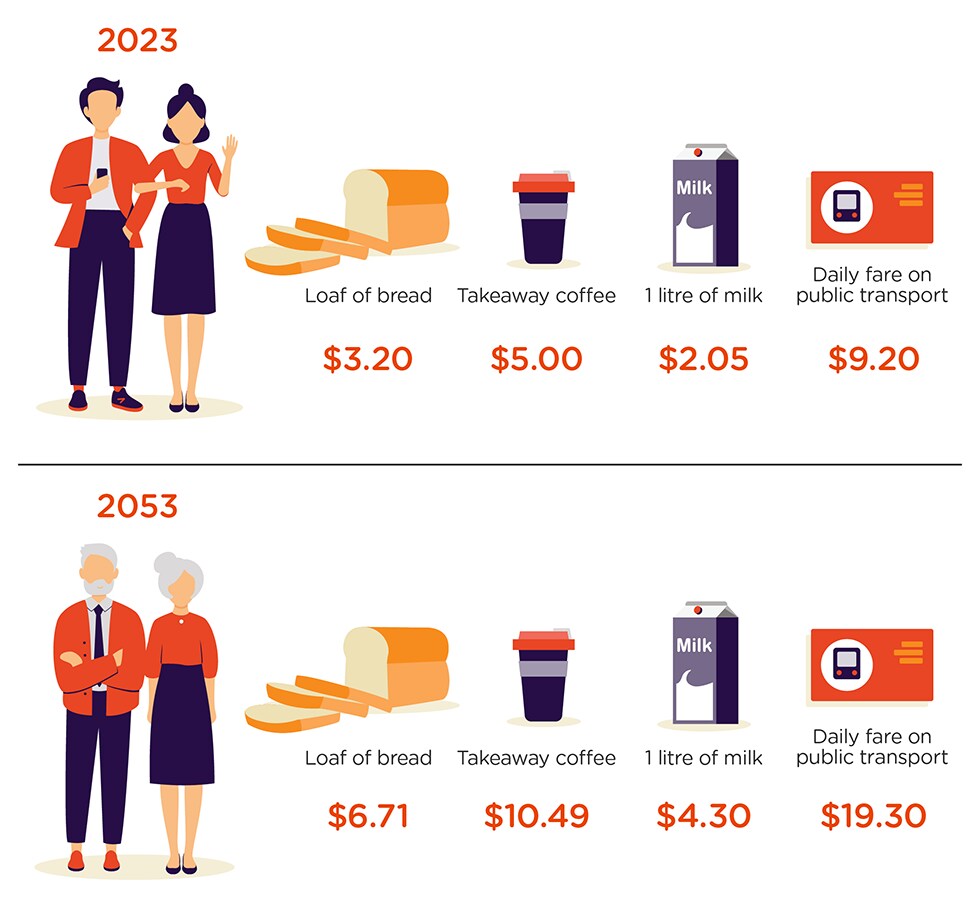 The above examples assume an annual price inflation rate of 2.5% each year.
Cash returns
There is a risk that the rises in inflation outpace the return of cash investments. To put it simply – there's a very high risk that an investment in the Cash investment option now may result in your super savings not being able to keep up with rising costs over time.
Interest rates are the primary driver of returns for the Cash investment option. Higher interest rates may lead to higher returns, and lower interest rates may lead to lower returns.
Why staying invested in retirement may be right for you
While it's normal for investment markets to go up and down, history has shown that the markets continue to increase in value over the long term.
History also shows that members who stay invested in growth assets and stick to their long-term plan, often end up in a better position than those who keep changing their investment options or choose only defensive assets.
The chart below shows that $100,000 invested in the Balanced option (Choice Income) from its inception on 1 January 2008, grew to $292,397 as at 30 June 2023. This is despite times of market volatility, such as the global financial crisis in 2008 and the pandemic downturn in 2020.
Choice Income Balanced option growth of $100,000 from 1 January 2008 to 30 June 2023
AustralianSuper investment returns are based on crediting rates, which are returns less investment fees and costs, transaction costs, and taxes. Returns don't include all administration, insurance and other fees and costs that are deducted from account balances. Investment returns aren't guaranteed. Past performance isn't a reliable indicator of future returns.
Growing your savings without losing sleep
Investing in retirement can help provide an income to support your expenses and retirement lifestyle. However, your investment strategy may be different to what you had during your working years.
A diversified retirement portfolio can limit the impact of inflation and market volatility on your retirement savings.
AustralianSuper offers a range of retirement investment options to suit your financial situation, objectives and risk preferences. These include the Balanced, Conservative Balanced, and Stable investment options. Each option aims to beat inflation over the medium to longer term.
These PreMixed investment options are diversified among several asset classes and differ based on their allocation to growth and defensive assets. Generally, investment options with higher allocations to growth assets are accompanied by a greater potential for volatility in the short term and may be more suitable for members saving for their retirement over the medium to longer term. However, investment options with a lower allocation to growth assets may be more suitable for members approaching or in retirement, who may be seeking capital stability or access to their money in the medium term.
Accessing expert financial advice
Working out the best investment strategy for your retirement can be challenging. If you need help with this, we're here for you. Discover your options for financial advice.
Your advice options
References:
Australian Bureau of Statistics – Life tables, 2019-2021
This information may be general financial advice which doesn't take into account your personal objectives, financial situation or needs. Before you make a decision about AustralianSuper, you should think about your financial requirements and refer to the relevant Product Disclosure Statement. A Target Market Determination (TMD) is a document that outlines the target market a product has been designed for. Find the TMDs at australiansuper.com/TMD.
AustralianSuper Pty Ltd ABN 94 006 457 987, AFSL 233788, Trustee of AustralianSuper ABN 65 714 394 898.
---
Compare us
Choosing the right fund could mean more money in the future, giving you more confidence in your long-term retirement plan performance.
compare us