We take a look at the 2020 financial year and the returns earned for members in the Balanced investment option, and Choice Income Balanced option, which both ended the year with a positive result.
AustralianSuper's Balanced investment option has delivered return of 0.52% for the year, 8.77% per annum for 10 years and 7.24% per annum for 20 years to 30 June 2020. For members in the Choice Income Balanced option, the return was 0.55% for the year and 9.71% per annum over 10 years1.
The Balanced option was the top performing super fund over 5, 10 and 15 years to 30 June 2020 in the SuperRatings survey2. It also outperformed the median option which was -0.82%.
It was a year of 3 phases. Initially with strong returns in the first part of the year, followed by an extraordinary health and economic crisis then a partial market rebound during the last few months of the year.
Despite the small positive return this year, the longer term returns over 5 and 10 years remain strong.
Balanced option returns to 30 June 2020
| | Super/TTR Members | Choice Income Members |
| --- | --- | --- |
| 1 year (%) | 0.52% | 0.55% |
| 5 years (% pa) | 7.35% | 7.95% |
| 10 years (% pa) | 8.77% | 9.71% |
| 20 years (% pa) | 7.24% | |
Another year of positive returns (just)
'To arrive at the end of the financial year with a positive result, given the turmoil we've seen, is a very good outcome for members,' said Mark Delaney, Chief Investment Officer.
'Over the longer term, members who invested $50,000 20 years ago in the Balanced option would have seen their retirement savings grow to be worth $202,6083.
'To arrive at the end of the financial year with a positive result, given the turmoil we've seen, is a very good outcome for members.'
Investment performance update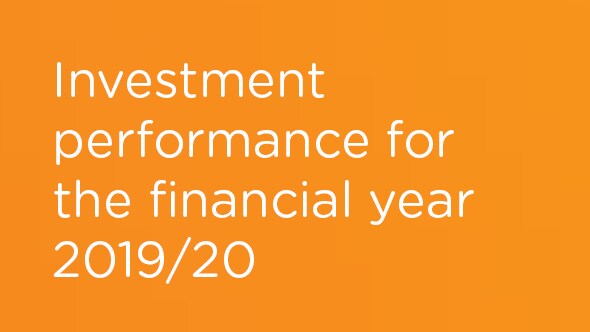 Show Transcript

Hide Transcript

Video: FY20 Investment Performance Update

Hello everyone. I'm Mark Delaney, Chief Investment Officer for AustralianSuper, and I'll be taking you through the latest in the Fund's performance and strategy.

[0:06]

The global events of the last year made it a challenging period for investments, but they also demonstrated the benefits of having a diversified portfolio and just how resilient financial markets can be.

Given the turmoil we've experienced and the unique economic conditions, the 2020 financial year performance figures are a relatively good outcome for members.

AustralianSuper's Balanced option continues to provide competitive performance and ranks as a top performing fund over the longer term.

Despite the market volatility we've seen, the return for the year was 0.52%. While no one likes to see a flat result, it's important to remember that returns over the longer term remain strong, with performance of 8.77% over 10 years per annum and 7.24% over 20 years per annum.

Put another way, a $50,000 investment in this option 20 years ago would have quadrupled in value to be worth $202,608 today.

For retirees, the Choice Income Balanced option returned 0.55% for one year and 9.71% per annum for 10 years.

AustralianSuper's other PreMixed investment options have also delivered strong long-term returns for members.

Research has shown that focusing on your long-term objectives and tuning out the noise of market volatility could improve your retirement outcomes.

But if you're already in retirement, it's important that your super continues to work hard for you. It may need to maintain your standard of living for longer than you think.

While it can be tempting to switch investment options when markets are volatile, history shows that you're likely better off by sticking to a longer term strategy that's appropriate for your personal circumstances.

[2:25]

When it comes to investment markets, the 12 months to 30 June 2020 featured three different phases.

The first phase took place between July 2019 through to February 2020. Over this time, members experienced strong returns with Australian and international share markets reaching all-time highs in late February.

Over the course of March this year came the second phase. COVID-19 was declared a pandemic on the 11th of March after sweeping across the globe. It delivered devastating health impacts along with significant volatility in investment markets, resulting in falling values of listed shares.

Fortunately, our government was quick to respond, introducing policies and programs, such as JobKeeper and JobSeeker.

These programs continue to provide financial support to individuals, families, and businesses impacted by COVID-19.

This government support was the springboard for phase three that started in late March. The benefits of fiscal stimulus and prospects of the economy re-opening boosted share market returns over that period. The result was a spectacular rebound in market performance from early April through to the end of June.

It's important to note, this rebounding performance didn't apply to all shares. It was mostly driven by a handful of companies and industries, especially in technology.

Companies with a strong digital customer service and online distribution networks performed exceptionally well while live entertainment, tourism and education sectors were hit the hardest by the downturn.

Navigating the market volatility and positioning the portfolio for longer term growth remains the key focuses for the AustralianSuper investment team. We continue to evaluate global events to look for investment opportunities.

[4:26]

As investors, we're always looking forward to understand how something happening today can affect investment markets in the future. To do this, we've monitored market signals closely every day.

While we are optimistic with the medium and longer term outlook, the road to recovery is expected to remain a rocky one. With more volatility likely for share markets.

The best indicator for the speed of our economic recovery is how quickly we can stop the spread of the COVID-19 virus and develop a vaccine.

The main impacts of Australia's economic shutdown have been a large loss of revenue for many businesses and the rise of unemployment.

Reopening the economy and supporting employment will be essential for the future economic growth.

We expect two stages to the recovery with an initial burst of strong growth as the economy reopens, followed by a more subdued economic growth in the years ahead.

This economic growth will help reduce the level of unemployment over time.

Central banks and governments around the world are committed to supporting economic recoveries.

In Australia, the Reserve Bank of Australia has lowered interest rates and the federal government has supported employment through the JobKeeper program.

The financial support provided by governments has helped to offset the loss of household income in Australia and we've seen similar programs in other markets across the globe.

While we currently don't know how long the economic uncertainty will last, we've seen markets rebound from downturns in the past, and we are investing in opportunities to provide favourable returns as the economy recovers.

At AustralianSuper, we remain focused on delivering the very best possible retirement outcomes for our members.

[06:25]

In the current environment, AustralianSuper's investment team's priorities are clear. To navigate the volatility that's taking place in investment markets, and to position the portfolio for continued long-term growth.

A diversified investment portfolio can benefit members in two ways, by providing opportunities for growth in investment returns, and by managing exposure to risk.

We provide diversification in our PreMixed options by combining a range of asset classes, including shares, private equity, infrastructure, property, fixed income and cash.

This reduces the volatility that members experience, so they can remain invested through the ups and downs of market cycles.

A combination of information is helping to guide us in our investment decisions. We monitor traditional economic data, including production, employment, and GDP growth.

This type of information often looks backwards, reporting on the activity of the previous months. While this is useful in helping us understand what has happened, it doesn't always help us predict what's ahead. This is an important point, because investment markets are forward looking.

To help build an understanding of what's currently happening and likely to happen in the economy, we also analyse real-time data and forward-looking surveys. These surveys look at consumer and business confidence, as well as investment, hiring and consumption intentions.

This combination of data helps us build a picture of how quickly consumers and businesses are starting to resume more normal economic activity. This gives us some indication of how quickly we can expect the economy to recover. And finally, we're looking for new investment opportunities that will provide attractive investment returns for members over the longer term.

Many of these opportunities are in Australia, where our investments will also have the benefit of supporting Australian companies, and strengthening the Australian economy. Over the past six months, we've directly supported 20 listed Australian companies, with over 380 million in new capital.

This has helped them navigate the challenges posed by COVID-19, and invest in their businesses for future growth. A strong economy is good for member returns, so we'll continue to invest in Australian companies and assets that make good investment sense.

[09:11]

Thank you for watching. You can also find out more about this latest performance update on our website. If you'd like to speak to someone about your super, you can also contact us directly. Stay safe, from all of us at AustralianSuper.

End Transcript
AustralianSuper Balanced option returns
| Financial Year | annual Returns |
| --- | --- |
| 2020 | 0.52% |
| 2019 | 8.67% |
| 2018 | 11.06% |
| 2017 | 12.44% |
| 2016 | 4.54% |
| 2015 | 10.86% |
| 2014 | 13.88% |
| 2013 | 15.63% |
| 2012 | 0.98% |
| 2011 | 10.27% |
Source: AustralianSuper data
SEE MORE: AUSTRALIANSUPER'S PERFORMANCE
Positive returns despite market volatility
The impact of the COVID-19 (Coronavirus) pandemic and the measures taken by governments around the world to manage it has proved extremely challenging for all economies including Australia's – devastating some industries and leaving many experiencing a huge downturn in trade and revenue.
Investment markets have reacted to the uncertainty, with sharemarkets in particular experiencing increased volatility. During the March quarter we saw the Australian share market fall 23.4% (between the peak on 20 February to the trough on 23 March it fell 36.2%) and then recover 16.8% in the quarter ending 30 June.
The AustralianSuper investment team have continued to focus on 2 key things, which has positioned the investment portfolio well during this uncertainty and for the continued long term growth of members' savings.
We build diversified investment option portfolios. This approach reduces the volatility that members experience, so that you can remain invested through market cycles. The diversification in the Balanced investment option has helped cushion returns despite the sharemarket volatility, and will ensure members benefit from any recovery of the sharemarket and broader economy


We monitor markets, economies and indicators and adjust the Fund's investments and the strategy of each investment option to help maximise your retirement savings and manage risk.
Long-term investment and long-term rewards
It's important to remember that your super is a long-term investment, even for most people in retirement. And while changes in your balance can be a worry, if we look at markets over the long term we can see that fluctuations are expected.
Investment markets move in complex cycles and can be a challenge to predict and respond to. But AustralianSuper data shows that if you make decisions based on short-term considerations, you could be worse off in the long run. This includes activities like switching investment options or withdrawing super early, which can both have a significant impact on how much super you'll have when you retire.
For example – if a member decided to switch from the Balanced option to Cash on 18 March 2020 (after the government announced steps to restrict movements because of COVID-19) and then didn't switch back, that member would have a return of minus 7.09% for the financial year (as of 30 June, 2020). If they hadn't made a change, they would have received the Balanced option's return of 0.52%.
'I think the biggest thing for the year was really about holding your nerve,' Mark Delaney. 'Trying to time the market does not fit with a long-term investment strategy.'
READ MORE: POTENTIAL RISKS OF SWITCHING INVESTMENT OPTIONS
If you're considering making a change or looking at investment options talk to an adviser to ensure you're making the right choice for your personal goals.
Active investment management to protect your savings
Our 170 investment experts are focused on maximising your savings and managing risk. They are actively monitoring the outlook and looking for investment opportunities that become available after periods of downturn. All their investment decisions aim to deliver the best possible long-term returns, to help members achieve their best possible retirement outcomes.
'We have a very experienced team who actively manage members' investments. They closely monitor markets and economic indicators and make sure the portfolios are diversified to reduce volatility,' says Delaney.
HOW AUSTRALIANSUPER INVESTS
Economic recovery will take time
We understand economic recovery will take time and there will be ups and downs.
'We're moderately optimistic at the outlook for the next 2 or 3 years, particularly the further you look out,' says Delaney. 'In the short term there's lots of issues, but if you look out further, you're starting with economies at the bottom of the cycle, attractive valuations, and policymakers inclined to support initiatives to keep the economies going.'
While we continue to diversify investment across many countries, AustralianSuper has always been a large investor in Australia. We currently invest almost $90 billion of members' super in Australia. These investments include Australian companies and assets, such as essential infrastructure, like ports, roads and electricity networks, and commercial property. We also invest in bonds issued by Australian governments and large companies and we lend directly to Australian companies and projects.
These investments contribute to strong, long-term returns for members, as well as the Australian economy, and support the employment of tens of thousands of Australian workers.
'A strong economy is good for member returns, and we will continue to invest in Australian companies and assets that make good investment sense and help underpin Australia's future economic growth and job creation.
We understand how challenging these times are for our members. We will continue to work on your behalf to navigate those challenges, and we are dedicated to maximising your retirement savings. Today, tomorrow and every day.' Delaney said.
If you have any concerns or questions, want advice or just want to know how your super is working for you, please contact the AustralianSuper team. To view your balance log in to your online account, or download the free AustralianSuper app.
Sources:
Based on investment returns which are net of investment fees, costs and taxes, but do not include the impact of administration fees and insurance premiums that are deducted from members' account balances
SuperRatings Fund Crediting Rate Survey, SR50 Balanced (60-76) Index 30 June 2020.
Based on investment returns which are net of investment fees, costs and taxes, but do not include the impact of administration fees and insurance premiums that are deducted from members' account balances.
Investment returns are not guaranteed. Past performance is not a reliable indicator of future returns.
This information may be general financial advice which doesn't take into account your personal objectives, situation or needs. Before making a decision about AustralianSuper, you should think about your financial requirements and refer to the relevant Product Disclosure Statement. AustralianSuper Pty Ltd ABN 94 006 457 987, AFSL 233788, Trustee of AustralianSuper ABN 65 714 394 898.
Compare us
Choosing the right fund could mean more money in the future, giving you more confidence in your long-term retirement plan performance.
compare us