3 October 2022
Investing successfully for retirement relies on a steady focus and not being distracted by the twists and turns inevitable on any long journey.
For AustralianSuper's Global Economist Mark Tierney, the key to success is to remain focused on your retirement goals. For most members with long-term investment horizons that means staying the course when markets fluctuate.
As Mark explains: 'Market downturns can be unsettling. Members can take comfort knowing that we adopt active investment strategies. This means we are actively looking for opportunities to invest in companies and assets that have been mispriced and investing in a mix of quality assets globally. This can help deliver strong long-term performance.'
Markets move in complex cycles and can be challenging to predict, especially if you're not an investment expert. So it's not surprising that being able to read the market accurately is central to AustralianSuper's investment strategy.
Changing markets can cause unease
When markets fall, it's natural to feel uneasy. Many people feel the pain of an investment loss more than they enjoy the success of a gain. It can be hard to see at the time, but when markets fall it's often a time of opportunity.
As well-known investor Warren Buffet says, 'Whether we're talking about socks or stocks, I like buying quality merchandise when it is marked down.'
Market update June/July 2022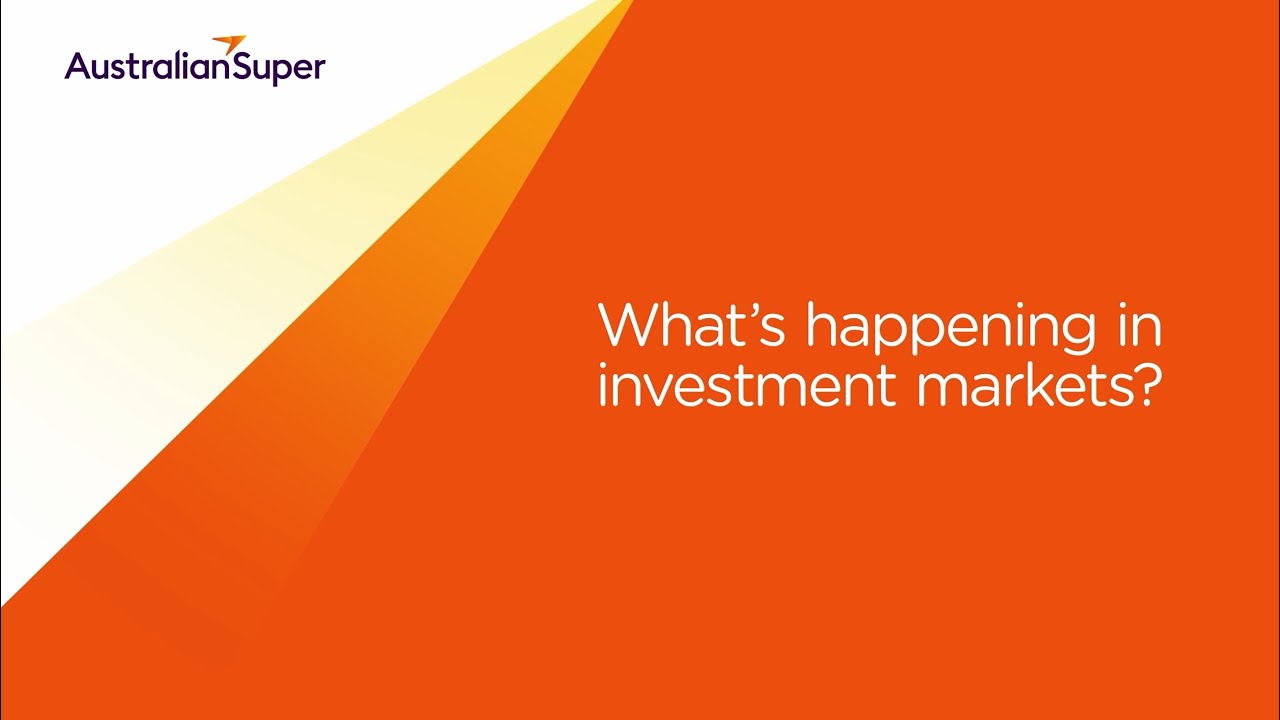 Show Transcript

Hide Transcript

There has been a lot of news headlines recently about investment markets and super balances.

We understand this can cause concern and raise questions for members, especially those near or in retirement.

I'm Lauren Davis and I'm joined by Justine O'Connell, a senior member of our investment team with over 20 years of experience of investments.

We're going to discuss what's been happening in investment markets and share some tips on what to consider when markets are moving up and down.

In recent months, the economy and investment markets have been affected by a range of events.

Firstly, significant COVID stimulus from governments, supply chain blockages and the war in Ukraine have all contributed to higher prices both at home and globally.

Secondly, central banks have responded by raising interest rates to slow demand resulting in falls in investment markets.

This has impacted member balances across the super industry.

Against this backdrop, remember that market ups and downs are a normal part of investing.

History shows that market downturns and recoveries are to be expected over the lifetime of superannuation investing.

As this graph shows, despite the global financial crisis, Brexit and the COVID-19 pandemic, members who stayed invested in a diversified portfolio, like the Balanced plan, have seen their super balances grow substantially over the last 20 years.

Our focus is always on helping members achieve their best financial position in retirement.

Our pre-mixed investment options, such as the Balanced option, are diversified portfolios that invest in a range of different asset classes, across regions and sectors.

This means they're purpose built to cushion the impact of the market's ups and downs over the long term.

Taking a medium to long term investment outlook helps us prepare the portfolio for changing market conditions.

As we've been saying for some time, we've been anticipating an economic slowdown and preparing our investment portfolios for a lower growth environment.

We've reduced our weighting to growth assets like listed shares, in favour of more defensive assets, like fixed income and cash.

As someone who regularly talks with members, I know how unsettling any changes in your finances can be, including your super.

Remember to look past short-term market falls and think of your super as a long-term investment.

Members in or close to retirement could still be invested for another 20 years.

Our data shows that making decisions based on short-term market movements can often leave members worse off financially in the long term.

If you have any concerns, consider speaking to a financial advisor to make sure your super is working towards your personal retirement needs.

We also run free education sessions and webinars throughout the year.

Visit the Advice section of our website for more details.

Our dedicated team of experts is here to help.

End Transcript

AustralianSuper navigates market cycles for members
The chart below shows that over a period of 20 years, despite ups and downs in the market, members' super invested in the Balanced option has grown. It can be tempting to sell out of the market and wait on the sidelines until it seems safe to dive back in, but many studies show that this strategy can deliver lower returns over the long run.
Growth of $100,000 from 30 June 2002 to 30 June 2022 in the Balanced option
Long term performance of the Balanced option, starting with a $100,000 balance on 30 June 2002.
AustralianSuper investment returns are based on crediting rates, which are returns less investment fees and costs, the percentage-based administration fee deducted from returns from 1 April 2020 to 2 September 2022 and taxes. Returns don't include all administration, insurance and other fees and costs that are deducted from account balances. Returns from equivalent investment options of the ARF and STA super funds are used for periods before 1 July 2006. Investment returns aren't guaranteed. Past performance isn't a reliable indicator of future returns.
Understanding AustralianSuper's investment strategy
AustralianSuper has built a long-term track record of managing members' retirement savings through market cycles. The Balanced option, where most members are invested, has generated an average return of 9.32% each year over the last 10 years and 7.84% over the last 20 years to 30 June 2022, making it one of the top 2 performing funds in Australia over 7, 10 and 20 years1.
The Fund's Balanced option has outperformed the median fund over the last 20 years as you can see from the chart below.
Strong long-term performance track record
The Balanced option has consistently outperformed the median fund over the long term.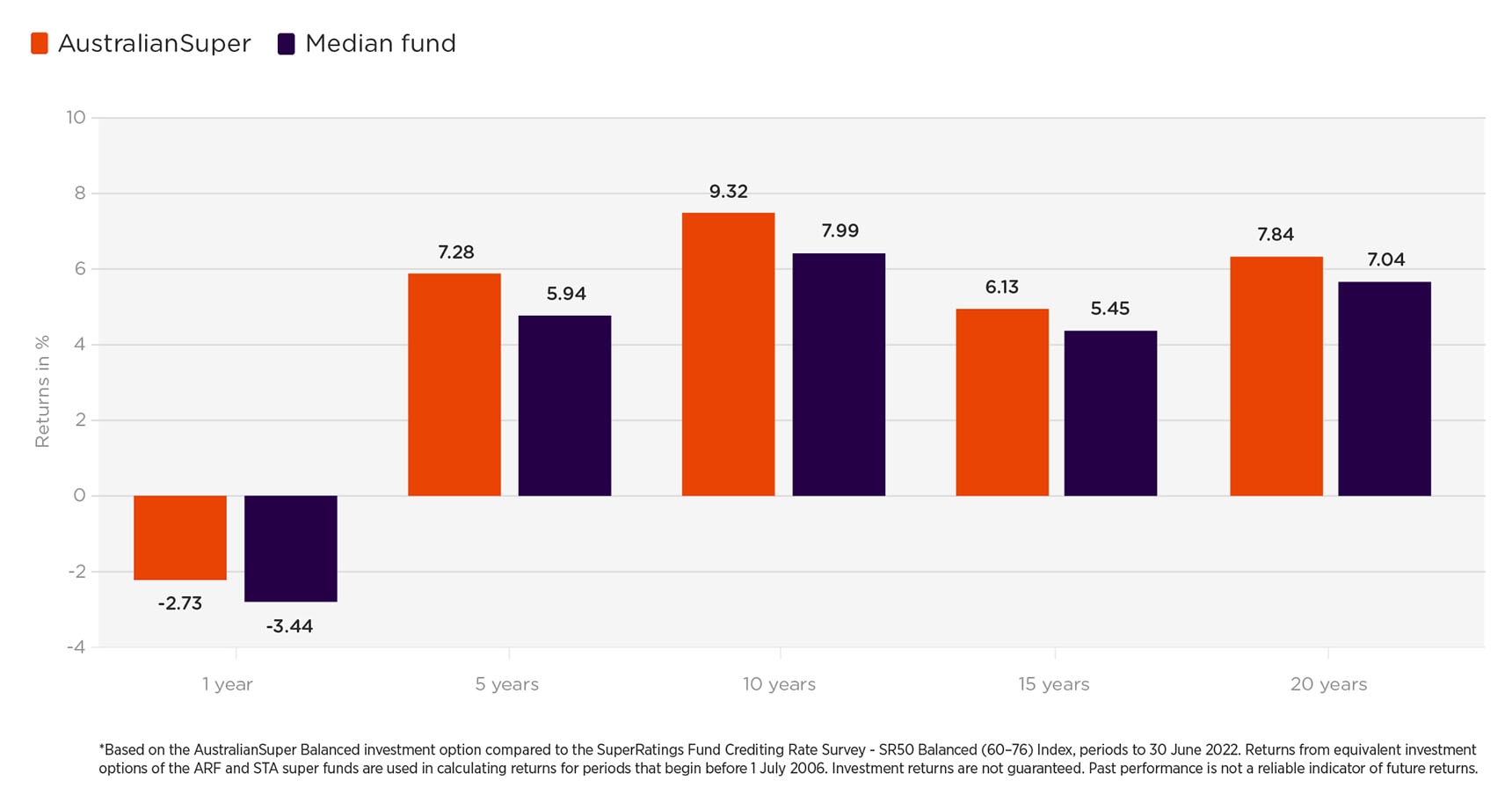 The Balanced option is ranked #2 over 7, 10 and 20 years. The Balanced option is a top-performing fund over medium and long-term. SuperRatings Fund Crediting Rate Survey, SR50 Balanced (60-76) Index to 30 June 2022. Investment returns are not guaranteed. Past performance is not a reliable indicator of future returns.
This means AustralianSuper is a top-performing fund for members over the long-term.
AustralianSuper has an in-house team of over 2502 investment professionals. This team continually assesses economic and investment data to help plan and adjust investment strategies. We take a diversified approach. By investing in a mix of assets, the team aims to further reduce risk, maximise investment opportunities and grow members' retirement savings over the long term.
Read more: AustralianSuper's investment strategy
The benefits of patience in times of uncertainty
History shows that the markets increase in value over the long term. By staying invested in a diversified portfolio your super has more opportunity to benefit from the inevitable upturn. This means members who stay invested in a diversified portfolio often end up in a better position than those who keep changing investment options.
It's important to consider your risk tolerance and your risk capacity. Risk tolerance is about how much you are comfortable losing over the short term. Risk capacity is how much risk and return you need over the long term to achieve your retirement goals.
Seeking financial advice
Balancing your risk appetite and personal financial goals is something which may change over the course of your working life and retirement. Consider speaking to a financial adviser to help you work through any questions and goals. An accredited financial adviser can help guide you when investment markets are bumpy so you can stay calm, focus on your retirement goals and make the right investment choices for you.
Connect with a financial adviser3
References:
1. AustralianSuper Balanced investment option as compared to the SuperRatings Fund Crediting Rate Survey – SR50 Balanced (60-76) to 30 June 2022. Investment returns are not guaranteed. Past performance is not a reliable indicator of future returns.
2. As at July 2022.
3. Personal financial product advice is provided under the Australian Financial Services Licence held by a third party and not by AustralianSuper Pty Ltd. Fees may apply.
Investment returns are not guaranteed. Past performance is not a reliable indicator of future returns.
This may include general financial advice which doesn't take into account your personal objectives, financial situation or needs. Before making a decision consider if the information is right for you and read the relevant Product Disclosure Statement, available at australiansuper.com/pds or by calling 1300 300 273. A Target Market Determination (TMD) is a document that outlines the target market a product has been designed for. Find the TMDs at australiansuper.com/TMD.
AustralianSuper Pty Ltd ABN 94 006 457 987, AFSL 233788, Trustee of AustralianSuper ABN 65 714 394 898.