Investment Update
In what seems a coincidence October has sometimes been a bad month for share markets with some of the worst market sell-offs in history occurring in the month.
This October has been a rocky road for Australian and international share market investors. Markets have experienced some very large single day falls, which can be nerve-racking when you see it splashed across the daily news.
The recent falls have come after the US share market reached record highs and the Australian share market hit its highest levels in ten years. For the financial year to 31 October 2018, Australian shares are down 4.7% and international shares -2.5% (in local dollars)‡. While this has impacted the Balanced option, its return has fallen less (-1.1% for the financial year to 31 October 2018) due to its broad diversification across a range of asset classes.

What's different about the recent falls to those of 1929, 1987 and 2008 is that the global economy is still in pretty good shape despite the increase in investor concerns.

What's been driving the volatility?
It's a similar list of concerns to those we wrote about in our April update.
Higher US interest rates – the Federal Reserve has raised US interest rates eight times since March 2015. This is part of strategy to gradually unwind the emergency measures that were put in place during the global financial crisis and bring rates back to normal or 'neutral' levels.

The US economy is performing well with annual economic growth above 4% and historically low unemployment. There are currently more job ads than people looking for jobs. This has some investors thinking the Fed will lift interest rates too quickly and cause an economic downturn.

US/China trade wars – tensions have escalated in recent months with the US imposing tariffs on US$250 billion of Chinese imports, and China responding with tariffs worth $110 billion on US imports. There are also concerns about the impact this will have on technology stocks, with computers and computer parts likely to be the hardest hit by the tariffs. While we don't think tariffs are a good thing for global economic trade, we estimate these tariffs will only reduce global GDP by around 0.2%.

Lower Australian house prices – falling house prices in Australia have led to concerns of a housing collapse. The main reason housing prices have fallen has been due to government restrictions. Including disincentives to foreign property buyers and local investors who use interest only loans. While housing affordability for owner-occupiers is an issue, interest rates remain at historically low levels and unemployment is also low.


A realistic perspective on investment returns
The recent volatility is a timely reminder that fluctuations in share markets are to be expected, and that shorter term returns can be negative. For example, for our Balanced option we expect a negative return about one year in every four to five and yet we've just clocked over our ninth year in a row of positive returns.
While returns can fluctuate from year to year, staying focused on the long term gives you a more realistic perspective on investment returns. Over the last 20 years, the Balanced option has returned an average annual return of 7.95%. It's consistently been one of the better performing funds, ranking in the top three funds over the 1, 3, 5 and 20 years to 30 June 2018*.
To put this in perspective, the investment returns of the Balanced option have increased members' retirement savings by more than four and a half times over the last 20 years – every $100 invested at the beginning of the 1998 financial year would be worth over $460 at 30 June 2018†.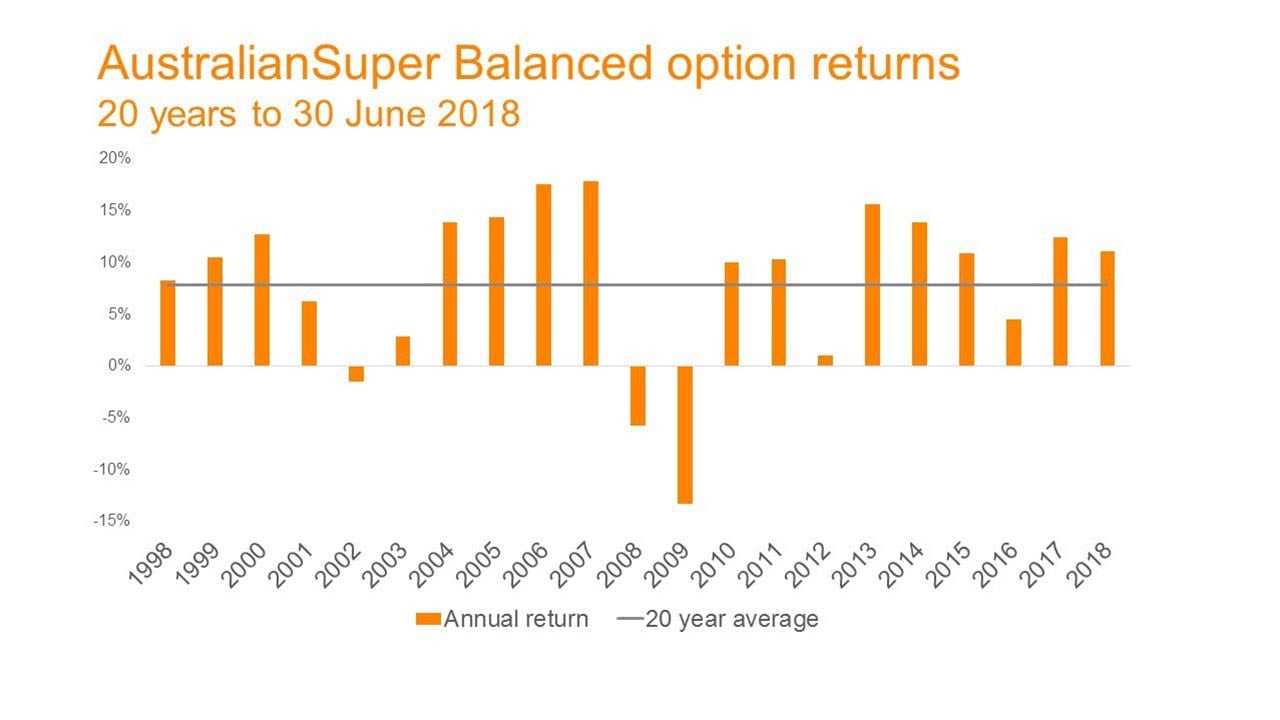 What's the outlook for my super?
We've been talking a bit lately about how we don't expect returns to stay as strong as they have been in recent years. It's been a key topic at this year's member briefings.
It's not unusual for markets to fall somewhat after experiencing large gains in a short space of time. And likewise, larger falls in markets are often related to spectacular booms in equity markets over the course of many years.
AustralianSuper's Head of Portfolio Construction Alistair Barker said: 'We don't think the recent volatility is a symptom of a deeper downturn yet – but we are getting closer to the end of what has been one of the longest growth cycles in history.'
'If you've had a lot of your money invested with us over the course of the last five or ten years it's been a very good period.'
'The important message I wanted to convey is that if you're in one of our PreMixed investment options for the longer term, we try and do as much of the heavy lifting as we can for you. This means we adjust the allocation to each asset class to control the level of risk in the portfolio and reduce the impact of volatility on your returns.'
'At this point in time, we're gradually looking to lower the risk in the portfolio by reducing the high weighting to shares, and lock in some of the gains in share markets over the past few years. We're closely monitoring any signs of a deterioration in the economic outlook, although at this stage the global economy remains strong, and we see the benefits outweighing the risks.'
'When things do turn negative, it's important not to over-react. Typically, if you hear about it in the newspaper it's already happened, which means you can lock in losses if you change strategies when markets are down. Members are often better off sticking with their long-term strategy, providing it's appropriate for their goals and their personal circumstances haven't changed.'
Get help if you need it
If you're not sure which investment option is right for you, it may be worthwhile speaking to a financial adviser. An adviser can help you choose the right investment option for your needs. They can also help provide guidance during times of uncertainty so you can stay focused on your long-term plan. Find out more about AustralianSuper's advice options.
‡ Australian Shares: S&P/ASX 300 Index, International Shares: MSCI AC World ex AU (Loc)

* Compared to funds in the SuperRatings SR50 Median Balanced Survey – 30 June 2018.

† Investment returns from 1 July 1998 to 30 June 2018. Investment returns are net of investment fees, costs and taxes, but do not include the impact of administration fees and insurance fees that are deducted from member's account balances.

Returns from equivalent investment options of ARF and STA are used in calculating returns for periods that begin before 1 July 2006. Refer to the AustralianSuper website to view returns for all AustralianSuper investment options. Investment returns are not guaranteed as all investments carry some risk. Past performance is not a reliable indicator of future returns.

This information may be general financial advice which doesn't take into account your personal objectives, situation or needs.