Choose Australia's most trusted superannuation fund1
In Australia, generally 10.5% of what you earn is automatically set aside for your future in a superannuation (or 'super') fund. Your super savings will always be your money – whether you're in Australia just for now or you stay here until you retire. It's important to know the super fund you choose could make a big difference to your future savings.
A fund that works for you
AustralianSuper is the country's largest and most trusted super fund1, and a partner of the Migration Council Australia. We work within strict laws and regulations set up by the Australian Government to help keep your superannuation secure.
As an industry super fund, we don't pay profits to shareholders like retail funds, so members are the only ones who benefit. Learn more about the different types of super funds.
Our history of strong performance2 has given members an advantage over the long term. The following table compares AustralianSuper's net benefit against other funds. This shows what your overall financial position could be after taking away admin and investment fees.
See how AustralianSuper compares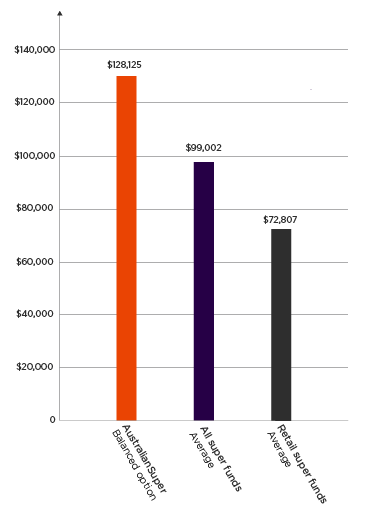 Net benefit to 30 June 2022. Net benefit refers to investment earnings less administration and investment fees and costs. Investment returns are not guaranteed. Past performance is not a reliable indicator of future returns.
The comparison shows what a member would have for 15 years to 30 June 2022, in addition to a $50,000 starting balance and employer contributions, assuming they started with a $50,000 annual salary5.
Frequently asked questions about super
What is superannuation?

In Australia, the government uses a compulsory system called superannuation to help you save for retirement.

For most employees, from the moment you start at a job, 10.5% of your before-tax earnings is paid by your employer into your super fund, instead of into your bank account.

You can also choose to make additional personal contributions from your savings into your super at any time.

What is a super fund?

Your super savings are managed for you by an organisation known as a super fund. As Australia's largest fund, AustralianSuper manages the super savings accounts of 2.8 million people3, representing one in 10 working Australians.

AustralianSuper is an industry super fund, and it works within the strict laws and regulations set up by the Australian Government to help keep your superannuation secure.

Being an industry super fund means profits and dividends aren't paid to shareholders, and the money earned by the fund goes back to members. That helps to keep fees and costs low, too.

What happens to my money?

Any money you or your employer add to your super fund is invested by professional money managers who work at the fund.

They invest your super in a range of assets, and in ways designed to grow your balance.

When you're able to retire from working life, you can access the balance of your super account to support yourself.

What is a super contribution?

Each time money is paid into your super account, it's called a contribution. There are different types of contributions.

The most common type of contribution is called an employer contribution, or sometimes referred to as a super guarantee (SG) contribution. This is when your employer pays a portion of your wages into your super account.

To give your retirement savings an additional boost, you can also choose to pay extra money into your super yourself. This is called making a personal contribution.

Another form of contribution is called a Government co-contribution. If you're a low or middle-income earner and make personal contributions to your super fund, the government may also make a contribution (if eligible) - up to a maximum of $500.

Learn more about contributions

Can I choose my own super fund?

You don't have to use the super fund that your employer recommends. Most Australians are allowed to decide who their retirement savings are invested with, so it is important that you choose the super fund that is right for you.

If you've already started working, and already have a super fund, you can choose to change funds – and it's easy. You simply need to let your employer know and give them your account details.

When can I access my super?

Your super is savings for your retirement. So, generally, you can't access your super until you meet certain conditions. In Australia you may be able to access your super when you reach your Preservation Age, but this age is slightly different for everyone, and depends on when you were born.

When you reach your Preservation Age, you don't have to stop working completely to be able to access your super. It is also possible for you to cut down on work and still access your super. This is called Transitioning to Retirement.

If you are a temporary resident permanently leaving Australia, you can apply to access your super early instead of waiting until you reach retirement age.

There may be other ways you can access your super before retirement or reaching Preservation Age.

Learn more about accessing your super

What other benefits are there with super?

One of the extra benefits of being with a super fund is that you can also access a range of insurance options, such as Death cover (also known as life insurance), Total & Permanent Disablement cover, or Income Protection.

Members may have insurance provided by default, so it's a good idea to check with your fund on the arrangement and see if it's right for you.

Having insurance cover through AustralianSuper means your premium can be offered at bulk discount rates. And your insurance costs are deducted from your super account each month, not your take-home pay.

What if I have more than one super account?

A lot of people have more than one super account, especially if they have worked in a number of different jobs. The more super accounts you have, the more sets of fees you are paying. Over a lifetime, these fees can add up and reduce your super balance significantly. So it could be beneficial to have just one super account.

Before making a decision to combine your super, consider any fees or charges that may apply, and the effect a transfer may have on benefits, such as insurance cover.

The good news is, bringing all of your super into the one account is really easy. This is called 'consolidating your super', or 'rolling over your super'.

Bring my super to AustralianSuper

Can I take my AustralianSuper account from job to job?

Yes, you can. And it's easy. Your AustralianSuper account is portable, and can move with you whenever you change jobs. All you need to do is give your employer your account details. You can also send your employer your account details via the AustralianSuper mobile app.

There are benefits to having just one super fund. Not only does it mean less admin for you, it also means you are only paying one set of fees, which could make a big difference to how much money you retire with.

What happens to my super if I leave Australia permanently?

Can you help me with super in my language?

We can arrange an over the phone translation service in many languages, to help you better understand your super. Call us on 1300 300 273 to find out more.

I have other questions about super. Who do I ask?

As the country's biggest super fund3, AustralianSuper is dedicated to helping its members get a better understanding of what super is, why it's important and how to make the most of your super. After all, it's your money.

As a member of AustralianSuper, you'll have access to a range of webinars, tools and support.

Learn more about your advice options
Join today
Make the most of what you earn with Australia's largest, most trusted1 super fund. Joining online is easy and will take you less than 15 minutes.
Get started
Important information to consider

Readers Digest Most Trusted Brands – Superannuation category winner for ten years running 2013-2022 according to research conducted by independent research agency Catalyst Research.


AustralianSuper Balanced investment option compared to the SuperRatings Fund Crediting Rate Survey - SR50 Balanced (60–76) Index to 30 June 2022. Investment returns are not guaranteed. Past performance is not a reliable indicator of future returns. Returns from equivalent investment options of the ARF and STA super funds are used for periods before 1 July 2006.


AustralianSuper has a total of 2.88 million members and $258 billion in member assets as at 30 June 2022.


AustralianSuper received the Canstar Outstanding Value Award – Superannuation in 2022. Ratings are only one factor to be taken into account when choosing a super fund. Read the full methodology.


Comparisons modelled by SuperRatings, commissioned by AustralianSuper. The outcome shows the average difference in 'net benefit', a measure of past investment earnings after administration fees, investment fees and costs and taxes have been taken out. The results compare the AustralianSuper Balanced investment option and comparable balanced options, for historical periods to 30 June 2022. Insurance premiums and other fees and costs may also apply. Outcomes vary between individual funds. See Assumptions for more details. Investment returns are not guaranteed. Past performance is not a reliable indicator of future returns. AustralianSuper returns before 1 July 2006 are calculated from equivalent options of the ARF and STA super funds. Please note, the administration fees charged to members will be changing on 1 September 2022 for Pension products and 3 September 2022 for Accumulation products. Please refer to the product disclosure statements for updated information at www.australiansuper.com/pds