Embracing new ways of working?
Make sure your super keeps up.
The landscape of work is changing. More Australians are running their own businesses, freelancing, contracting, or joining the gig economy. If you're part of this change, it's important to remember that super will still play a big part in your retirement. There are small steps you can take now, like considering consolidating your accounts4, that could make a big difference to your future.
A fund that works as hard as you do
With more than 2.8 million5 members and a history of strong, long-term performance1, we're Australia's largest, most-trusted super fund2. We don't pay dividends or profits to shareholders, so the money we make goes back into the fund for the benefit of members.
How your fund performs over the long-term will make a big difference to your savings for the future. At AustralianSuper, we focus on what that performance means for the net benefit of your super. That is, what your overall financial position could be after taking away admin and investment fees – it's one of the best ways to see how funds stack up.
See how AustralianSuper compares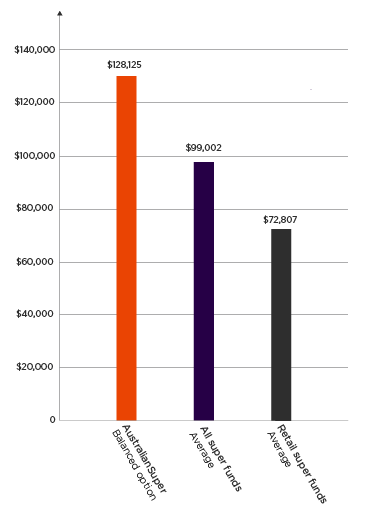 Net benefit to 30 June 2022. Net benefit refers to investment earnings less administration and investment fees and costs. Investment returns are not guaranteed. Past performance is not a reliable indicator of future returns.
The comparison shows what a member would have for 15 years to 30 June 2022, in addition to a $50,000 starting balance and employer contributions, assuming they started with a $50,000 annual salary6.
Important information to consider

AustralianSuper Balanced investment option compared to the SuperRatings Fund Crediting Rate Survey - SR50 Balanced (60–76) Index to 30 June 2022. Investment returns are not guaranteed. Past performance is not a reliable indicator of future returns. Returns from equivalent investment options of the ARF and STA super funds are used for periods before 1 July 2006.


Readers Digest Most Trusted Brands – Superannuation category winner for 10 years running 2013-2022 according to research conducted by independent research agency Catalyst Research.


Personal financial advice is provided under the Australian Financial Services Licence held by a third party. Fees may apply.


Before consolidating your super, ask your other super provider about any fees or charges that may apply, and other information about the effect this transfer may have on your benefits, such as insurance cover.


AustralianSuper has a total of 2.88 Million members and $258 billion in member assets as at 30 June 2022.


Comparisons modelled by SuperRatings, commissioned by AustralianSuper. The outcome shows the average difference in 'net benefit', a measure of past investment earnings after administration fees, investment fees and costs and taxes have been taken out. The results compare the AustralianSuper Balanced investment option and comparable balanced options, for historical periods to 30 June 2022. Insurance premiums and other fees and costs may also apply. Outcomes vary between individual funds. See Assumptions for more details. Investment returns are not guaranteed. Past performance is not a reliable indicator of future returns. AustralianSuper returns before 1 July 2006 are calculated from equivalent options of the ARF and STA super funds. Please note, the administration fees charged to members will be changing on 1 September 2022 for Pension products and 3 September 2022 for Accumulation products. Please refer to the product disclosure statements for updated information at www.australiansuper.com/pds


Before adding to your super, consider your financial circumstances , contribution caps that may apply, and tax issues.