AustralianSuper supports the goals of the Paris Agreement on climate change, which aim to limit global warming to well below 2 degrees by 2100.
Managing the transition to a low carbon economy
Climate change is one of the most significant investment issues facing investors today. Climate related risks will impact all economies, asset classes and industries, as well as societies and the physical environment
The world is transitioning to net zero emissions by 2050. This will require a transition away from fossil fuels, in the global economy.
We believe we can make a bigger change by the way we invest, and our actions as owners, rather than divesting.
On members' behalf, we're a large investor in all segments of the global economy. We can help drive the transition to a low carbon economy by engaging with the companies we invest in directly, and by working with other investors to amplify our impact.
We're also aware that climate change presents future opportunities in new industries and investments, such as the renewable energy sector. AustralianSuper has invested and plans to invest up to $1 billion in the coming months in new energy technologies. We expect this to continue to grow over time.
Making progress on reducing our carbon footprint
We measure how we're transitioning to a low carbon economy. The latest results* show how our global shares and fixed interest portfolios emit less carbon than the market index.
AustralianSuper's carbon intensity is lower than the market
| International shares | Australian shares | Fixed Interest |
| --- | --- | --- |
| -44% | -17% | -47% |

Our carbon intensity is falling over time**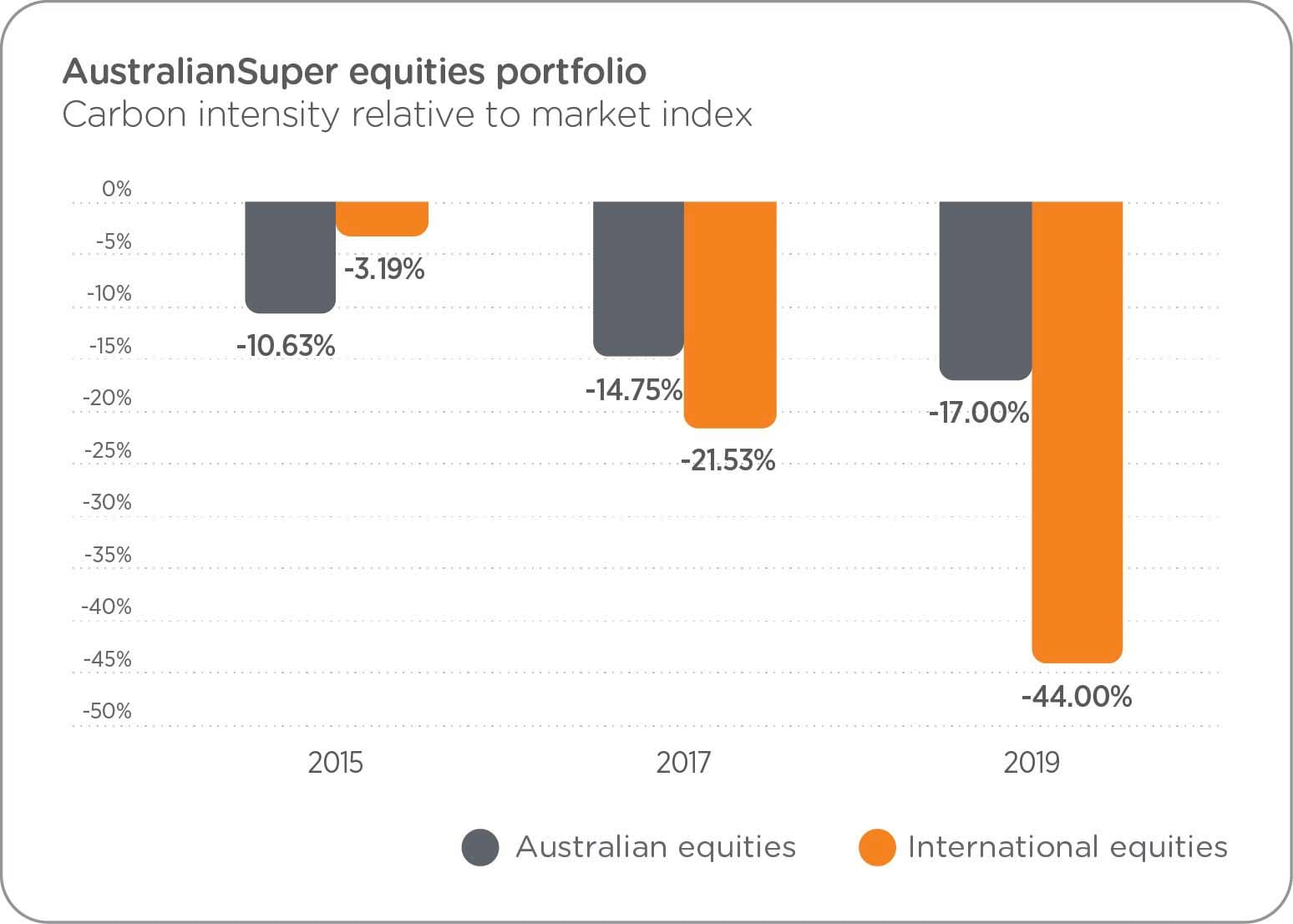 * Portfolio data at 30 September 2019.

**Portfolio data at 30 September 2015, 2017, 2019.

Source: S&P Global/Trucost ESG Analysis. Market indices: International Shares – MSCI ACWI ex AUS Index, Australian Shares - S&P/ASX 300 Index, Fixed Interest - Composite Index: 50% S&P Australia Aggregate Bond Index & 50% S&P Global Developed Aggregate Ex-Collateralised Bond Index. Carbon to revenue (C/R) calculated by dividing the apportioned CO2e by the apportioned annual revenues for Direct and First Tier Indirect Emissions.

The asset allocation and other investment information are current as at the dates shown. AustralianSuper may change asset allocations and investments from time to time to suit market circumstances.
How AustralianSuper influences change
We have a comprehensive ESG & Stewardship program where we:
Integrate climate change considerations throughout our investment process across asset classes
Regularly engage with companies, and vote, on issues that ask them to:

Set long-term science-based emissions targets aligned to the Paris Agreement and a net zero 2050 economy.
Understand climate change and carbon risks and have appropriate risk management strategies in place.
Publish climate change information, such as the Taskforce on Climate-related Financial Disclosure frameworks (TCFD) so we can make informed investment decisions.

Are a joint founder of Climate Action 100+, the world's largest investor initiative seeking emissions reductions from the world's largest carbon emitters
Actively consider climate change related shareholder resolutions on which we vote, supporting those we believe are effective in achieving a low carbon business transition and/or will result in improved disclosures on climate change.



Investing in renewables and the new economy
Transitioning to a low carbon economy means investing differently.
Over the last five years, we've been investing more in new economy sectors, like IT, healthcare and biotech, communications and fintech. We've also increased our investments in overseas markets, where there are more opportunities in these sectors. As at 31 December 2019, we invested around 40% of our international equity portfolio in new economy sectors.
Within the energy sector, we currently have plans to invest up to $1 billion in renewables via our equity and infrastructure portfolios and expect this to grow over time. We also hold lower emission transition fuels, like gas.
As the transition progresses, carbon emissions in the portfolio will fall as new technologies are developed and companies transition their businesses to a lower carbon economy. You can see this happening already in our carbon intensity results.
By managing the transition in a smooth and orderly way over time, we can continue to deliver the best investment outcomes for members.