Working for yourself doesn't mean you're alone. In fact, there's 1.18 million other Australians just like you1. At AustralianSuper, we understand why people like yourself – contractors, gig-economy workers, freelancers and trade experts – want to be your own boss and focus on what's important to you.
Leap across the super gap
You've made a great call to work for yourself. More freedom. More flexibility. There's also more responsibility. For people working for someone else, it's easy. Super goes into their account every time they're paid. But when you're working for yourself, you need to stay on top of your super to save for your future.
Jess saved more super and retired with confidence
Even if retirement feels far away, it can pay to save more now. By adding to super now, you can enjoy a comfortable lifestyle when you finish working. And with super's compounding returns, the earlier and more you invest, the longer and larger it can grow.
At age 32, Jess began working for herself and started putting 10% of her after-tax earnings into her super account. This worked out to $7,452 a year.
To see the difference regular contributions can make to your future, use our super projection calculator. It can also show you if you'll have enough for your retirement needs and estimate how long your super could last.
Super, tax and how you could maximise your savings
Staying on top of your super saves more for the future – and it can help you save on tax, too. As of 1 July 2021, you can claim a tax deduction on up to $27,500 of after-tax contributions a year. So any money you add to your super up to that amount could be taxed at 15% rather than your regular income tax rate. That could mean extra money sitting in your future pocket.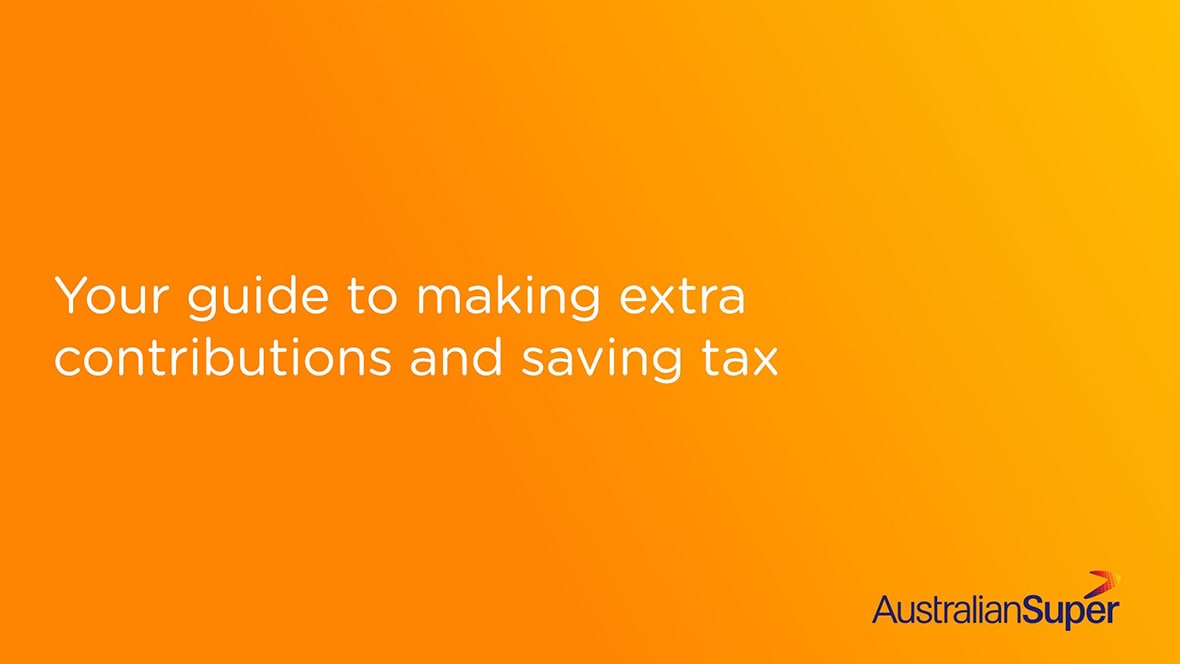 Show transcript

Hide transcript

When you're working for yourself and growing a small business, it's easy for super to get lost among all your priorities.

Adding to your super now could make a big difference to your financial future – and even small amounts help.

With your super, we invest your money so it has the chance to grow with compounding returns. That's when the returns your super makes reinvests back into your account. So your super is earning returns on your returns.

Super can also be a tax-friendly form of saving. If you make after-tax (concessional) contributions to your super directly from your bank account, you can claim a tax deduction on up to $27,500 of concessional contributions a year. You can pay tax on that sum at 15%, depending on your circumstances.

Make sure you notify your super fund if you plan to claim a tax deduction before you lodge your income tax return.

You can also make extra contributions of up to $110,000 a year from your after-tax income, but this isn't tax-deductible.

Even though retirement might seem far away, it's important to prepare for your future now. Whether you choose to contribute monthly, annually, or pay yourself super for each job, a regular routine can set you up for a healthy financial future.
Important information to consider

Roy Morgan, Dec 20, database.


Study of n=233 Independent Workers conducted by The Royals for AustralianSuper, May 2021.


AustralianSuper member data on balance and contributing status as of 30 June 2020. Average balances take into account members with multiple funds, and take into consideration the Average Investment Balance of those aged 25-44 years and the difference in balances between those contributing and non-contributing.


Member enters the workforce at age 32 with $0 balance and retires at age 67. Salary at commencement is the Australian median for full-time workers at August 2020 of $74,516 (Source: ABS), increasing with wage inflation of 3.5%. Deductible Member contributions are 10% initially, increasing with assumed wage inflation. Assumes AustralianSuper Administration fees of $2.25 pw and 0.04% of account balance and AustralianSuper average insurance costs of $550 pa. Investment returns projected over the working lifetime are 6.5%, net of fees and taxes. Results are expressed in today's dollars by discounting at wage inflation of 3.5%. All results rounded to the nearest $1,000.


Investment returns are not guaranteed. Past performance is not a reliable indicator of future returns. Returns from equivalent investment options of the ARF and STA super funds are used for periods before 1 July 2006. Top performing for the 7, 10, 15 and 20 years to 30 June 2021, based on returns for the AustralianSuper Balanced investment option compared to the SuperRatings Fund Crediting Rate Survey — SR50 Balanced (60–76) Index. Returns are updated daily for all AustralianSuper investment options here.


Readers Digest Most Trusted Brands – Superannuation category winner for nine years running 2013-2021 according to research conducted by independent research agency Catalyst Research.


AustralianSuper had 2.56 million members as at 31 March 2021.