15 October 2021
Improving economic conditions in Australia and around the world, are continuing to support positive investment returns.
AustralianSuper members, in both accumulation and retirement, are seeing positive returns in the Balanced option for the quarter. This is despite some volatility in investment markets in September.
In accumulation, the Balanced option has delivered a return of 1.73% for the period 1 July 2021 to 30 September 2021, and 18.81% for the period 1 October 2020 to 30 September 2021. Similarly, in Choice Income accounts, the Balanced option has returned 1.80% for the September quarter and 20.44% for the period 1 October 2020 to 30 September 2021*.
Balanced option performance (Super and TTR Income) as at 30 September 2021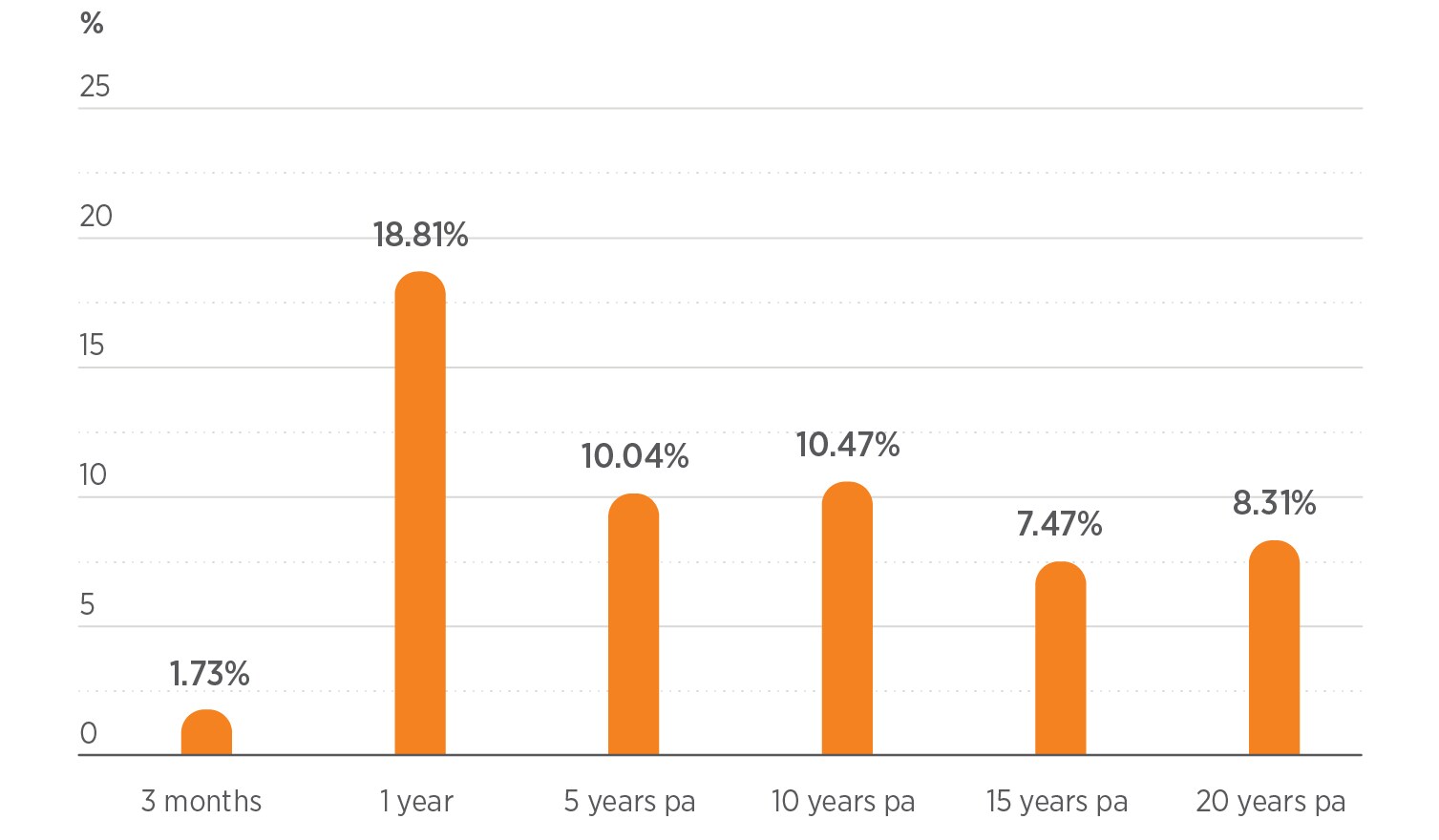 *Investment returns are not guaranteed. Past performance is not a reliable indicator of future returns. Returns from equivalent investment options of the ARF and STA super funds are used for periods before 1 July 2006.
For TTR Income accounts, the investment return is based on the crediting rate for super (accumulation) options. From 1 April 2020 the crediting rate includes an administration fee that is deducted from investment returns, that only applies to super (accumulation) accounts and does not apply to TTR Income accounts. TTR Income accounts will be adjusted to refund the administration fee deducted from investment returns, so that it does not apply.
Balanced option performance (Choice Income) as at 30 September 2021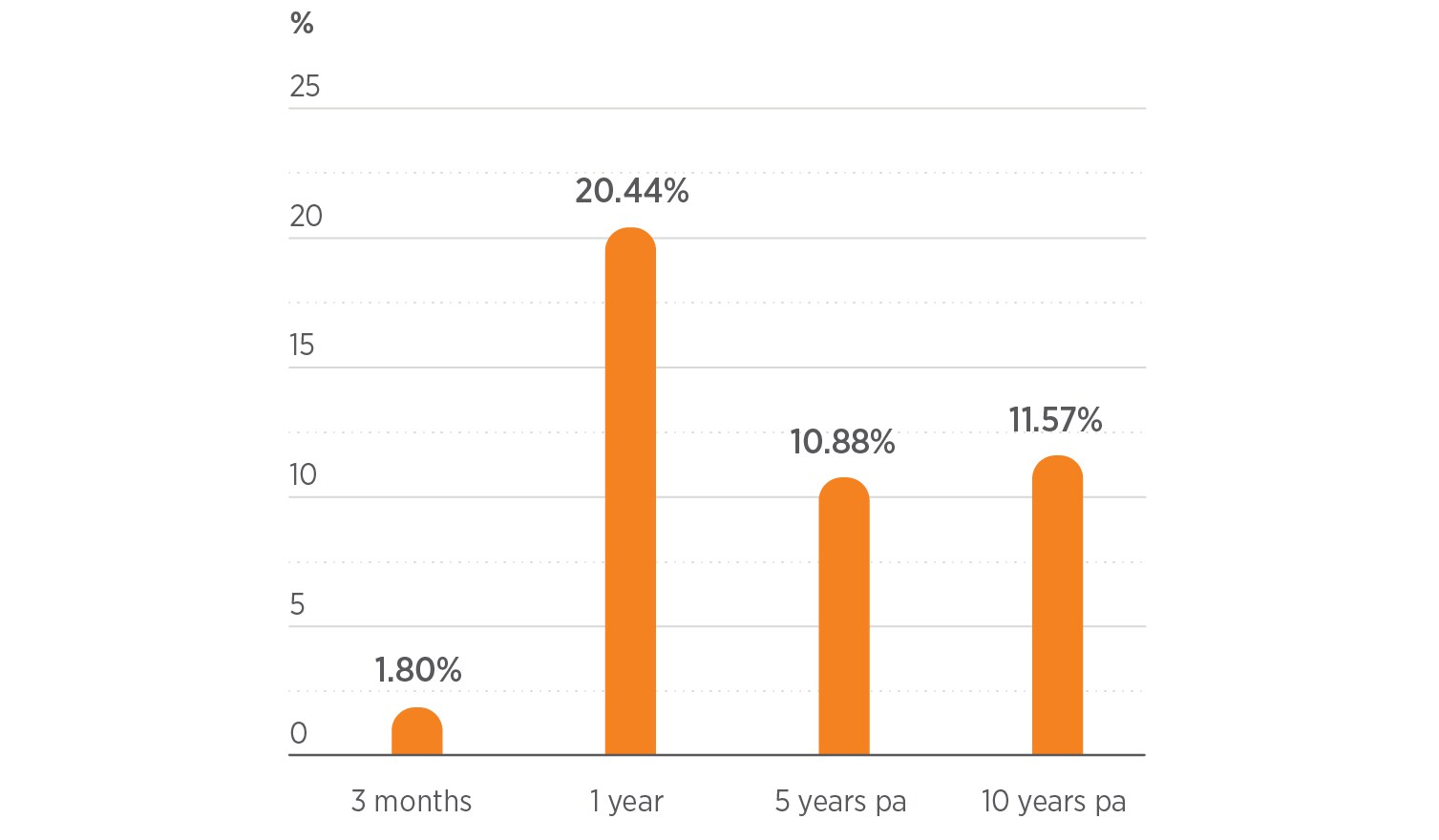 Investment returns are not guaranteed. Past performance is not a reliable indicator of future returns.
Favourable returns from Australian shares, international shares, private equity and unlisted infrastructure, have helped deliver the September quarter performance for the Balanced option.
Supported by the easing of inflation expectations, we saw Australian and international share markets trend higher. This was despite the pull-back in September, triggered by outbreaks in the Delta variant, labour and supply chain shortages, and concerns about issues like China's property developer Evergrande.
A normalisation of these issues is likely to benefit investment markets in the near term.
The outlook for investment markets and your super
Our outlook for investment markets remains positive for the short to medium term. We're expecting continued economic growth in Australia and overseas as countries reach vaccination targets and start opening up. Consumer demand for goods and services after lockdowns, is forecast to be high. This is likely to produce good company performance and member returns.
As well as strong consumer demand, we're expecting governments to continue supporting the economic recovery with stimulus programs and low interest rates.
Potential risks to our growth outlook include the emergence of any new COVID variants, inflation pressures and a slowdown to China's economy. These scenarios could lead to uncertainty in investment markets and a slower pace of economic recovery.
As we look to the longer term, investment markets are expected to move out of the current growth cycle. While this may mean more moderate returns compared to the past 12 months, the investments team has a strong track record of managing members' retirement savings through all market cycles.
Setting the scene for further growth
As you can see from the chart below, we're maintaining an overweight to listed equities, private equity, infrastructure and credit investments and a reduced allocation to fixed interest.
With continued low interest rates, returns on fixed interest investments are likely to remain low. The low yield environment also reduces returns for cash investments which will struggle to keep up with inflation.
Balanced option asset allocation position as at 30 September 2021
AustralianSuper may change asset allocations and investments from time to time to suit prevailing market circumstances. Due to the Fund's different cashflow management approaches for Superannuation and Choice Income accounts, there may be a slight difference in the asset allocations for these options at any given time.
READ MORE: ASSET ALLOCATION – BALANCED OPTION
Learn more about AustralianSuper's performance
For an in-depth look at the Fund's performance in 2020-2021, as well as what's ahead in the investment landscape, download a copy of the latest Annual Report.
DOWNLOAD: 2021 ANNUAL REPORT
Investment returns are not guaranteed. Past performance is not a reliable indicator of future returns.
This may include general financial advice which doesn't take into account your personal objectives, financial situation or needs. Before making a decision consider if the information is right for you and read the relevant Product Disclosure Statement, available at australiansuper.com/pds or by calling 1300 300 273. A Target Market Determination (TMD) is a document that outlines the target market a product has been designed for. Find the TMDs at australiansuper.com/TMD.
AustralianSuper Pty Ltd ABN 94 006 457 987, AFSL 233788, Trustee of AustralianSuper ABN 65 714 394 898.