2 December 2022
We understand that current economic and investment market conditions are hard for many retirees. Rises in living costs, medical costs and interest rates along with volatile investment markets are leading many of you to worry about running out of money in retirement. Research suggests that outliving retirement savings is the top 2 concern among retirees, with health being the number 1 issue1.
So what can you do to ease money worries in retirement? Here are a few tips to consider.
1. Know that historically investment markets go up more than they go down
Investment markets and economies are continually changing, and both move through stages that are hard to predict. The one thing we can be sure of however is that market ups and downs are normal when it comes to investing and that investment markets have historically increased in value over the long-term.
While it can be difficult focussing on the long-term when your super balance is falling and your living costs are rising, it may be reassuring to remember that markets and member returns have recovered after downturns, as we can see from the chart below. Here we can see the growth of $100,000 invested in the Choice Income Balanced option, from inception to 30 September 2022. This is despite significant market events like the Global Financial Crisis in 2008 and the COVID-19 downturn.
Balanced option Choice Income – Growth of $100,000 since inception to 30 September 2022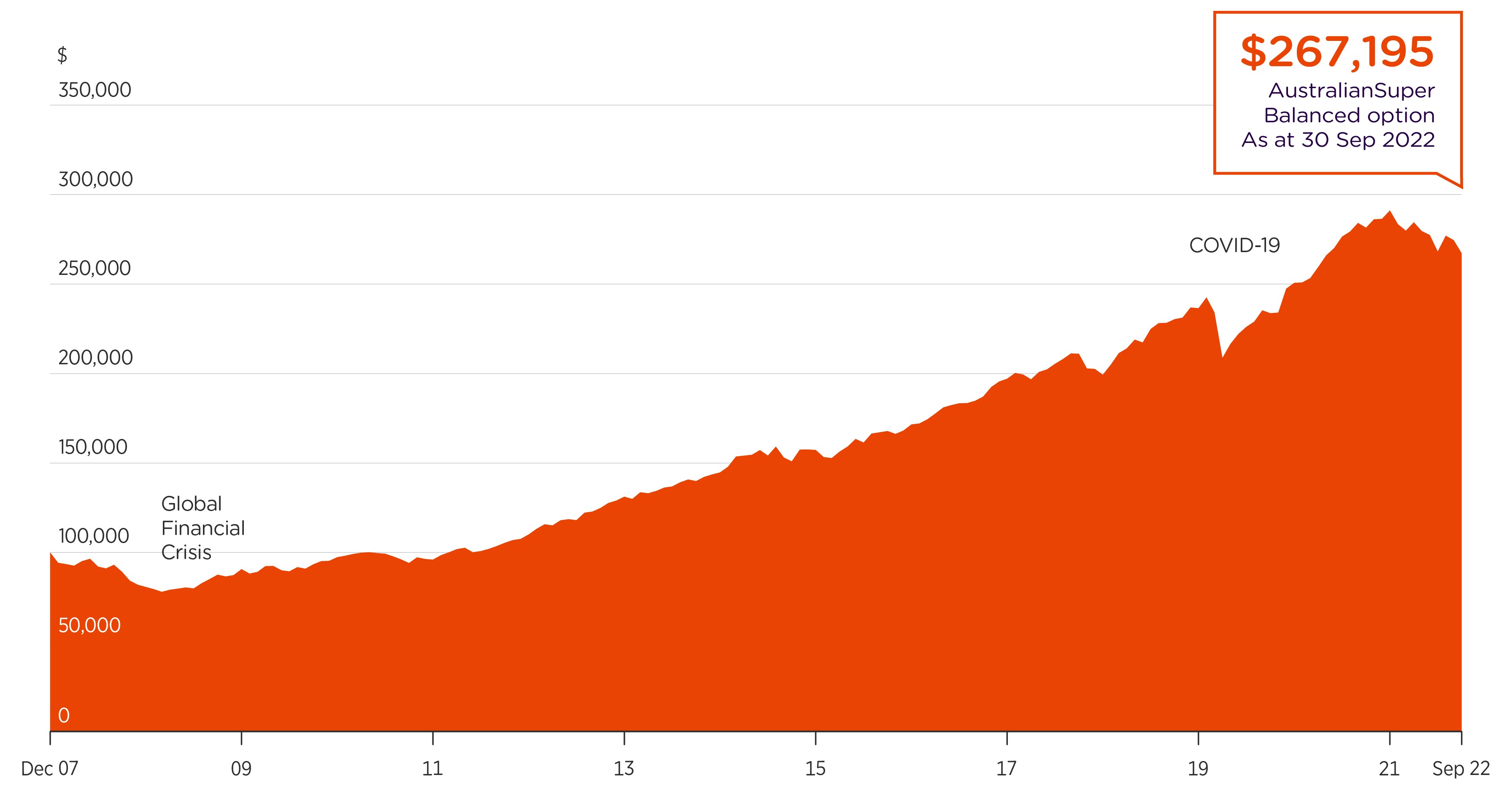 AustralianSuper investment returns are based on crediting rates, which are returns less investment fees and costs and taxes. Doesn't include all administration and other fees and costs that are deducted from account balances. Investment returns aren't guaranteed. Past performance isn't a reliable indicator of future returns.


2. Choose investment options that help you sleep
If you're worrying about fluctuations in your super it may be worth reviewing your investment options to ensure you have the right investments for your specific circumstances and comfort level.
AustralianSuper offers members a range of retirement investment options with different investment objectives and risk levels to suit individual circumstances and risk preferences. Here's a brief look at some of these options.
Balanced
Invests in a wide range of assets, including shares, private equity, infrastructure, property, fixed interest, credit and cash. Designed to have medium to long-term growth with possible short-term fluctuations.
Conservative Balanced
This option includes a higher allocation to fixed interest and cash than the Balanced option.
It's designed to have medium-term growth with a balance between capital stability and capital growth. May also have some short-term fluctuations.
Stable
This option has an emphasis on fixed interest and cash with a higher focus on stability than growth.

The aim of each of these options is to beat inflation so that your savings keep up with increases in living costs:
| | Balanced | Conservative Balanced | Stable |
| --- | --- | --- | --- |
| Investment objective | CPI + 4% pa over the medium to long term | CPI + 2.5% pa over the medium term | CPI + 1.5% over the medium term |
| Minimum investment timeframe | At least 10 years | At least 7 years | At least 5 years |
Members can choose a single investment option or a combination of options. For example, it's possible to invest a certain percentage in the Balanced option for the higher potential returns and another percentage in the Stable option to reduce your market risk.
The following chart provides a snapshot of the performance of a $100,000 investment in each of these options compared to the Cash option since the start of Choice Income, on 1 January 2008.
Choice Income options – Growth of $100,000 since inception to 30 September 2022
Investment returns are not guaranteed. Past performance is not a reliable indicator of future returns. Doesn't include administration, insurance or other fees and costs that are deducted from account balances.


3. Downsizing your home may help boost your super
If you haven't quite paid off the mortgage, downsizing to a smaller home may help you to pay off debt. And if you've paid off the mortgage, downsizing could leave you with extra money to support you in retirement.
You may be eligible to put some of that money into super as part of the government Downsizer Contribution initiative. Eligible Australians are able to make a one-off contribution to super of up to $300,000 from the proceeds of downsizing their home. Both members of a couple can contribute $300,000 each. Currently, the eligible age is 60 years or older. From 1 January 2023, the eligible age will be 55 years or older2.
4. Remember there's a safety net
It's important to remember that the Age Pension may be an option - giving you a safety net if your retirement savings fall significantly or run out entirely. The Age Pension is designed to provide a basic standard of living for Australians who are unable to fully fund their retirement. Even if you don't qualify for the Age Pension, there are other programs that may help with utilities, rates and transport costs. Services Australia and the Department of Social Services have a list of  benefits and payments for retirees.
5. Financial literacy may help to ease anxiety about money
AustralianSuper runs many seminars and webinars throughout the year to help members better understand their super options, investment strategies and the state of investment markets and our economy. To see the list of options available to you
6. Seek expert advice
If money worries continue to keep you up at night, we encourage you to speak to a financial adviser. They can help give you and your family peace of mind by working through your financial needs for each stage of your retirement and how to best meet them.
Source:
1.
https://www.fidelity.com.au/insights/investment-articles/fears-and-expectations
5 February 2021
2.
ato.gov.au/individuals/super/growing-your-super/adding-to-your-super/downsizing-contributions-into-superannuation
Investment returns aren't guaranteed. Past performance isn't a reliable indicator of future returns.
This may include general financial advice which doesn't take into account your personal objectives, financial situation or needs. Before making a decision consider if the information is right for you and read the relevant Product Disclosure Statement, available at australiansuper.com/pds or by calling 1300 300 273. A Target Market Determination (TMD) is a document that outlines the target market a product has been designed for. Find the TMDs at australiansuper.com/TMD.
AustralianSuper Pty Ltd ABN 94 006 457 987, AFSL 233788, Trustee of AustralianSuper ABN 65 714 394 898.