While volatility or market risk is the risk that people often focus on, inflation and longevity risk can pose a much greater danger to your retirement savings.
Alistair Barker, AustralianSuper's head of portfolio construction, explains what these risks are and why they're important when making investment choices, especially as you approach retirement.
How do you measure risk?
AustralianSuper thinks of risk relative to an objective. For us, risk is the chance – and the consequence – of not meeting an investment objective.
For example, many of our members are in the Balanced investment option, so the key risk we focus on is the risk of not achieving the return objective of that option – which, over the longer term, is inflation plus 4%.
We talk about risk somewhat differently from other super funds, by spelling out the short, medium and long-term risks of our investment options. We think this is important because risks change depending on your investment timeframe.
When you measure the changes in investment markets over short timeframes they can seem volatile. But as you lengthen your investment horizon, a lot of bumps tend to get smoothed out.
What's the difference between short-term and long-term risks?
Market risk or volatility is a short-term risk. It's the risk that investment markets rise and fall – today, next week, next month.
Less dramatic, but in many ways more damaging, are the risks that can grind down the value of your retirement savings over the years and decades. The two main long-term risks are inflation risk and longevity risk.
Inflation risk is the risk that the value of your assets don't rise enough to provide you with sufficient income in retirement. That's because ultimately – if you're in a period of high inflation – the cost of the goods and services you need to buy with your retirement savings could rise a lot.
Longevity risk is the risk that you will outlive your savings. Based on current life expectancies men aged 60 can expect to live until they're 84, while women the same age can expect to live until they're 87.
One important factor that can reduce longevity risk is the Government Age Pension. As your retirement account balance starts to fall, the age pension becomes a larger proportion of assets and can provide a substantial defence against outliving your savings.
What is "sequencing" risk and how can it impact my retirement savings?
Sequencing risk relates to the order and timing of your investment returns. Experiencing negative returns when you're early in retirement can significantly impact how long your retirement savings last.
This is at a time when your account balance is likely to be at its highest so the impact of negative returns will be larger. You also don't have the luxury of super contributions going in to help offset the risk, and may not have as much time to recover from market downturns.
If you were to withdraw a large amount from your account at a time when investment markets were falling, that could create a permanent loss in the portfolio as you're effectively selling at the bottom of the market.
One way to reduce the effects of all kinds of risk is to diversify investments so they're spread across a variety of different asset classes like shares, property, infrastructure, fixed interest and cash.
That's exactly the strategy we apply to the Balanced option. It invests in a broad range of assets, which aim to balance market volatility with the need to generate strong long-term returns for members.
It's also important to take the Government Age Pension into account when assessing risk. Not only does it provide a secure lifetime income stream that's indexed to inflation, it also acts as a natural diversifier and protector against sequencing risk.
Our research shows that for members with balances of up to $400,000 the government age pension will provide around half their income in retirement. When you take this into account, many members may have a much higher exposure to cash assets than they realised.
Does decreasing growth assets as I get older reduce my exposure to risk?
Our research shows that growth assets can actually help your retirement income last longer and lower the risk of outliving your savings.
The chart below compares how long your income could last in two different investment options. The Balanced option has a higher weighting to growth assets like shares, while the Stable option has a higher weighting to income assets like fixed interest and cash.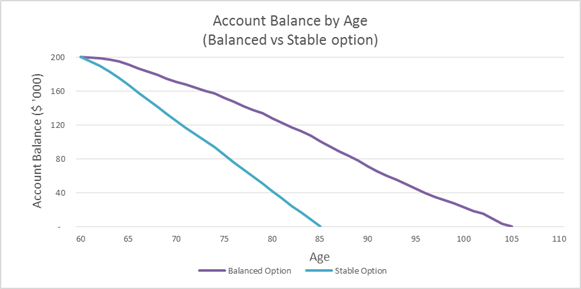 These calculations estimate that someone who has invested in the Stable option, and has an account balance of $200,000 on retirement, would exhaust their savings just before they reached the age of 85 if they took out the minimum legally required drawdown each year.
If, on the other hand, that same person was invested in our Balanced option they would still have $95,000 in their account at the age of 85, and would only run out of money if they lived to 105. This is because the Balanced option has about 75% of its money in growth assets, and the Stable option just 35%.
Like to know more?
You can find out more about our investment options and their risk levels in our Investment Guide available at australiansuper.com/investmentguide
Assumptions
The chart compares how long a member's retirement benefit could last in the Balanced and Stable options. Projected returns are based on achievement of the return objectives for each option. These are 6.5% for the Balanced option (CPI +4%pa) and 4% (CPI +1.5%pa) for the Stable option. The assumed CPI rate is 2.5%. Wage inflation of 3.5% is used as a deflator to convert the returns back to today's dollars. Drawdowns vary with age and are based on the Government's minimum limits for account-based pensions each year. If a member takes minimum drawdowns, they may need income from other sources (e.g. Centrelink age pension) to meet their desired standard of living.

Investment returns are not guaranteed. Past performance is not a reliable indicator of future returns.
---
This information is general financial advice which doesn't take into account your personal objectives, situation or needs. Before making a decision about AustralianSuper, you should think about your financial requirements and refer to the relevant Product Disclosure Statement. AustralianSuper Pty Ltd ABN 94 006 457 987, AFSL 233788, Trustee of AustralianSuper ABN 65 714 394 898.