Super is the largest financial asset most people will ever own, after the family home. Our role is to help you grow this asset so that you can enjoy the best possible retirement. We do this by investing on your behalf to help bring you strong long-term returns.
These returns are made possible by the Fund's proven investment approach. Here's a quick overview.
Our core investment beliefs
We aim to enhance member returns.


We believe in active management – both asset allocation and stock selection.


We use our scale to reduce costs and better structure investments


We're aware of our responsibility to the broader community. This is consistent with our obligations to maximise benefits to members.
Strong governance
The AustralianSuper Board, the Investment Committee and the Investment team play important roles.
The Board sets the Fund's goals, investment return objectives, risk appetite and risk tolerances. The Board also approves the Fund's investment policies and strategies.
The Investment Committee reviews investment policies and strategies and tracks performance. They also oversee the management of investment risks.
Finally, the Investment team handles the design and implementation of the investment strategy.
Risk management
When it comes to investing, there are many risks. For us, the biggest risk is failing to meet our investment objectives for members. This is why we have such a strong focus on risk management across the entire Fund. We're protecting member interests by monitoring, identifying and addressing key risks.
We're active managers
We use an active investment strategy to deliver better returns for members.
This involves on-going tracking and analysis. Investment markets, economies, business trends and company performance are some of the things we watch every day. This tracking helps us to identify the best investment opportunities for members.
Diversification
We use a diversified investment strategy. Diversification is about reducing risk while trying to deliver the best returns. This means we're investing in many different assets, sectors and geographic regions. Key asset classes we invest in include Australian and international shares, private equity, property, infrastructure and fixed interest.
Total member assets by geographic region
Effective date: 30/6/21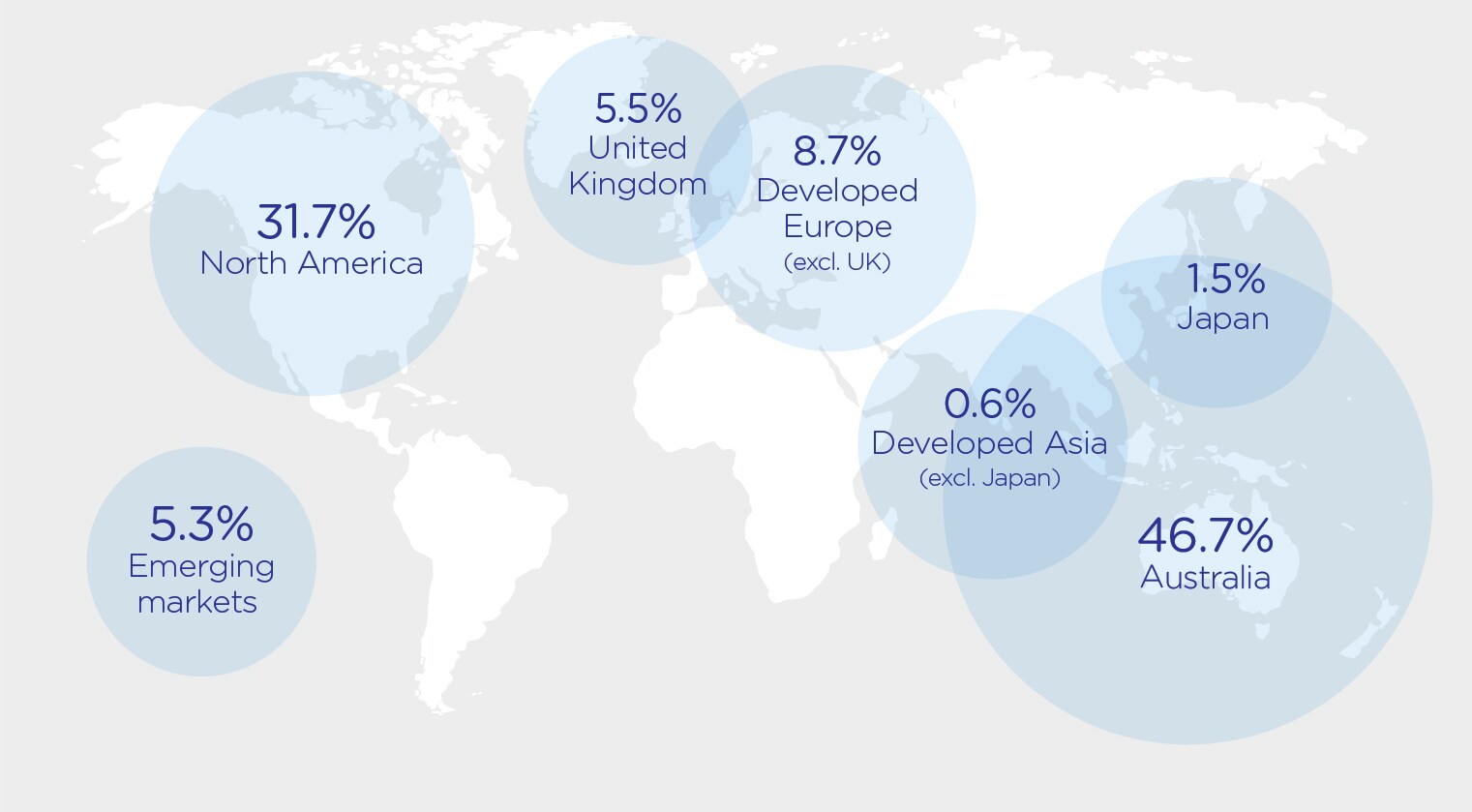 AustralianSuper invests across the globe to access diverse investment opportunities.
46.7% of member's money is invested in Australia and 53.3% is invested overseas.
Think of it as not having all your eggs in one basket. If one investment underperforms over a certain period, another investment may provide balance to your super.
Using our size to benefit members
As Australia's largest super fund, we're able to access opportunities that aren't available to smaller funds. These include multi-billion dollar investments in unlisted assets. Kings Cross in London and NSW Ports are a few examples.
READ MORE: UNDERSTANDING LISTED AND UNLISTED ASSETS
Responsible investing
We believe, investing in companies with good environmental, social and governance credentials (ESG), provides better returns for members. This is why ESG considerations are central to our investment decision making. It's also why we use our influence as a large investor to drive better outcomes on the issues that impact members. Issues like climate change, human rights and gender diversity.
Net Zero
We know that climate change is a significant investment issue for investors and that climate related risks will impact all economies, industries, societies and the environment. This is why we've committed to achieving net zero carbon emissions by 2050.
READ MORE: Committing to net zero carbon emissions by 2050
Helping you secure a better future
We work hard to protect and grow your super so that you can have a better future. Find out more about the performance of all investment options.
INVESTMENT PERFORMANCE

Investment returns are not guaranteed. Past performance is not a reliable indicator of future returns.
This information may be general financial advice which doesn't take into account your personal objectives, situation or needs. Before making a decision about AustralianSuper, you should think about your financial requirements and refer to the relevant Product Disclosure Statement. AustralianSuper Pty Ltd ABN 94 006 457 987, AFSL 233788, Trustee of AustralianSuper ABN 65 714 394 898.