By keeping your super invested in an account based pension, your retirement balance could earn returns and provide you with extra income. This extra income could help you stay ahead of the rising cost of living. Take some time to understand your investment options and how they could help to grow your nest egg over the course of your retirement, rather than leave it sitting dormant.
You could be retired for over 20 years, and in that time living costs may rise. This means your super savings may need to last longer than many people realise and ideally grow over the course of your retirement. Choosing the right investment option and taking a long-term view of your finances could help your super last longer.
Inflation – the rising cost of living
Keeping your money invested gives your savings the chance to grow and possibly outpace inflation. Planning for this is an important part of managing your retirement finances, says AustralianSuper Global Economist Mark Tierney.
'In retirement you have no regular income, so managing your money and making the right long-term choices are important, especially when you consider that prices of everyday items will rise over the coming years,' he says. 'Ideally, your money needs to grow over the course of your retirement – or it will reduce in value.'
The rising cost of living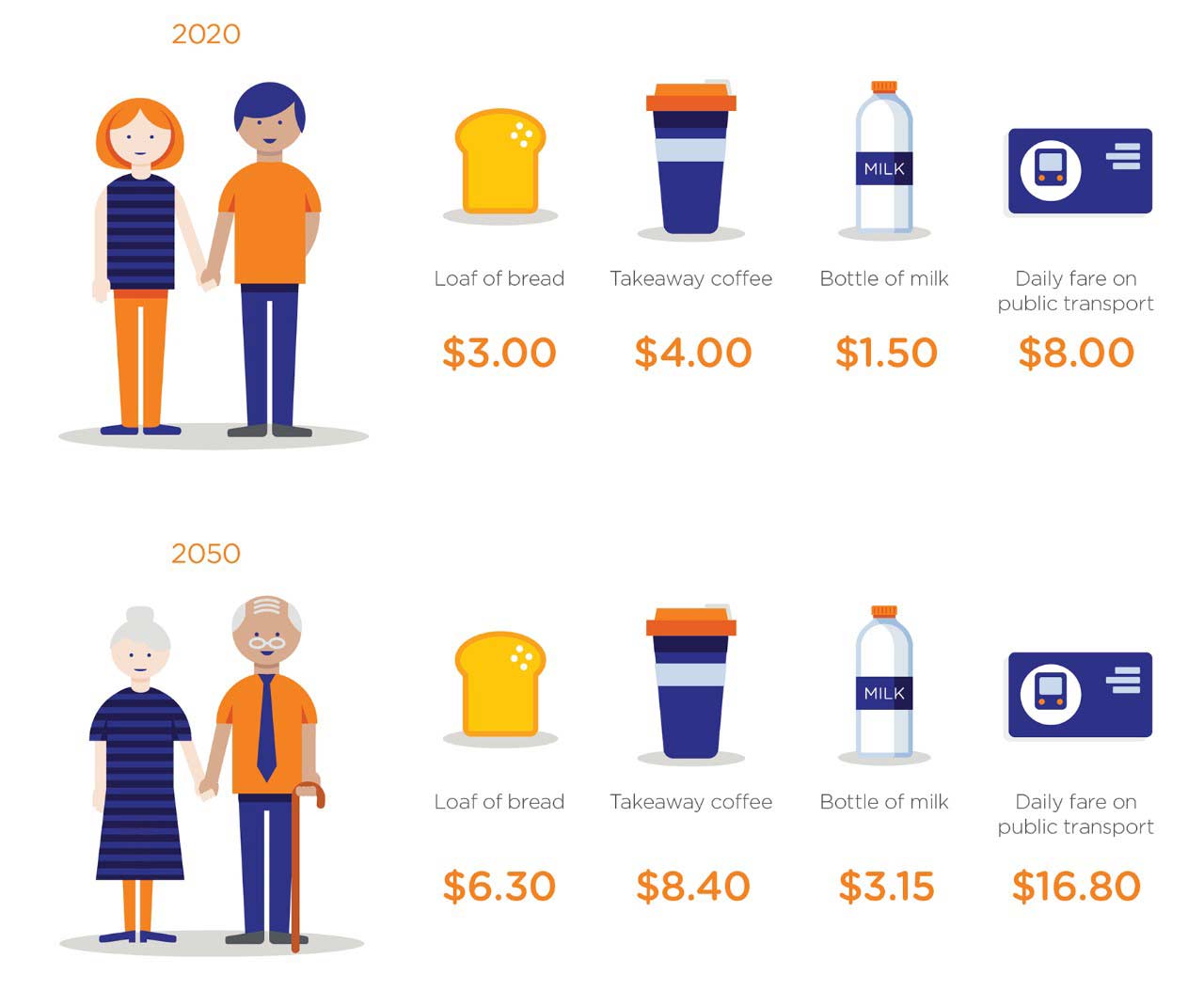 The above examples assume an annual inflation rate of 2.5% each year.
As you can see, a loaf of bread is expected to be $6.30 in 2050, and a bottle of milk $3.15 – both over 50% more than the average cost in 2020.
Cash savings - be aware of low interest rates
If you have your super savings in the bank or invested in a Cash option, you need to be aware of low interest rates.
Over the last few years, interest rates have dropped and current cash rates are at record lows. The Reserve Bank of Australia (RBA) has set an inflation target of 2-3%on average, over time and suggest there won't be a significant increase for at least 3 years1.
But, as we've seen, living costs continue to rise. The average price of everyday items, such as bread and public transport, is set to double by 2050. Your $4 cup of coffee could cost over $8 in 30 years' time. This means that any interest you earn from a cash account, such as a bank account, may not keep up with rising costs of living (inflation).
RBA interest rates over the last 20 years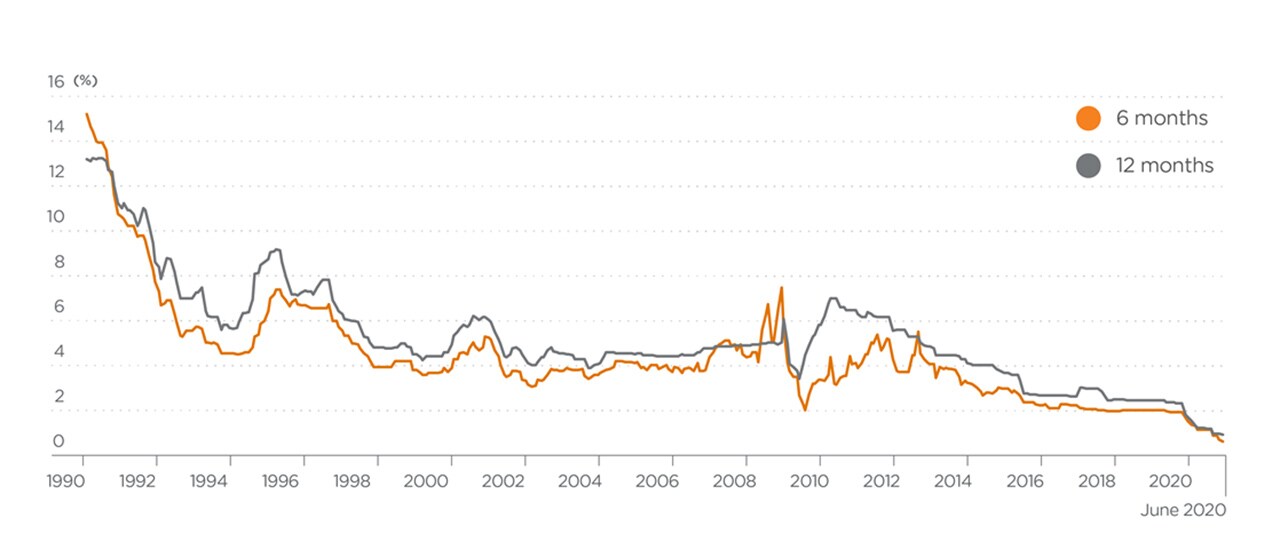 Source: RBA.
As you can see from the chart above, the cash rates reported by the RBA have been dropping over the last 20 years. This is bad news for savers says Tierney, because any interest accrued is minimal. 'Combine minimal interest earned with rising living costs and your money could even reduce in value,' he says. 'It's important to factor this into your retirement planning.'
While a cash account, or a bank account is a familiar option, the average account won't necessarily be able to provide returns, or significant compound interest benefits, to grow your money during your retirement years.
Your retirement savings could earn you returns through retirement
With a Choice Income account based pension your balance continues to be invested by our investment team. You can select from a range of investment options, picking one which suits your personal needs – a short, mid or long-term investment strategy. By keeping your money invested you continue to benefit from any returns the fund makes**, as well as benefit from compound returns. And, you have full access to your account balance2.
DISCOVER: 3 WAYS AN ACCOUNT BASED PENSION HELPS YOUR RETIREMENT
Choose an investment option designed to beat inflation
Mark suggests speaking with an adviser to make sure you get the right investment option for you.
'AustralianSuper offers a range of diverse investment options designed and managed by a team of over 170 experts working across the globe. These investment options are specifically designed to outpace inflation and help members living in retirement make the most from their super,' he says.
'While investing in higher-returning growth assets can be a way to help your money stay ahead of inflation and last through your retirement, it's important to pick an option you are comfortable with,' says Mark.
'It can be helpful to speak to a qualified adviser so you understand your options, and the returns you could expect. 20 years is a long time, and after 40-50 years of working, retirement is a time to be enjoyed, without too much financial stress.'
3 Choice Income options designed to beat inflation
Investment option
Balanced
Conservative Balanced
Stable
Investment aim
CPI + 4% over the medium to longer term
CPI + 2.5% over the medium term
CPI + 1.5% over the medium term
Minimum suggested timeframe for investment
At least 10 years
At least 5 years
At least 3 years
PERFORMANCE (CHOICE INCOME) – AS AT 30 JUNE 2020
FY20
0.55%
1.55%
1.91%
5-year per annum
7.95%
6.96%
5.95%
10-year per annum
9.71%
8.62%
7.26%
Source: AustralianSuper returns to 30 June 2020. Investment returns are not guaranteed. Past performance is not a reliable indicator of future returns. View all investment options.
Long term is considered 20 years plus, medium term is 5 – 20 years, and short term is less than 5 years.
As you can see, the investment aim varies for each option, and so do the returns. You can pick options which best fits your objectives, for example how much growth you want or how much stability you want, for your savings. When considering your options, it can help to talk to a financial adviser with experience in retirement planning.
The performance of the Balanced option is designed to outpace inflation by CPI + 4% over the medium to longer term, the Conservative Balanced option by CPI + 2.5% over the medium term, and the Stable option by CPI +1.5% the medium term. All 3 options have delivered Choice Income account holders a positive return over 1, 5, and 10 years (to 30 June 2020).
VIEW THE PERFORMANCE OF ALL CHOICE INCOME INVESTMENT OPTIONS
Example – Carol's retirement savings
Carol retired in 2010 with a balance of $250,000. She chose to open a Choice Income account based pension with AustralianSuper and moved her entire account balance into a Choice Income account.
Helped by her financial adviser, Carol explored 4 AustralianSuper investment options:
Cash
Balanced option,
Conservative Balanced option
and the Stable option.
All, except the Cash option, aim to outpace inflation and grow her retirement balance over the long term.
How long Carol's money could last with each option
This chart shows how each of the 4 investment options, would affect Carol's retirement savings over time.
As you can see, the Cash options runs out first, after 19 years, the Stable option after 21 years, Conservative Balanced option after 23 years, and the Balanced option over 26 years – 7 years longer than Cash. While the starting balance was the same ($250,000), each investment option provided different returns.
The right choice for your circumstances in retirement can make a big difference to your retirement income.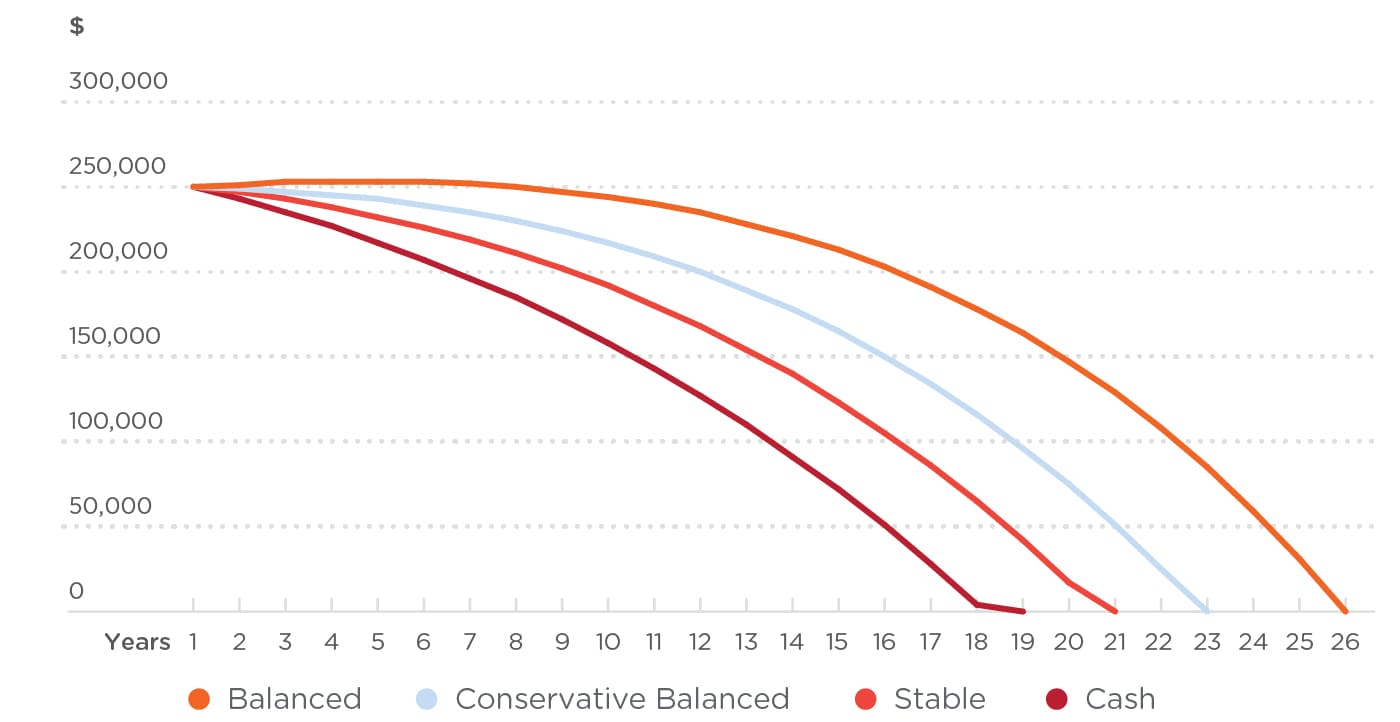 This chart is an example only. It doesn't take into account the money you will withdraw to live on each year over $38,6000 or the impacts of market volatility or downturns. The impact of drawdowns when there is market volatility or downturns can have a significant effect on how long a member's account based pension may last. Investment returns aren't guaranteed. Past performance isn't a reliable indicator of future returns. Benchmark and performance information below.
For this example the follow assumptions were made:
Starting balance of $250,000 in all cases.
Long-term investment returns are as follows: 6.50% Balanced, 5.50% Conservative Balanced, 4.50% Stable, 3% Cash
Balances are expressed in dollars of the day (nominal)
Annual income is the same in all cases - $38,600 in today's dollars - discounted at 3.5% a year, for inflation
Income commences from age 67, and includes any entitlement to the government aged pension
Assume AustralianSuper Choice Income admin fees of $2.25 per member per week plus 0.11% of account balance (max $750 a year)
For Age Pension purposes we assume:

Carol is eligible for the Government Aged Pension (GAP) based only on having her superannuation savings counted in the GAP assets and income tests.
Member is a single, homeowner, Age Pension rate as at 30 June 2020, increasing in line with average earnings of 3.5% a year, assets test and income tests thresholds as at 30 June 2020 increasing in line with CPI of 2.5% a year
It's important to understand this and view the chart in context. These things can have a significant effect on how long your account based pension may last.
In this example, you can see that the 3 options, all of which invest for growth, provide Carol with an income that lasts longer than the cash option. By choosing an option with a diversified portfolio, Carol's balance earned returns and grew during her retirement. This meant she could take an income from her super savings for a longer period of time and reduce her reliance on the Government Age Pension.
Investment choice is key in retirement
Having choices is key to when it comes to your personal retirement needs. Investing in a diversified portfolio with potentially higher-returning growth assets is a way to help your money stay ahead of inflation and last through your retirement. A Choice Income account provides a range of investment options that could grow your super and potentially increase the amount of income you receive during retirement.
Decide to live a better retirement for longer
Mark says that an account based pension could help you live a better retirement for longer. 'Because you continue to gain returns into your account, your super savings have the potential to last you longer,' says Mark. 'This means you could be less dependent on the government Age Pension, and grow your savings, even though you're no longer working.'
By staying invested with your fund you're making sure your money works for you in retirement.
AustralianSuper's Choice Income is an award-winning retirement account with opportunities to invest in options that have a proven history of strong long-term returns; the Balanced option has an average annual return of 9.71% over the last 10 years*.
Get tax-free returns in retirement
Remember that your investment returns are tax free with an account based pension. In comparison with a bank account (or other type of savings account), where interest can be considered part of your taxable income, if you receive over ($18,200 in income, per annum).
We're here to help. Retirement planning advice
If you're in retirement, (or have recently transitioned to retirement) it's important to understand how you can manage your super balance. The decision of what to do with your super savings isn't always easy. Our team and advisers are here to help. Being able to ask important questions and receive information tailored to your personal circumstances and financial goals can help you make informed decisions about staying invested in retirement.
Make sure you seek the right advice for your situation. Connect with an AustralianSuper adviser and discuss your options today.
Source:
RBA – Media Release
Choice Income PDS, conditions apply
*Returns as at 30 June 2020.
**Investment returns aren't guaranteed. Past performance isn't a reliable indicator of future performance.
---
This information may be general financial advice which doesn't take into account your personal objectives, situation or needs. Before making a decision about AustralianSuper, you should think about your financial requirements and refer to the relevant Product Disclosure Statement. A Target Market Determination (TMD) is a document that outlines the target market a product has been designed for. Find the TMDs at australiansuper.com/tmd. AustralianSuper Pty Ltd ABN 94 006 457 987, AFSL 233788, Trustee of AustralianSuper ABN 65 714 394 898.