If you have older teenagers or young adult kids, they might turn to you for guidance on how super works, what it means for them and how it can set them up for life.
Talking about super with your older children now can help them make sound financial decisions for their future. Even if you don't consider yourself to be a super expert, having experience with super means you can share the basics with your kids.
Your child's work situation can help you give them the right information at the right time: whether it's a first job, part-time while studying, or starting their career. And while their lives are constantly changing, the importance of super stays the same.
Here's some simple info and resources to start the super conversation with them, based on where they're at:
9 out of 10 Australian parents think super education is important – but 1 in 5 don't feel confident explaining super1.

ATO, 'Teaching tax and super to youth'
First job (15 — 18 years)
There's nothing like the feeling of having your first pay cheque hit your account, or buying something special with the money you've earned. Starting a casual or full-time job is full of firsts for your teen.
They may have heard a bit about super, but there's always more they can learn. A good place to start is with their day-to-day expenses. They can get a good intro to budgeting and saving by using the MoneySmart budget planner.
When talking with your child, focus on the basics to help them understand the value of putting money aside instead of spending it straight away:
Super isn't a tax. It's money you've earnt that goes into an account. You get it back when you retire.
Super starts once you earn more than $450 a month. Your employer pays a set amount, called the superannuation guarantee, into your super account. You can also add more money to your account, known as voluntary contributions.
Super fund managers invest your money in things like shares, infrastructure and property to help it grow. The returns your money makes in your super account is then re-invested. So, the money your super earns, earns more money again – also known as compound returns.
To make sure you're getting paid super, check with the ATO. And if you're unsure which fund you're with, ask your employer.
HOW COMPOUNDING GROWS YOUR SUPER
Independent young workers (19 — 21 years)
If your adult child has a few jobs under their belt, they're probably across the basics of super. But there's always more to learn to make their super work better.
Saving for the future is all about making good choices – the earlier the better. To do that, here are some pointers to help them get their head around important super terms and concepts:
Super funds can vary in a few ways. Some of the things to look at when choosing a fund are its performance, fees, and help and advice options.
How funds invest your super can have an impact on performance, as well as your balance.
It's easy to have multiple funds if you've worked multiple jobs. Having more than one fund means you're likely to be paying two or more sets of fees. You can solve this problem by consolidating your super into one fund.
Australians have around $13.8 billion in lost or unclaimed super2. It's important to track down any lost super you have, in a few easy steps.

Super guarantee
Refers to the minimum percentage of your earnings that your employer has to pay into your super. Today, that's 10% of an employee's ordinary time earnings

Investment options
The variety of strategies a super fund uses when investing members' money, ranging from conservative to growth.

Fees
Super is a service, so you need to pay fees for it. These vary by super fund, and can include administration and investment fees.

Returns
Each year, your super fund will calculate the rate of growth for each of its investment options. This represents the money made through investments, minus all relevant costs.
Salary sacrifice
Extra contributions you can make to your super. Your employer can add a higher percentage of your salary, or you could make after-tax contributions.

Stapling
To help limit the number of duplicate super accounts, new accounts will no longer be created every time you move jobs. Instead, an existing superannuation account will be 'stapled' to you. But you can always choose your own super fund.
Career starters (22 — 29 years)
Your child might be working in their first full-time career role, or they may have had a few different jobs. Chances are they're saving for a big-ticket item, like a house deposit, a car, or even thinking about investment options. When they have a better understanding of their money, they can begin to develop a better approach to their super.
Here are some of the things you could chat about at this stage of their super journey:
Learn how your super balance compares to others your age, to understand if you're in a good place with your super. Knowing how your super is tracking can get you thinking about how to keep it growing.
Not all super funds are the same. The best super funds prioritise what's important for their members. This can include long-term performance, investment strategies, lower fees and expertise.
It's important to choose the right super fund for your needs. You can do this by comparing your current fund to others, while keeping in mind what you want from your super now. For example, if you're working hard to save for your first home, compare the fees of different funds to see who comes out on top. Or find out if you're eligible for the First Home Super Saver Scheme.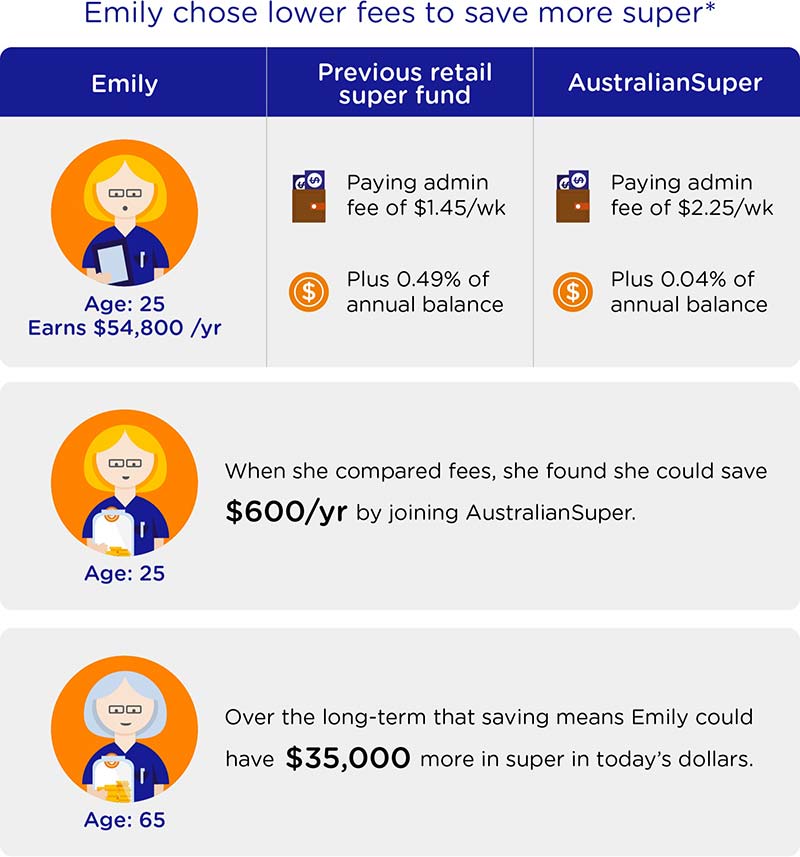 *Assumptions: Internal AustralianSuper calculations. Member aged 25 at 30 June 2021, retiring at age 67, Account balance at age 25 = $0, Salary at age 25 = $54,800, assumed to increase year at 3.5% pa, Employer contributions are 10% initially, rising to 12% in line with legislated increases, Investment returns after fees and taxes are 6.5% pa, AustralianSuper admin fees of $2.25 per member per week plus 0.04% of account balance, Retail fund admin fee of $1.45 a week plus 0.49% of account balance is the average retail fee as at 30 September 2020 from SuperRatings. The long term saving of $35,000 at age 67 is shown in today's dollars by discounting at 3.5% pa.
Sources:
ATO, 'Teaching tax and super to youth': https://www.ato.gov.au/About-ATO/Research-and-statistics/In-detail/General-research/Teaching-tax-and-super-to-youth/
ATO, 'Lost and unclaimed super by postcode': https://www.ato.gov.au/About-ATO/Research-and-statistics/In-detail/Super-statistics/Super-accounts-data/Lost-and-unclaimed-super-by-postcode/
This information may be general financial advice which doesn't take into account your personal objectives, situation or needs. Before making a decision about AustralianSuper, you should think about your financial requirements and refer to the relevant Product Disclosure Statement. AustralianSuper Pty Ltd ABN 94 006 457 987, AFSL 233788, Trustee of AustralianSuper ABN 65 714 394 898.
---
Compare us
Choosing the right fund could mean more money in the future, giving you more confidence in your long-term retirement plan performance.
compare us