28 June 2022
If you have older teenagers or young adult kids, they might turn to you for guidance on how super works, what it means for them and how it can set them up for life.
Talking about super with your older children now can help them make sound financial decisions for their future. Even if you don't consider yourself to be a super expert, having experience with super means you can share the basics with your kids.
Your child's work situation can help you give them the right information at the right time: whether it's a first job, part-time while studying, or starting their career. And while their lives are constantly changing, the importance of super stays the same.
Here's some simple info and resources to start the super conversation with them, based on where they're at:
9 out of 10 Australian parents think super education is important – but 1 in 5 don't feel confident explaining super1.

ATO, 'Teaching tax and super to youth'
First job (15 — 18 years)
There's nothing like the feeling of having your first pay cheque hit your account, or buying something special with the money you've earned. Starting a casual or full-time job is full of firsts for your teen.
They may have heard a bit about super, but there's always more they can learn. A good place to start is with their day-to-day expenses. They can get a good intro to budgeting and saving by using the MoneySmart budget planner.
When talking with your child, focus on the basics to help them understand the value of putting money aside instead of spending it straight away:
Super isn't a tax. It's money you've earnt that goes into an account. You get it back when you retire.
Your employer pays a set amount, called the superannuation guarantee, into your super account. You can also add more money to your account, known as voluntary contributions.
Super fund managers invest your money in things like shares, infrastructure and property to help it grow. The returns your money makes in your super account is then re-invested. So, the money your super earns, earns more money again – also known as compound returns.
To make sure you're getting paid super, check with the ATO. And if you're unsure which fund you're with, ask your employer.
HOW COMPOUNDING GROWS YOUR SUPER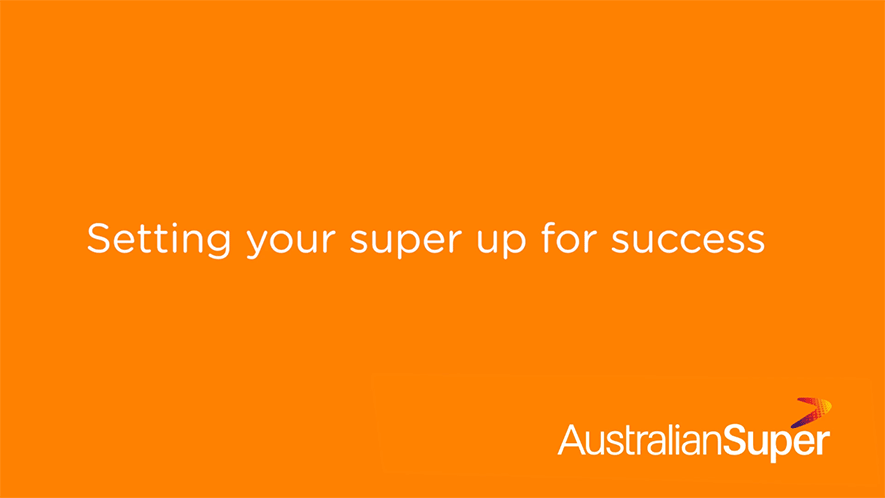 Show Transcript

Hide Transcript

Welcome and thank you for taking the time to join the AustralianSuper's Setting your super up for success presentation. Your super might be something you don't spend much time thinking about, and retirement might seem a long way off. But aside from a house, your super could be the biggest investment you have in your life, and it's all for your future. In today's presentation, we'll cover tips and strategies to help you set up your super for success. My name is Jaclyn and I'm an Education Manager at AustralianSuper. My job is to help you better understand how super works.

Before we start, it is important to understand that the information we are covering today is general financial advice, and doesn't take into account your personal objectives, situation or needs. Before making a decision, consider if the information is right for you and read the relevant PDS by visiting australiansuper.com/pds or by calling 1300 300 273. Also it's important to note that investment returns are not guaranteed and past performance is not a reliable indicator of future returns.

Today, we will be covering a number of concepts to help to set your super up for success including: understanding the basics of super, then we'll take a look at tips and strategies to manage your financial wellbeing, take control of your super, and the simple actions you can take now to set your super up for success. Superannuation is one of those things that can be easy to ignore, especially if we have a lot going on with our finances outside super and life in general. When we're young, retirement can feel like it's forever away. So tinkering around with our retirement savings that we may not be able to access for 20 or 30 years might not feel like a priority, but getting on top of your super at an early age could help you have the lifestyle you want later in life. To better understand super, let's take a closer look at the super basics.

Super is money set aside while you're working, so you'll have money to live off when you retire. Your employer directs a percentage of your salary to your nominated super account. At this time, the minimum your employer should be paying is 10% per annum. There are some exceptional circumstances in which employers aren't required to pay super, for example, some contractors. This money is invested by your super fund and earns returns, which will help grow your retirement savings for your future. When we say returns, we're referring to how much money the money you have invested in super has made. There are often some misconceptions about super, but as mentioned before, it could be one of your biggest assets. Your super is here to provide you with an income in retirement once you have stopped working. Without super and other savings, you may be relying on the Age Pension. Super can provide income for you to help you have the lifestyle you would like in retirement. It is also tax-effective with contributions potentially reducing your tax and the investment earnings inside your super, being taxed at 15% per annum in accumulation and 0% in retirement. This could be potentially lower than your taxable income.

But one of the true wonders of super is compound interest. The value of investing over the long term. Compounding is an important part of investing. In fact, it's often referred to as one of the great wonders of investing. In relation to your super, put simply, compounding is the investment returns generated on the returns you've already earned. Picture this: A snowball rolling along. It may start small, but it grows the longer it rolls. That's because it's adding layer after layer. The snowball represents your balance and the layers represent the compounding returns. Compound returns are earned on your entire super balance. Your super fund continues to invest these additional returns. The process repeats, continuing to accumulate returns as long as your super is invested, leading your balance to grow through employer and voluntary contributions while still compounding the returns.

Everything we do at AustralianSuper is designed to help people achieve their best retirement. As one of the biggest funds in the world, our size and scale mean that we have access to some of the world's best investments. Choosing the right investment is important. It can affect how much your savings grow and how long they last. You can decide to either leave your investment in the default investment option, which is the Balanced option, a PreMixed option, or choose and manage your own. You can also make and change investment choices after you become a member. You can choose one or a variety of options. And if you don't make a choice, your super savings will be invested in our Balanced option. PreMixed options are diversified options that invest across different combinations of asset classes, such as shares, property, infrastructure, fixed interest, and cash. There are a number of PreMixed options, which include High Growth, Balanced, Socially Aware, Index Diversified, Conservative Balanced, and Stable. DIY Mix options are single asset class portfolios. You choose how much you want to invest in each mix that can also include one or more PreMixed options. Your DIY Mix choices are Australian Shares, International Shares, Diversified Fixed Interest, and Cash. The Member Direct investment option gives you the greatest control of all options. You can invest your own super in a range of listed securities, including shares in the S&P/ASX 300 Index, Exchange Traded Funds, Listed Investment Companies, or term deposits. A good place to start in making this decision is to read the AustralianSuper Investment Guide which is available at australiansuper.com/investmentguide This guide can help you make your decision. You'll look at your investment needs and then go through your options in more detail. Alternatively, you can speak to a phone-based Financial Adviser who can look at your situation and provide advice on the most appropriate investment option for you.

Before we look at how you can benefit from taking control and making the most of your super, it's important to ensure you have taken control of your financial wellbeing outside super. A great place to start is managing your savings and understanding your spending habits. Setting short-term, mid-term, and long-term financial goals is an important step toward becoming financially secure. If you aren't working toward anything specific, you'll likely spend more than you should. You'll then come up short when you need money for unexpected bills, not to mention when you want to make a big purchase or retire. Vague goals don't necessarily work. Goals should be specific. Your goal is direct, detailed, and meaningful. It should be measurable. Your goal is quantifiable to track progress or success. Attainable, your goal is realistic, and you have the tools and the resources to attain it. Relevant, your goal matters to you. Time-based, your goal has a deadline. You can then break them down into smaller goals to ensure you are chipping away at these, which can help with motivation to continue working towards your goals. But what's next?

Once you've set your goals, it's actually a good time to look at what you were spending and create a budget. For those that already have a budget, how did that go? Did you stick to it? Do you review it regularly? The best way to control your finances is to do a budget. It will show you if you are spending more or less than you can afford. It can highlight where you can save money, or if you have surplus, it allows you to make other plans, such as saving for your goal or make super contributions if appropriate. Once you know your budget, you can set up a savings plan to better manage your finances. This could include implementing a bucket approach. The first step to becoming a budgeting expert is deciding how many buckets you need and what they are. An example might be a bucket for your bills, which covers things like your rent or mortgage repayments, as well as utility bills and repaying any debts. Then you could have a bucket for the everyday, which could cover things like groceries, public transport, and petrol. Then another could be a spend bucket. This could be for anything from catching the latest Marvel movie to eating out on a date night or even those shoes you've been eyeing off. And finally, a savings bucket. This will cover any emergencies and also things you're saving up for. It could be a family trip to Europe, your first house, or a new set of wheels. Once you've put a budget together, tracked your spending and implemented a bucket approach, this is something that you can continue to review regularly and work towards your goals.

So far, we've covered steps to manage your financial wellbeing with setting goals, budgeting, and allocating savings. It is now a great time to take a look at the five steps to take control of your super. In setting up your super for success, it's important you have chosen the best super fund for you. A great place to start is to do a comparison. There are a number of factors to consider when conducting a comparison including performance. How your super performs over the long term will make a big difference to your money for retirement. Fees It's important that you're paying reasonable fees. And insurance, which provides financial support for you and your family if anything happens to you.

If you have more than one super fund, you may want to consider consolidating your accounts if it's appropriate for you. Consolidating into one account might reduce the overall costs of your super accounts, helping you to grow your super. It's important to know before you consolidate to do your research. Use the comparison tool. Ask your super providers about any fees or charges that may apply. Another important consideration is your insurance cover. Before you rollover your accounts, it's important to ensure you have adequate insurance in place in your new account as you will most likely lose any insurance that was in place on the account you rollover.

Adding a little extra to your super can be a great way to boost your super savings for retirement. Paying extra into your super could save you tax and help you retire with more. Contributing small amounts over time is often easier than finding a spare lump sum of money. This way, your super can grow with investment returns. You can add to super in two ways. Before-tax, including employer contributions, salary sacrifice, extra employer, and tax-deductible personal contributions. These are also called concessional contributions. There is a limit to how much you can contribute each year for this type of contribution, which is $27,500 per annum. In certain circumstances, you can contribute more than the annual limit if you've not reached the contribution limits in prior years, which is known as the carry forward rule. The other way you can contribute is after-tax, which includes spouse contributions, after-tax employer, and non-deductible personal contributions. If you make contributions above the annual non-concessional contributions cap, you may be eligible to automatically gain access to future year's caps. This is known as the bring forward rule.

Depending on your total income, if you make after-tax contributions to your super account, the Government also makes a contribution called a co-contribution, up to a maximum of $500. The co-contribution is tax-free and isn't taxed when it's deposited into or withdrawn from your super account. For example, if you earn $41,112 or less, you could receive the full $500 bonus if you add $1,000 or more to your super from your take-home pay. If you earn between $41,112 and $56,112, you'll still get a Government co-contribution, but not the full amount. You can find out if you qualify at australiansuper.com/CoContribution. As mentioned earlier, adding to your super can help it grow for the long term.

AustralianSuper provides most members with basic insurance cover with their super account with some age and eligibility conditions applied. This cover provides a basic level of protection if you die or become ill or injured. Eligible members receive age-based Death, Total and Permanent Disablement, and Income Protection cover. Age-based cover is designed to provide a minimum amount of cover for changing needs as you get older. Death cover can help ease financial stress by paying a lump sum to your beneficiaries if something happens to you. TPD can pay you a lump sum payment if you become totally and permanently disabled and can no longer work. Income Protection can help you if you become ill or injured at work or outside of work and can't temporarily work. It can provide monthly payments to help you get by while you're not earning your regular salary. You can adjust the level of cover you hold to meet your needs. For Income Protection, you can insure up to 85% of your income with either a 30-day or a 60-day wait and benefit period paid for two years or up to age 65. You can access more detail on insurance by reading the Insurance in your super guide available on the AustralianSuper website. You can also calculate an estimate of your insurance needs by using the Insurance Calculator available on our website. This is a great guide to estimate how much cover you should have and how much your cover should cost.

If you've taken the time to carefully choose the super fund and you're happy with how it's performing, one of the best things you can do is take your fund with you when you change jobs or retire. You can also use the tools available to you to track your super, including an online account and the mobile app.

It's also important to let your fund know what happens to your super in the event of your passing, and there are a few options when deciding what happens to your money. You can nominate a beneficiary in two ways: binding and non-binding. With a binding nomination, you complete a form providing formal written direction to AustralianSuper to tell us who you want your account balance and Death cover paid to so that it's legally binding. A binding nomination comes into effect from the date we accept it and expires three years from the date you signed the form. You can set up or change your binding nomination by completing a valid binding death benefit nomination form, and you will be prompted to update it every three years. With a non-binding beneficiary, you nominate who you'd prefer your account to be paid. However, your nomination is not legally binding. And although the fund will consider who you choose, ultimately, the fund are legally responsible and will need to consider relevant laws when making a decision. You can make a non-binding nomination by completing the Change my details form available at australiansuper.com/factsheets or through your online account at any time, or by calling us.

So who can you nominate as a valid beneficiary? You can nominate your spouse or partner, including the same-sex or de facto relationships, your child of any age, interdependants who is someone who lives with you and shares a close personal relationship where one or both of you provide financial and domestic support and personal care of the other. Other financial dependants, such as someone who relies on you financially, or your estate or legal personal representative. So it's important to check if you have a beneficiary and look into your options to make the right choice for you. We have covered a number of concepts today to help you set your super up for success.

We've looked at understanding the basics of super, including the power of compounding interest, managing your financial wellbeing, and taking control of your super, but it's so important to take the steps now to ensure you set your super up for success. You could start by creating a budget, which will give you a clear picture of your finances today and help you set your goals and ultimately achieve them. You could check that your account details are up to date to ensure that when you want to take any actions on your account, you're able to do so. Another great step is to search for lost super. It could be reassuring to know you have all your super in the one account if you don't find any. Alternatively, if you do find lost super, you can consolidate it into your account to ensure that all your super money is working for you. And finally, download the AustralianSuper app. This is a great tool to track your super, check where you're invested, what insurance you have, and monitor your contributions. You can also make additional contributions to your super from the app when it's appropriate. And a great way to look at the long-term impact of setting up your super for success is to use the Super Projection Calculator. The calculator is available on the AustralianSuper website and is a great tool to look at what your lifestyle might be in retirement. You can see what it is today if you make no changes, and what it could be if you decide to add extra to your super. It could have a significant impact on your future.

AustralianSuper aims to provide help and advice to members as they need it. And we do this in three main ways. Online via our website, which has a range of tools and calculators and information about AustralianSuper and super in general. You can speak with an advice team member over the phone for simple personal advice, covering topics relating to your AustralianSuper account, such as your investment options, making contributions to super, insurance, and retirement income options. This advice is provided at no additional cost to members. Its cost is included in the member fee that we all pay. So I would suggest that to get the best value from your AustralianSuper membership, it makes sense to seek advice as you need it. I will just note that phone advice for retirement or transition to retirement has a small fee. For those members that would prefer to meet with an adviser or maybe have more complex issues, AustralianSuper also offers access to Financial Planners based in our offices around Australia. This advice is usually provided face-to-face or as a virtual meeting. This financial advice service is at the member's own expense. You can also access advice in your local area with a registered Financial Adviser. You can find all the advice options through our Find an Adviser tool.

By attending today's session, you have already taken a step in learning more about making the most of your super. I encourage you to look at what is available to you and determine what is the best course of action for you. We thank you for attending and wish you all the very best with your financial journey.
Independent young workers (19 — 21 years)
If your adult child has a few jobs under their belt, they're probably across the basics of super. But there's always more to learn to make their super work better.
Saving for the future is all about making good choices – the earlier the better. To do that, here are some pointers to help them get their head around important super terms and concepts:
Super funds can vary in a few ways. Some of the things to look at when choosing a fund are its performance, fees, and help and advice options.
How funds invest your super can have an impact on performance, as well as your balance.
It's easy to have multiple funds if you've worked multiple jobs. Having more than one fund means you're likely to be paying two or more sets of fees. You can solve this problem by consolidating your super into one fund.
Australians have around $13.8 billion in lost or unclaimed super2. It's important to track down any lost super you have, in a few easy steps.
Super guarantee
Refers to the minimum percentage of your earnings that your employer has to pay into your super. Today, that's 10.5% of an employee's ordinary time earnings
Investment options
The variety of strategies a super fund uses when investing members' money, ranging from conservative to growth.

Fees
Super is a service, so you need to pay fees for it. These vary by super fund, and can include administration and investment fees.
Returns
Each year, your super fund will calculate the rate of growth for each of its investment options. This represents the money made through investments, minus all relevant costs.
Salary sacrifice
Extra contributions you can make to your super. Your employer can add a higher percentage of your salary, or you could make after-tax contributions.
Stapling
To help limit the number of duplicate super accounts, new accounts will no longer be created every time you move jobs. Instead, an existing superannuation account will be 'stapled' to you. But you can always choose your own super fund.
Career starters (22 — 29 years)
Your child might be working in their first full-time career role, or they may have had a few different jobs. Chances are they're saving for a big-ticket item, like a house deposit, a car, or even thinking about investment options. When they have a better understanding of their money, they can begin to develop a better approach to their super.
Here are some of the things you could chat about at this stage of their super journey:
Learn how your super balance compares to others your age, to understand if you're in a good place with your super. Knowing how your super is tracking can get you thinking about how to keep it growing.
Not all super funds are the same. The best super funds prioritise what's important for their members. This can include long-term performance, investment strategies, lower fees and expertise.
It's important to choose the right super fund for your needs. You can do this by comparing your current fund to others, while keeping in mind what you want from your super now. For example, if you're working hard to save for your first home, compare the fees of different funds to see who comes out on top. Or find out if you're eligible for the First Home Super Saver Scheme.
Sources:
ATO, 'Teaching tax and super to youth': https://www.ato.gov.au/About-ATO/Research-and-statistics/In-detail/General-research/Teaching-tax-and-super-to-youth/
ATO, 'Lost and unclaimed super by postcode': https://www.ato.gov.au/About-ATO/Research-and-statistics/In-detail/Super-statistics/Super-accounts-data/Lost-and-unclaimed-super-by-postcode/
This may include general financial advice which doesn't take into account your personal objectives, financial situation or needs. Before making a decision consider if the information is right for you and read the relevant Product Disclosure Statement, available at australiansuper.com/pds or by calling 1300 300 273. A Target Market Determination (TMD) is a document that outlines the target market a product has been designed for. Find the TMDs at australiansuper.com/TMD.
AustralianSuper Pty Ltd ABN 94 006 457 987, AFSL 233788, Trustee of AustralianSuper ABN 65 714 394 898.
---
Compare us
Choosing the right fund could mean more money in the future, giving you more confidence in your long-term retirement plan performance.
compare us