The Balanced option returned 13.59% against the median option's return of 10.72% for the year, and 11.11% against the median option's return of 9.66% for the five years to 31 December 2017.
The Balanced option for retirement income accounts returned 14.88% for the year, and 12.36% for the five years to 31 December 2017
This was the best calendar year return in five years, with all other investment options delivering positive returns. Those with higher weightings to shares were the strongest performers.
Deputy Chief Executive and Chief Investment Officer, Mark Delaney, said: "2017 marked a significant milestone in the recovery of the global economy, with improvement across all areas. We're starting to see synchronised growth in four of the world's largest economies; the US, China, Europe and Japan."
"Investors became more confident as concerns about the health of the global economy and financial markets waned. This was reflected in the strong returns across world share markets, with the US, Japan and Australian Resource companies the standout performers."
Performance highlights
Here are some of the key contributors to AustralianSuper's performance during the year:
All asset classes outperformed their respective benchmarks for the 2017 calendar year.
We increased the allocation to international shares, which was the best performing asset class. This was coupled with strong market outperformance from our internal and external fund managers. The Balanced option now invests around a third of its portfolio in international shares.
Infrastructure assets also performed strongly. Our focus on investing in quality assets that provide essential services such as roads, transport and electricity distribution, is delivering strong income and capital growth. It's also helping to improve diversification and offset periods of share market volatility.
Australian shares, and the Resources sector in particular, benefited from a rebound in commodity prices, such as iron ore and oil. The Australian share market (All Ordinaries) pushed through the 6000 point mark for the first time since the global financial crisis. Within the portfolio, stock selection from our internal and external fund managers also added to returns.
We reduced our exposure to property assets taking advantage of the healthy investor appetite for direct property.
We kept a low weighting to fixed interest, such as government bonds, and cash. These asset classes had the lowest returns, although our portfolios outperformed their respective asset class benchmarks.
A great year for member's retirement balances
"It was a great year for members – with returns adding more than $13 billion to members' retirement savings over the year," said Delaney.
Our active management strategy is paying dividends for members, with significant outperformance achieved during the year. Rather than following the market, we select which countries, industries and individual assets we think will outperform the broader market.
We're also continuing to manage more assets in-house, with our internal teams now managing around 25% of assets. This is helping to lower costs and ensure the best investment ideas make it into our portfolios, so we can deliver better net returns – that's the return you take home after tax and costs.
Outlook
This year marks ten years since the global financial crisis hit. This is good news for longer term returns, as we will see the negative performance of 2008 dropping off the ten year performance.
While the US has entered a period of increasing interest rates, as the Federal Reserve starts to slowly return rates to more normal levels, tax cuts should support consumer spending and stimulate growth. Europe is starting to emerge from its debt crisis, and appears to be more united with voters opting for pro-Euro over the more populist political parties. The UK's decision to leave the European Union is proving difficult to implement for UK Prime Minister, Theresa May.
Investors will continue to anticipate and react to political and other events, so we're likely to see volatility in some markets. This is quite normal.
It's important to remember that strong returns like this can't happen every year. But, they do add up and contribute to your retirement savings over time.
Since 2010, the investment returns of the Balanced option have increased members' retirement savings by more than double – every $100 invested at the beginning of 2010 was worth $201 at the end of 2017*. This is despite a number of negative events that caused volatility along the way.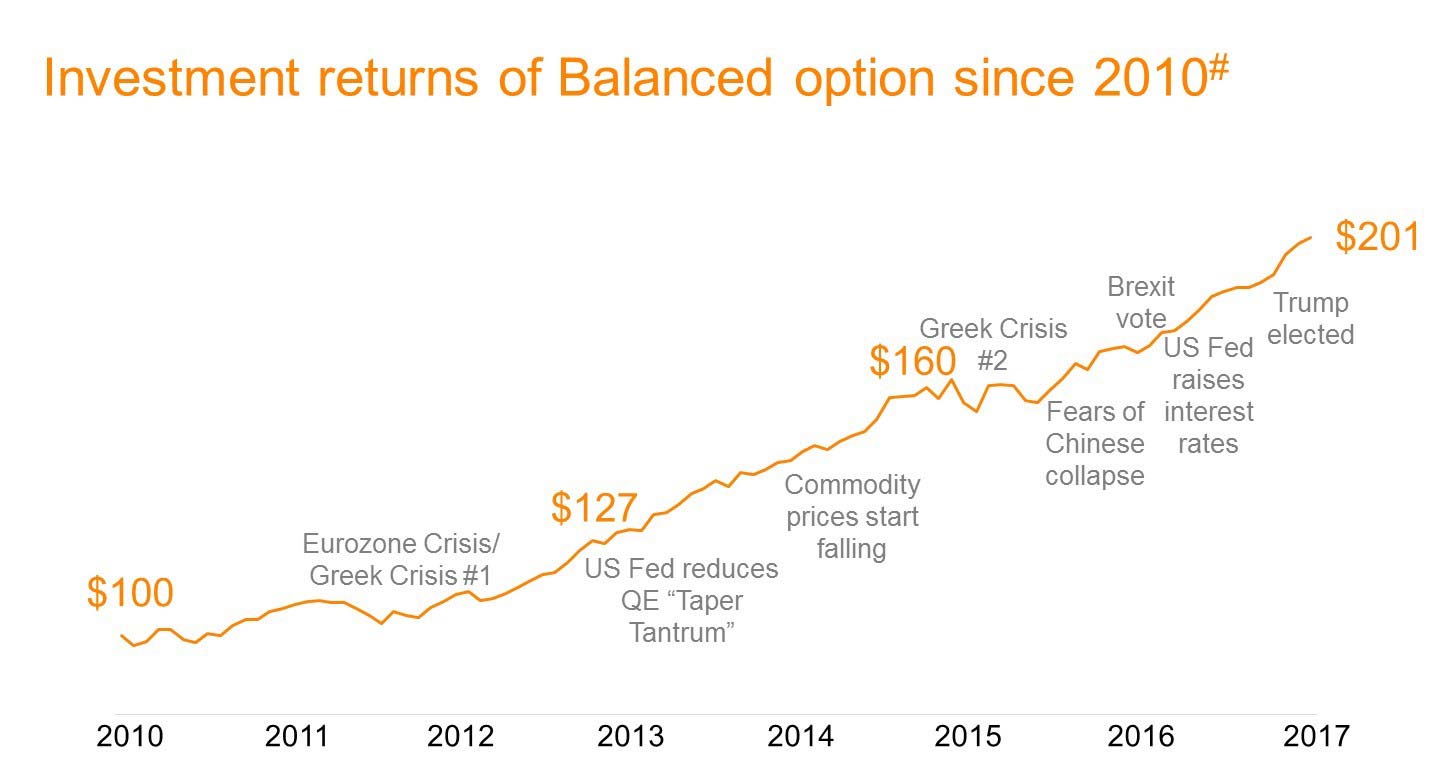 Like to know more about your investments?
See a full list of what your super is invested in. Head over to our what we invest in page.
*Based on the returns of the AustralianSuper Balanced Investment option compared to the median investment return in the SuperRatings SR50 Median Balanced Survey. Comparisons over different time periods: 1, 3, 5 and 7 years to 31 December 2017. You can view returns for all AustralianSuper investment options here
# Source: AustralianSuper. Investment returns of the Balanced option from 1 January 2010 to 31 December 2017. Investment returns are net of investment costs and taxes, but do not include the impact of administration fees and insurance fees that are deducted from member's account balances.
Investment returns are not guaranteed. Past performance is not a reliable indicator of future returns.
I'd like to learn more about...