02 April 2020
As the COVID-19 virus spreads across the world and puts more people's health at risk, governments are placing greater restrictions on movement between and within countries. This is having a large and immediate impact on people's jobs, industries and economies worldwide, and in some cases shutting down entire business sectors except the most essential of services.
Governments and central banks around the world are taking unprecedented steps to support households, small businesses and companies, as well as to keep health systems, essential services and financial markets functioning.
Investors are trying to evaluate the impact of these multiple signals - with the release of daily virus updates, new economic data and policy announcements all contributing to the large positive and negative swings we are seeing in sharemarkets.
Seeing headlines in the news about the size of these sharemarket movements each day can create anxiety about what is happening with your retirement savings, so it's important to know how your superfund is responding.
What is AustralianSuper doing?
At AustralianSuper, we're closely monitoring market signals every day.
While at this stage we don't know how long the uncertainty will last, we do know that governments and central banks are committed to supporting their economies through it. This is important for the economic and market recovery. And we do know that after a downturn markets do eventually recover, and they can come back stronger than they were before.
In the meantime the Fund is taking steps to minimise the impact of adverse market movements on your retirement savings, and position your super for long-term growth.

Market downturns create both uncertainty and opportunity
Investment experts in the Fund expect uncertainty and volatility will be a feature of investment markets for the foreseeable future. Our focus remains on positioning our investment portfolios to deliver the best outcome for members over the long-term.
At a portfolio level, we're monitoring and assessing how the virus and associated government and central bank activity is affecting the economies and capital markets across the globe. We use this information to model different scenarios in relation to the potential depth and duration of the impact on the economy.
At an asset class level, we're assessing the potential impacts of COVID-19 events on the sectors and markets we invest in, and continually building on our understanding of how these events will impact the companies and assets in the portfolio and the broader investment universe – both in the short and long term.
It's important to also remember that periods of market dislocation also create investment opportunities. We're actively looking for opportunities to invest in companies and assets that have been mispriced by the market, and to make new investments where we can see long-term value.
READ MORE: HOW AUSTRALIANSUPER INVESTMENTS PERFORM OVER THE LONG TERM
Staying diversified helps to cushion market changes

Diversification is when you invest in a wide variety of assets which perform differently at different stages of the economic cycle.
AustralianSuper's Balanced option (where most members are invested) includes exposure to growth assets like listed shares, and defensive assets like fixed income, foreign currency and cash as well as unlisted assets such as infrastructure, property and credit, which provide both growth and income. It currently has just over half its portfolio invested in listed shares.
This structure helps to reduce the impact of negative market movements on your returns, while providing long-term growth, just like the significant growth members have enjoyed over the last 10 years.
As you can see in the chart below, while Australian and global markets have fallen 20.9% and 12.7% respectively since the start of this financial year to the end of the March quarter, the Balanced investment option has only fallen by 6.45% in comparison.
The current fall in listed shares is being moderated by the allocations to fixed income, cash and foreign currency, as well as the exposure to unlisted assets such as infrastructure, property and credit – which typically exhibit lower levels of volatility than listed shares across economic cycles.
While COVID-19 is having an impact on the values of these unlisted assets, the falls are relatively lower compared to what we've seen in listed share markets.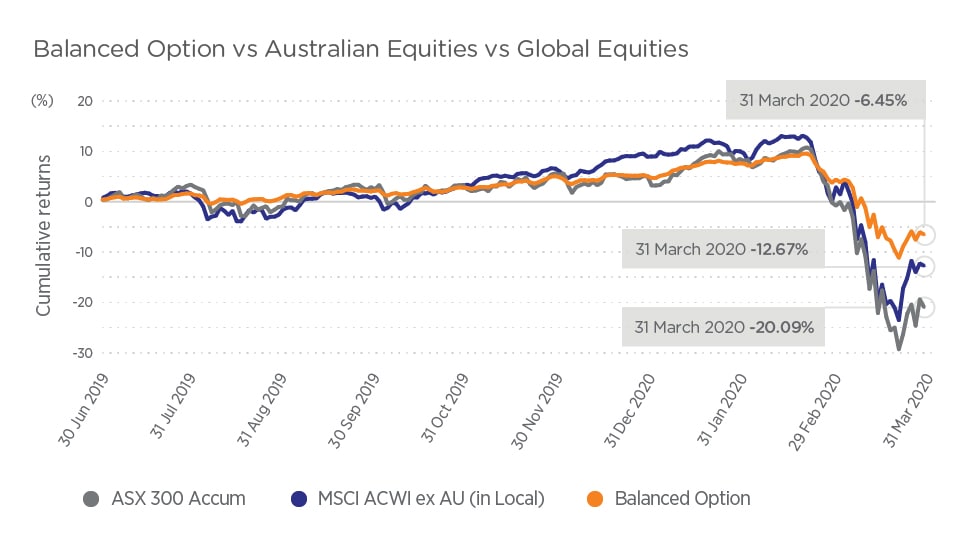 1. ASX 300. Index.
2. MCSI World All Countries (Ex Australia) Index.
Data as at 31 March 2020. Investment returns are not guaranteed. Past performance is not a reliable indicator of future returns.
READ MORE: REVALUATION OF UNLISTED ASSETS
Staying invested is important
It's natural to feel like you should be doing something when markets are falling, and you see your balance fall.
Many members feel they should switch into less conservative assets like cash. But, while it might feel like you're protecting your retirement savings by doing this, it could have the opposite effect by locking in the losses.
Responding to the huge swings in market sentiment during highly volatile periods can be a very high risk strategy. By staying invested we are providing members with the best opportunity to participate in the recovery and next significant growth phase of the economy.
READ MORE: POTENTIAL RISKS OF SWITCHING YOUR SUPER
Focus on the long term
Superannuation is a long-term investment. Whilst it is distressing to see the deterioration and ongoing volatility in sharemarket returns, we encourage you to take a long-term view.
A look back over history can be reassuring.
It shows that significant sharemarket downturns and recessions are not uncommon, and indeed should be expected over a lifetime of investing. The last major sharemarket downturn was the Global Financial Crisis (GFC) in 2008. At the time, it was a very challenging period for many of you, as you saw large daily swings in your super balances. But the important thing to remember is that markets did eventually recover, and since then we have experienced strong investment returns over an extended period – with AustralianSuper's Balanced option (where most members are invested) delivering an annual return of 7.63% over the 10 years to 31 March 2020.
READ MORE: MARKET CYCLES AND THE LONG TERM
We're here to help if you're not sure what to do
AustralianSuper has prepared some resources to help you through these uncertain times.
Remember, before you make changes to your long-term investment strategy we encourage you to carefully consider your personal objectives, situation or needs before working out what is right for you.
And if you need to you should seek professional advice.
Investment returns are not guaranteed. Past performance is not a reliable indicator of future returns. The case study is provided for illustration purposes only and isn't a representation of the actual benefits that may be received or fees and costs that may be incurred.
This information may be general financial advice which doesn't take into account your personal objectives, situation or needs. Before making a decision about AustralianSuper, you should think about your financial requirements and refer to the relevant Product Disclosure Statement. AustralianSuper Pty Ltd ABN 94 006 457 987, AFSL 233788, Trustee of AustralianSuper ABN 65 714 394 898.
---