Your super is a pot of money that you will use when you give up work. Taking care of it now can make a big difference to your retirement outcomes.
It may seem a long way away - but the more organised you are today managing your super, the happier your future self will be. So how do you keep tabs on your super? Here are some simple ways to get on top of it.
Starting a new job? Think about your super
You learn a bunch of things in your first week on the job, one of them is whether you have a Choice of Fund. In layman's terms, this means you can choose where your employer pays your super. When you start a new job ask your employer if nominating a super fund is an option for you. Then, just like providing your bank details to your employer so your salary hits your bank account, the Choice of Fund form makes sure your employer's contributions (usually around 9.5% of your salary) hits your nominated super account.
You can compare super funds, including AustralianSuper to make an informed decision about which fund you might nominate
Look for long-term performance
Your super is managed by a group of investment experts and put into things like shares, property, government bonds and cash deposits in order to grow the balance available to you in retirement. The performance of these investments, or the returns they generate, will make a big difference to how much you will retire on.
No one can predict which super fund will perform the best in the future. But a history of long term strong investment returns is a good factor to consider when deciding on a fund and can make a difference to the money you have available in retirement. Since 2010, the investment returns of the AustralianSuper Balanced option have increased members' retirement savings by more than double. That means for every $100 invested at the beginning of 2010 was worth $201 at the end of 2017.i This is despite a number of negative events that caused volatility along the way.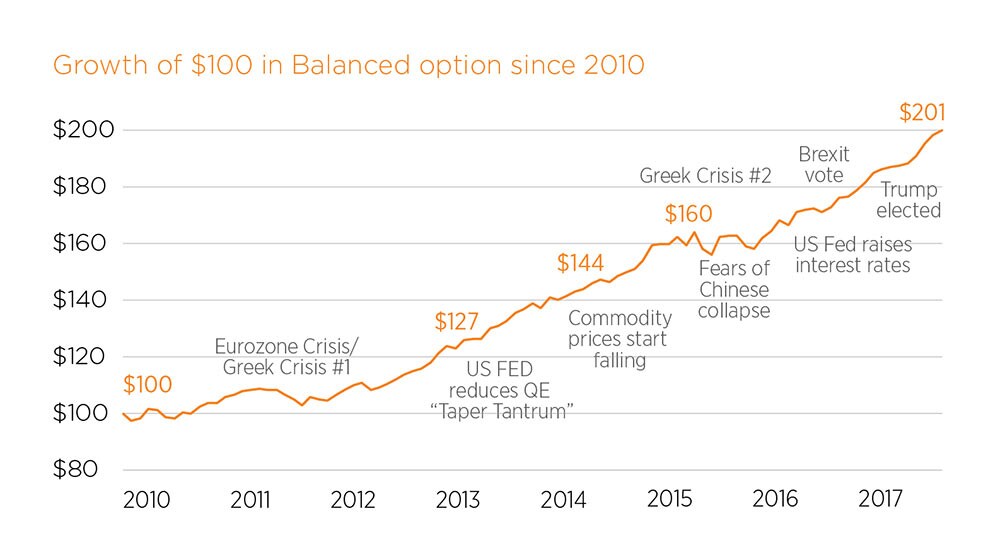 Source: AustralianSuper. Investment returns of the Balanced option from 1 January 2010 to 31 December 2017. Investment returns are net of investment costs and taxes, but do not include the impact of administration fees and insurance fees that are deducted from member's account balances. Investment returns are not guaranteed. Past performance is not a reliable indicator of future returns.
Know where your super is
If you have more than one super account, consolidating your savings is simple and takes less than five minutes.ii But remember before making a decision to combine, look out for any fees or charges that may apply for closing an account and make sure you understand the impact of combining your accounts on benefits, such as insurance.
Discover          why working Australians choose us
The right fund today could mean more money down the track.
Learn more
References:
i Based on the returns of the AustralianSuper Balanced Investment option compared to the median investment return in the SuperRatings SR50 Median Balanced Survey. Comparisons over different time periods: 1, 3, 5 and 7 years to 31 December 2017. You can view returns for all AustralianSuper investment options here. Investment returns are not guaranteed. Past performance is not a reliable indicator of future returns.
ii Before making a decision to combine your super, you should ask your super provider about any fees or charges that may apply, or any other effect this transfer may have on your benefits, such as insurance.
Disclaimers:
This information is general financial advice which doesn't take into account your personal objectives, situation or needs. Before making a decision about AustralianSuper, you should think about your financial requirements and refer to the relevant Product Disclosure Statement. AustralianSuper Pty Ltd ABN 94 006 457 987, AFSL 233788, Trustee of AustralianSuper ABN 65 714 394 898.