Bull and bear markets. What does it all mean?
The finance industry and investment markets can seem complicated enough – and the language can be equally hard to understand. Terms like bull markets and bear markets can add another layer of complexity. Here's what those terms mean – and what may happen to your super during bull and bear markets.
What is a bear market?
When share market values are falling over a prolonged period of time, it's known as a bear market. A bear market is typically driven by negative investor sentiment and a poor economic outlook. They are often associated with major economic downturns, like the Great Depression in the 1930s and the Global Financial Crisis in 2008/09. The technical definition of a bear market is when asset prices have fallen by more than 20% from their recent highs.
Why is it called a bear market?
There are a few theories why it's called a bear market. One theory relates to American bearskin traders who would sell skins they hadn't yet paid for or received. The traders would gamble that the price they pay for skins would continue to fall. So today, a bear market reflects those expectations of falling values in the future. The other theory (and far more simple!) for the bear market name refers to the way a bear attacks, with its claws swiping in a downward motion – illustrating the downward direction of the share market.
What may happen to your super in bear market?
If share prices are falling, your super may experience a fall in value too. It may be tempting to change your investment to prevent further falls. Some members might think that moving from a diversified investment option such as AustralianSuper's Balanced option to a cash option would avoid further falls. If you're thinking of switching, it's important to understand the risks and check before you switch, and also to consider your financial advice options.
What is a bull market?
A bull market is when investor confidence is strong and prices are rising faster than average over a consistent period. Bull Markets typically (although don't always) coincide with periods of strong economic growth, and investors are attracted to the potential of higher returns.
Why is it called a bull market?
If a bear attack with a downward claw swipe represents a market downturn, then the upward thrust of an attacking bull's horns represents a rising market. The bull symbol has become famous thanks to the bronze bull located in New York's Financial District, sculpted by Arturo Di Modica.
The bull and bear also have a historical link, having been matched against each other in brutal blood fights in 19th century California. This analogy of bull and bear fighting remains in financial circles today, reflecting the opposing views of bulls (optimistic buyers) and bears (pessimistic sellers).
What may happen to your super in bull market?
During a bull market, the share market value is rising and your super may grow too. During a rising share market, you may be considering if what you're invested in is right for you. To find out more about the right investment option for your specific needs, visit Choosing the right super option. With changing conditions, it's worth understanding the risks of switching over the short term. It's good to understand that super is a long-term investment to help you reach your best retirement outcome.
Our Balanced investment option is designed to have medium to long-term growth with possible short-term fluctuations. It is recommended that this option has a minimum investment timeframe of at least 10 years.

Growth of $100,000 from 30 June 2002 to 30 June 2022 in the Balanced option
Long term performance of the balanced option, starting with a $100,000 balance on 30 June 2022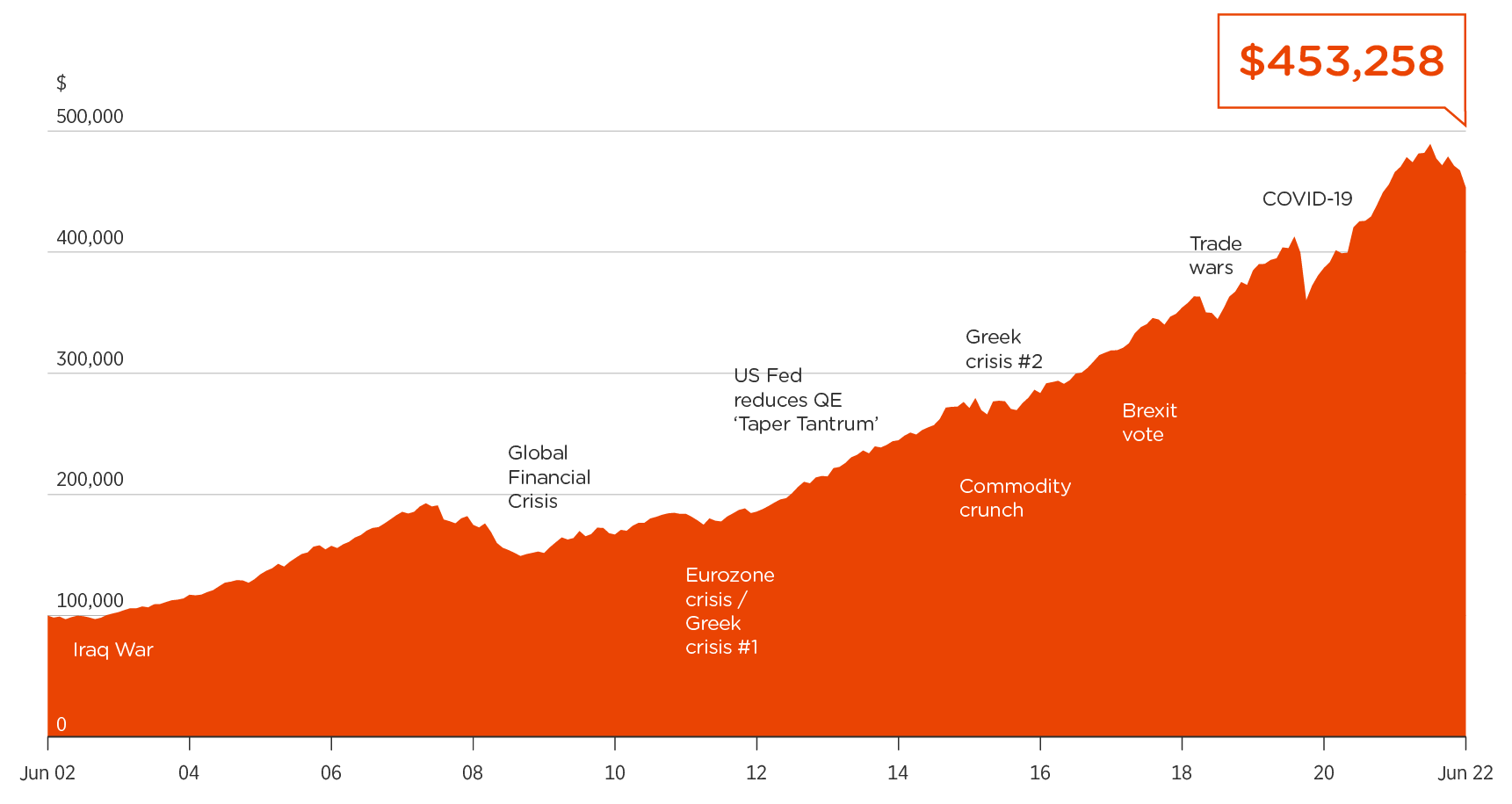 *AustralianSuper investment returns are based on crediting rates, which are returns less investment fees and costs, transaction costs, the percentage-based administration fee deducted from 1 April 2020 to 2 September 2022 and taxes. Returns don't include all administration, insurance and other fees and costs that are deducted from account balances. Returns from equivalent investment options of the ARF and STA super funds are used for periods before 1 July 2006. Investment returns are not guaranteed. Past performance isn't a reliable indicator of future returns.
For those with a higher risk appetite, our High Growth investment option is designed to have strong long-term growth with possible fluctuations in the short term. It is recommended that this option has a minimum investment timeframe of at least 12 years.
As well as our Balanced investment option and High Growth investment option, you can also discover more about our other PreMixed investment options.
Looking for advice?
If you're unsure about what to do with your super, be sure to talk to a financial adviser. They can help you make the right investment choices for your personal goals and risk appetite. A financial adviser can also guide you when investment markets are bumpy, providing reassurance. This could help you stay focused on the long-term and ease any worries you may have.
Find an adviser
Investment returns aren't guaranteed. Past performance is not a reliable indicator of future returns. This may include general financial advice which doesn't take into account your personal objectives, financial situation or needs. Before making a decision about AustralianSuper, you should think about your financial requirements and refer to the relevant Product Disclosure Statement, available at australiansuper.com/pds or by calling 1300 300 273. A Target Market Determination (TMD) is a document that outlines the target market a product has been designed for. Find the TMDs at australiansuper.com/TMD. AustralianSuper Pty Ltd ABN 94 006 457 987, AFSL 233788, Trustee of AustralianSuper ABN 65 714 394 898.
---