Changes to the super system have been put in place under new legislation called Your Future, Your Super. The changes aim to improve the system, empower you to make more informed decisions and create your best possible financial position in retirement.
This article explains the key changes under Your Future, Your Super, and what they may mean for you.
3 key changes – Your Future, Your Super
1. MySuper performance tests – highlighting weak performance so you can choose the best fund possible
MySuper is an industry term used to identify a super fund's basic offer. Employers often choose a MySuper product for new staff who don't provide their super fund details when they start a new job.
Some MySuper products haven't been properly reviewed each year, and as a result, people could be with funds that aren't performing well. An underperforming fund isn't growing your super as well as another fund could – meaning you could be losing money from your retirement savings.
From 1 July 2021, all MySuper products will undergo yearly performance tests as part of the reforms. If a fund's MySuper product fails a performance test, it must tell its members in that product option. It'll also be listed on the YourSuper comparison tool as an underperforming fund. The first performance tests will be measured on an account's average annual returns over 7 years and their fees over the last year.
AustralianSuper MySuper products all passed this comparison test and have been judged as performing by industry body Australian Prudential Regulation Authority (APRA).
If you're with a fund whose MySuper products have failed the test and classified as underperforming, you'll receive a letter from your super fund letting you know.
By holding funds accountable and highlighting underperformance, you'll be able to see how your fund is performing. This can help to decide whether or not to switch to a fund offering a better net benefit.
2. Stapling – your super will follow you when you change jobs from 1 November 2021
When you change jobs your super doesn't automatically follow you. This means your super can end up split across more than one account, and you could pay multiple fees.
About 4.4 million Australians have more than one super account1. At April 2021 there were 6 million 'extra' super accounts in Australia, leading to $450 million in unnecessary fees each year2.
Over the years, these fees add up. On top of that, because of how compounding returns work, over time you could end up with less money to spend in retirement.
Stapling will help avoid multiple accounts per person. Under the changes, your super account is 'stapled' to you. Meaning, when you change jobs you take your current super account with you. Your new employer must pay super into your existing account, unless you tell them to pay it into another fund.
It's estimated super stapling will put about $2.8 billion back into the retirement savings of working Australians over the next decade2.
We'll be letting members know more about stapling as things develop. For now, you should know that changes will come into effect from 1 November 2021.
3. YourSuper comparison tool – making it easier for you to compare super funds
Comparing super funds can be tricky. There are different investment options, risk levels and fees. Two key things to look at are long-term performance and net benefit. Net benefit is the investment return delivered to you by your super fund, minus the admin fees, investment fees and taxes charged. The new YourSuper comparison tool, launched by the Australian Tax Office (ATO), is one way you can check these details.
Using the comparison tool, you'll be able to:
Explore a table of super products ranked by fees and investment returns
Get quick access to super fund websites
See all your current super accounts, enabling you to combine multiple accounts into one.
By comparing funds side by side, seeing which are performing best, and potentially combining multiple accounts into one, you could be better off in retirement.
ATO: YOURSUPER COMPARISON TOOL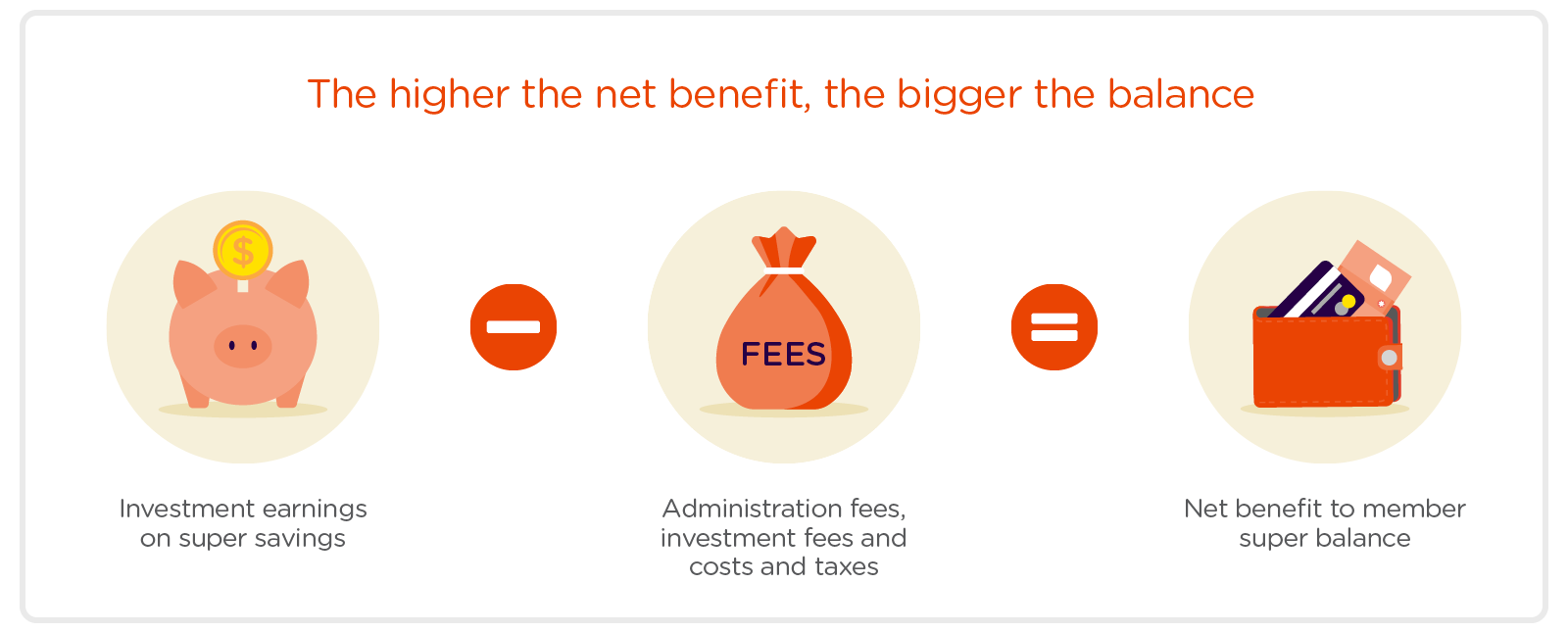 Source:
**Investment returns are not guaranteed. Past performance is not a reliable indicator of future returns.
This may include general financial advice which doesn't take into account your personal objectives, financial situation or needs. Before making a decision consider if the information is right for you and read the relevant Product Disclosure Statement, available at australiansuper.com/pds or by calling 1300 300 273. A Target Market Determination (TMD) is a document that outlines the target market a product has been designed for. Find the TMDs at australiansuper.com/TMD.
AustralianSuper Pty Ltd ABN 94 006 457 987, AFSL 233788, Trustee of AustralianSuper ABN 65 714 394 898.