Australia's population is getting older. This is likely to create both challenges and opportunities for organisations. So significant are these changes, the CSIRO named the ageing workforce as one of 6 'megatrends' in occupational health and safety over the next 20 years. Despite this, many Australian companies have been slow to engage with the realities of an ageing workforce.
The Australian Bureau of Statistics has identified that over 175,000 previously retired people were either back at work or planning to return. Yet older workers often face negative stereotypes. This can have a significant impact on their experience in the workplace, creating stress and affecting their mental health.
Common stereotypes older workers face include:
They take more sick days
They're more prone to workplace injuries
They don't like or understand technology
They cost business more due to their experience.
AustralianSuper has partnered with workplace experts at Transitioning Well to investigate how to support older workers during their late careers and into retirement.
About Transitioning Well
Transitioning Well is a national organisation that works with forward-thinking companies to support people through a range of work-life transitions – including retirement. They provide a guide to assessing and improving practices within organisations.
In collaboration with AustralianSuper, it's leading the Ageing Workforce Ready (AWR) project to promote the benefits of older workers to employers. It's also testing initiatives that organisations from any industry can use to engage staff and boost their well-being.
The Ageing Workforce Ready project
AWR aims to improve the experiences of older workers by educating employers on the experiences of the ageing population during late career stages and as they move out of the paid workforce. The project is funded by WorkSafe Victoria's WorkWell Mental Health Improvement Fund.
A pilot program running since 2019 has focused on 8 public transport workplaces. The industry was selected due to its reputation for retaining older workers.
Results show that in the public transport sector there are often 'natural ramp-down' practices, where roles may accommodate more flexibility by reducing bus drivers' routes or hours, for example. However, project lead Rachael Palmer notes that these types of practices don't suit every industry.
She says managers who may not know how to approach older workers with discussions about retirement planning should avoid making assumptions about individual situations: 'Managers [often] don't know how to have tough conversations.'
The project has also shone a light on the need to upskill managers who may not 'have a good handle on (an) ageing workforce', despite the risks of losing valuable older workers.
Rachael says she's proud to be leading a project supporting older people in the workplace.
'Good work is good for all of us. Whether it's paid or voluntary, meaningful work where people feel productive and valued (and not stressed) positively impacts both physical and mental health. Many employers need to be doing more to achieve this in the context of an ageing population.'
The findings will help to develop activities targeting human resource departments and executive decision makers.
READ MORE: TIPS TO NAVIGATE WORK AS YOU APPROACH RETIREMENT
Watch the video below to find out more about the Ageing Workforce Ready project by Transitioning Well and AustralianSuper.
What is the AWR Project?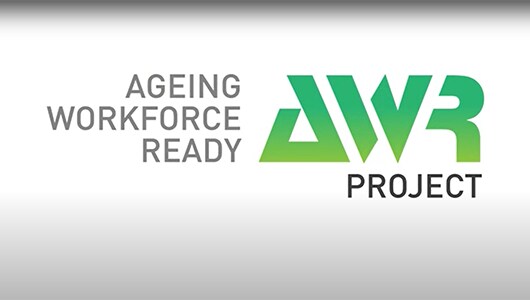 Show Transcript

Hide Transcript

Australia's population is getting older, and this ageing population is predicted to create significant challenges and opportunities for organisations. So significant are these changes, that the CSIRO has named the ageing workforce as one of six megatrends in occupational health and safety over the next 20 years. Despite this fact, many Australian companies have been slow to engage with the realities of an ageing workforce.

This has led to the creation of the Ageing Workforce Ready Project. An innovative collaboration between Australia's largest super fund, AustralianSuper, and, work-life transition experts Transitioning Well.

The project is being funded by WorkSafe's WorkWell Mental Health Improvement Fund with the aim to promote and protect the mental health and wellbeing of older workers. Eight public transport companies are participating in the pilot, and the developed resources and approach will be applicable across businesses of any industry and size.

The project commenced in 2019 with a review of the literature and two successful Round Tables. The consumer roundtable gave us insights into how the ageing workforce impacts the public transport industry. For example, a common theme highlighted during the roundtable was the appeal of public transport jobs as a way to manage the transition to retirement for many older workers. However, while drivers recognise the limitations of flexibility inherent in their roles, there are some aspects of the job that become harder as people age. In addition, the reliance on casual work arrangements rather than permanent part-time positions. creates concern for some employees.

Insights like these have continued to inform and guide the direction of the project. An informative expert roundtable was also held in which academics and other specialists shared their research and best practice ideas. Dr Sanjee Perera from the Centre of Workplace Excellence commented that this collaboration unearths insights about communication and connections and develops a greater appreciation of the importance of communication between the employers, employees, and managers; and the importance of some kind of connection both digital and otherwise.

Using this information, Transitioning Well's existing ageing workforce pillars were further developed to frame how organisations can create a workplace where older workers can thrive!

These insights were shared in the Ageing Workforce Ready white paper called "The Age Difference", which was received by over a hundred professionals and organisations who have registered interest in the project.

The 4 pillars are Recruitment, Retention, Retirement and Roadmap and are used by organisations to guide actions that make work a better place.

Importantly, the best practice pillars address a range of work-related factors at all levels of an organisation - from manager support, to organisational change, from job demands to the control that employees have over how and when they do their work.

WorkSafe Victoria is leading the way in supporting organisations to focus on work-related stress as a way to decrease employee stress for two crucial reasons.

Firstly - addressing work-related factors helps treat the root cause of an issue rather than just addressing the symptoms, and secondly - they help establish preventative and proactive techniques for safeguarding the wellbeing of older workers.

The Ageing Workforce Ready team is using data from in-depth interviews and focus groups, as well as a desktop review, from a pilot group of public transport companies to uncover meaningful insights that inform the project.

One finding highlighted that many instances of good practice rely on individual capability rather than being formally supported through policy and process. This raises important questions about the sustainability of these practices when those employees leave the organisation. Based on insights like these, the team will offer recommendations to the pilot companies that are informed by data, the ageing workforce pillars and work-related factors.

Participating companies have the opportunity to implement a range of activities that support the wellbeing of older workers, from manager training to online resources. The aim is to not only create positive change in the pilot group of organisations, but to develop a collection of resources and information that can equip all organisations in becoming ageing workforce ready!

End Transcript

Proud focus on the wellbeing of older workers
AustralianSuper's Head of Growth, Vicky Maguire, says the Fund is proud to be supporting older Australians at work and in their transition to retirement:
'Accelerated by the demographics of the country shifting towards older Australians, businesses are increasingly recognising the importance of inclusivity and adapting their practises accordingly. I am delighted that we are able to be part of designing solutions for employers to assist their older workers achieve dignity at work and when they retire.'
A review of policies and procedures will provide guidance on redesigning systems and processes to support ageing workers. Upskilling managers to support workers has many benefits. This includes more empowered employees, who will have the knowledge and resources to navigate the challenges and opportunities of late career.
Using AustralianSuper's network, over 100,000 Victorian businesses will have access to the results of the project.
Retirement planning resources
AustralianSuper offers a range of free and paid retirement services, including on-demand webinars from our education team, general advice, and personal advice for a fee*.
START PLANNING YOUR RETIREMENT
* Personal financial product advice is provided under the Australian Financial Services Licence held by a third party and not by AustralianSuper Pty Ltd. Some personal advice may attract a fee, which would be outlined before any work is completed and is subject to your agreement. With your approval, the fee for advice relating to your AustralianSuper account(s) can be deducted from your AustralianSuper account.
This information may be general financial advice which doesn't take into account your personal objectives, financial situation or needs. Before making a decision about AustralianSuper, you should think about your financial requirements and refer to the relevant Product Disclosure Statement available at australiansuper.com/pds. or by calling 1300 300 273. A Target Market Determination (TMD) is a document that outlines the target market a product has been designed for. Find the TMDs at australiansuper.com/tmd. AustralianSuper Pty Ltd, ABN 94 006 457 987, AFSL 233788, Trustee of AustralianSuper ABN 65 714 394 898.