Whether you're entitled to a full, partial or no Age Pension, here's a few things to consider when planning for your retirement.

AustralianSuper's head of portfolio construction, Alistair Barker, explains.

"You can easily see your super balance by looking it up on our website or checking your statement. It's possible to think about the Age Pension in a similar way. If you were to value it like other assets, it would be classified as a government-guaranteed, inflation-linked annuity. Its value over your lifetime could be material, in the vicinity of $500,000 for someone receiving the full Age Pension in retirement." he says.
Age Pension and your super balance
The value of the Age Pension changes depends on a range of factors including: whether you're single, a couple, own a home, your age, assets inside and outside super. Read our fact sheet on Age Pension eligibility.

Our research shows that for members with a super balance up to $400,000, the Age Pension will account for more than half of their income over a drawdown period of 25 years.
Full Age Pension
If you receive the full Age Pension, it's likely to be one of your largest assets and make up most of your retirement income.

"There are a number of paths people can take in this situation. One idea to preserve capital is to put off paying larger expenses. You can also use your super to supplement your Age Pension with extra income. " Barker says.

Given the Age Pension makes up such a large chunk of assets for people in this group, it impacts their mix of investments. If you look at your total income in retirement as your investment portfolio, comprising your super and Age Pension, people on the Full Age Pension already have a large allocation invested in what can be thought of as a conservative or defensive asset.

The value of the Age Pension, which is set by government policy, is not expected to have the same growth potential of shares and other growth-orientated assets or the same volatility and risk of losses. This is why we classify it as a conservative asset relative to many types of financial assets.

"Some people may be able to take on some more growth-oriented assets in their super portfolio because their main asset is a conservative one. For instance, your superannuation could be invested in a well-diversified portfolio that can grow over time. This allows investors to maintain their exposure to higher growth assets such as shares, property and infrastructure," he adds.

This provides the potential to generate more income from your super over a longer period.The example below shows how your investment portfolio can change when you factor in the Age Pension. This member has $400,000 invested in AustralianSuper's Choice Income – Balanced option.
Before Government Age Pension
This pie chart shows this member's asset allocation before the Age Pension is taken into account, showing AustralianSuper's Balanced option.



After Government Age Pension
Over a 25 year drawdown period this member receives around half of their income from the Age Pension and around half from their AustralianSuper account. When you take the Age Pension into account, the allocation to defensive assets increases from 28% to 65%.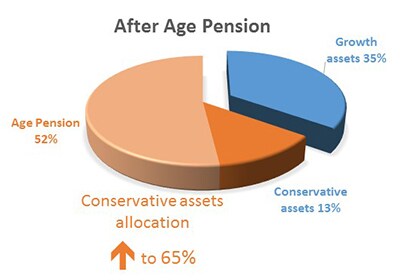 Source: AustralianSuper. The example is based on the Balanced option's actual asset allocation at 30 November 2017. Growth assets comprise: Australian shares, International shares, Private Equity and 50% Property, Infrastructure. Defensive assets comprise: Fixed Interest, Cash, Credit and 50% Property, Infrastructure. The example assumes there are no investments held outside super. Assets held outside super may impact on the income from the Age Pension that the member would receive.
No Government Age Pension: food for thought
If you don't qualify for the Age Pension it's up to you to generate the income you need in retirement from your own savings, using your super and other investments if you have them.

"That may mean for some people a more conservative approach to investing their super is more appropriate. However, this depends mainly on how much money you need to draw down each year to fund your lifestyle in retirement compared to your account balance," explains Barker.
If your withdrawal rate is high and investment market values drop, this could mean you have less assets in your super account to benefit from any recovery in markets after they fall. This effect is often called sequencing risk.


If your withdrawal rate is low the sequencing risk is likely to be low. This is because your rate of withdrawal is likely to be lower than the amount of income or yield from the investment portfolio. This can come from dividends on shares, rent on properties and infrastructure, interest of cash.
"In practice, many people's withdrawal rates tend to be relatively low, particularly in the early days of retirement. For example, many members currently drawing a pension from AustralianSuper take out the minimum withdrawal rate set by the government for an accumulated pension, which is 4% of your account balance annually," he adds.


Part Age Pension: meeting in the middle
Many people fall somewhere between a full and no Age Pension (in the example above the person starts initially on a Part Age Pension). People in this category will need to use more of their super to supplement their Age Pension entitlement, and what's key in this case is both the withdrawal rate from your super, as well as the interaction between their Age Pension payments and their super account.
"As your super account balance declines, your entitlement to the Age Pension can rise. Also, if investment markets fall, people's claim on the Age Pension can rise, helping to offset investment market risk," Barker explains.
People on a part Age Pension receive government subsidies and other discounts, which also reduces reliance on their own retirement income sources.
Some golden rules on retirement planning
For all retirees, there are a number of golden rules to think about when considering their Age Pension entitlement and asset allocation of their super.
Your withdrawal rate from your super account is important, says Barker. "That determines how conservative your investment needs to be. If you're on the minimum rate of withdrawal, you can probably afford to have a diversified portfolio with assets that can grow and keep pace with the cost of living."
Think about planning for retirement over a long period because many of us will be in retirement for a lengthy period of time. So don't just think about the next decade – think out 20 years and beyond.
Given the complexity involved in the Age Pension and retirement income strategies, it's an idea to seek financial advice to make sure you're making the most of your assets and opportunities.
For more on this topic read our recent article '
investing to make our retirement income last longer
'.
This information may be general financial advice which doesn't take into account your personal objectives, situation or needs. Before making a decision about AustralianSuper, you should think about your financial requirements, refer to the relevant Product Disclosure Statement, and if required consult an advisor.
I'd like to learn more about...