COVID-19 (Coronavirus) is having an immediate impact on people, economies and investment markets across the globe. AustralianSuper is working hard to reduce the impact of this downturn on member balances.
Global efforts to contain the spread of COVID-19 have led to strange new ways of living, with social distancing measures disrupting the way we live and work.
These changes in our day to day lives are having a material impact on economic activity, particularly in the retail, travel, entertainment and hospitality industries. Many factories and shipping channels have also been shut down, causing significant supply bottlenecks and demonstrating the interconnectedness of the global economy. Forced lockdown measures have also affected company earnings for both large and small operators and created economic uncertainty about the future.
Economic Impacts of COVID-19
In response, governments and central banks around the world are taking significant steps to support households, small businesses and companies, as well as keeping health systems, essential services and financial markets functioning.
Central banks across the US, UK and Australia have cut interest rates to 0.25% or below. Governments have introduced a range of fiscal stimulus packages. In Australia, the government announced a $300 billion package (15% of Australian GDP) including business tax deductions, health funding, wage subsidies (like JobKeeper) and loan guarantees. And the United States announced a $2.2 trillion support package - equivalent to 10% of US GDP.
How have investment markets reacted?
Not surprisingly, investment markets have been significantly affected. Global markets fell sharply across February and March as investors tried to evaluate the impact of COVID-19. Multiple (and at times contradictory) market signals contributed to some of the large daily swings we saw – especially early on. Markets thankfully recovered slightly towards the end of March, and this continued into April.
Sharemarkets bore the brunt of the volatility, with Australian shares falling 23.4% and global shares losing 20.0% over the March Quarter (1 January – 31 March 2020). While these headlines can be alarming, it's important to remember that this is just a 3-month snapshot as at 31 March 2020. Markets have rebounded significantly off their March lows and although investment returns have been impacted, they have not eroded the growth of the preceding 10 years.
During periods of market volatility, investors often seek out more defensive assets, such as cash and bonds – particularly government bonds, which have less default risk. As a result, returns from government bonds have been boosted, and credit spreads for corporate bonds have widened, as the perceived risk associated with these bonds (relative to government bonds) has increased.
The market downturn has also impacted the valuation of some unlisted assets. Transport-based infrastructure assets, for example, have been affected by the reduction in trade, air travel and road traffic volumes. In the property sector, retail shopping centres have been impacted by reduced sales volumes and lower foot traffic, which is driving expectations of reduced rental income.
In the interests of all members, AustralianSuper has taken the prudent step of revaluing our unlisted asset portfolio to ensure their valuations reflect current market conditions.
READ MORE: REVALUATION OF UNLISTED ASSETS
READ MORE: UNDERSTANDING LISTED AND UNLISTED ASSETS
How has the Coronavirus impacted AustralianSuper investment returns?
At AustralianSuper, the investment options with higher weightings to shares, particularly Australian shares, have been most impacted. However, a falling Australian dollar has helped to cushion some of the falls in international shares. Although coronavirus is also impacting the value of some unlisted assets, such as property and infrastructure, these falls are more modest compared to what we've seen in listed sharemarkets.
VIDEO: INVESTMENT PERFORMANCE UPDATE WITH CHIEF INVESTMENT OFFICER

The table below shows the returns to 31 March 2020 for each of the investment options and how current market conditions have impacted recent performance.
Investment returns to 31 March 2020
Investment Option
Financial year to date
1 Year pa
10 Year pa
PreMixed Options
High Growth
-8.17%
-3.49%
7.89%
Balanced
-6.45%
-1.99%
7.63%
Socially Aware
-9.57%
-5.51%
7.03%
Indexed Diversified
-6.12%
-2.01%
n/a
Conservative Balanced
-3.79%
-0.05%
6.94%
Stable
-1.49%
1.54%
6.05%
DIY Mix Options
Australian Shares
-17.57%
-11.96%
5.76%
International Shares
1.54%
7.20%
10.28%
Property
-5.15%
-3.92%
6.75%
Diversified Fixed Interest
0.08%
1.77%
5.61%
Cash
0.94%
1.42%
2.69%
Investment returns for accumulation accounts. Investment returns are not guaranteed. Past performance is not a reliable indicator of future returns.
This places AustralianSuper's Balanced Option in the top 5 performing super funds over 3, 5, 10 and 20 years.
Taking a longer-term perspective, the 10-year annualised return shows the benefit of investing in a diversified portfolio as you build your retirement savings.
For example, the Balanced option returned 7.63% pa over the 10 years to 31 March 2020, which means that a member would have more than doubled the value of an investment over this time period.
That means that $50,000 invested 10 years ago would be worth $104,346 as at 31 March 2020.1
Importantly, it also shows that the recent downturn has not eroded the previous 10 years of strong growth.
AustralianSuper Balanced option – long term performance 10 years
The AustralianSuper Balanced option has achieved a 7.63% p.a annualised return over 10 years.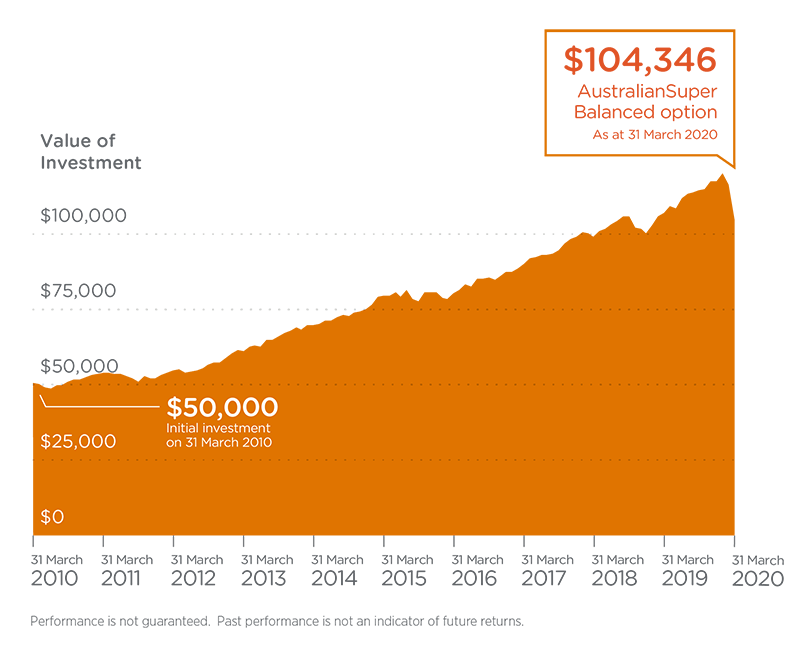 READ MORE: MARKET CYCLES AND SUPER – IT'S ALL ABOUT THE LONG TERM
AustralianSuper's response to COVID-19
AustralianSuper's focus remains on positioning our investment portfolios to deliver the best outcomes for members over the long-term.
At a portfolio level, the investment team are monitoring and assessing how the virus, and associated government and central bank activity, is affecting economies and capital markets across the globe. We use this information to model different scenarios in relation to the potential depth and duration of the impact on the economy.
The Fund has been reducing risk in the portfolio since December 2018, to prepare for a potential economic downturn. We're also focused on ensuring that there is sufficient liquidity and the portfolio is well positioned to meet the long-term objectives of each investment option.
Our investment team monitors and manages the liquidity of each investment option on a daily basis, ensuring the Fund's liquidity requirements are met, and making sure each investment option remains aligned to its own strategy.
READ MORE: UNDERSTANDING LIQUIDITY AND YOUR SUPER
It's important to also remember that periods of market dislocation also create new investment opportunities. We're actively looking for opportunities to invest in companies and assets that have been mispriced by the market, and to make new investments where we can see long-term value.
AUSTRALIANSUPER'S PERFORMANCE
References
Investment returns are net of investment fees and taxes, but don't include administration fees that are deducted from account balances. Insurance and other fees and costs may also apply. Investment returns are not guaranteed. Past performance is not a reliable indicator of future returns.
---
Investment returns are not guaranteed. Past performance is not a reliable indicator of future returns.
This information may be general financial advice which doesn't take into account your personal objectives, situation or needs. Before making a decision about AustralianSuper, you should think about your financial requirements and refer to the relevant Product Disclosure Statement. AustralianSuper Pty Ltd ABN 94 006 457 987, AFSL 233788, Trustee of AustralianSuper ABN 65 714 394 898.
Compare us
Choosing the right fund could mean more money in the future, giving you more confidence in your long-term retirement plan performance.
COMPARE SUPER FUNDS