24 December 2021
In March 2020, some members switched to the Cash investment option to minimise the potential losses in their super, due to the market downturn. Unfortunately, a short-term market view has meant many members have failed to see their balances bounce back, in the same way other investment options have.
It can be daunting to return to a growth investment option like the Balanced option, after seeing big market falls - especially for retirees and members approaching retirement.
We have seen markets rebound strongly since March 2020, and those members who remained in growth options are starting to see the benefits of keeping a long-term view of their super.
For those still in the Cash option, there are some good insights to review, so you can make an informed choice on how to manage your super moving forward.
Sticking with the Cash option – or switching to growth
While it may feel reassuring to stick with more conservative investment options, like Cash, now is the time to assess if these options are the best for your retirement plans.
Balanced and Cash option investment scenarios
The chart below shows the impact on a member's balance as a result of switching out of the Balanced option into the Cash option on 23 March 2020, and not switching back. In this example, the member's balance would have reduced by $19,190.
Value of $100,000 invested in the Balanced option, compared to a switch to the Cash option1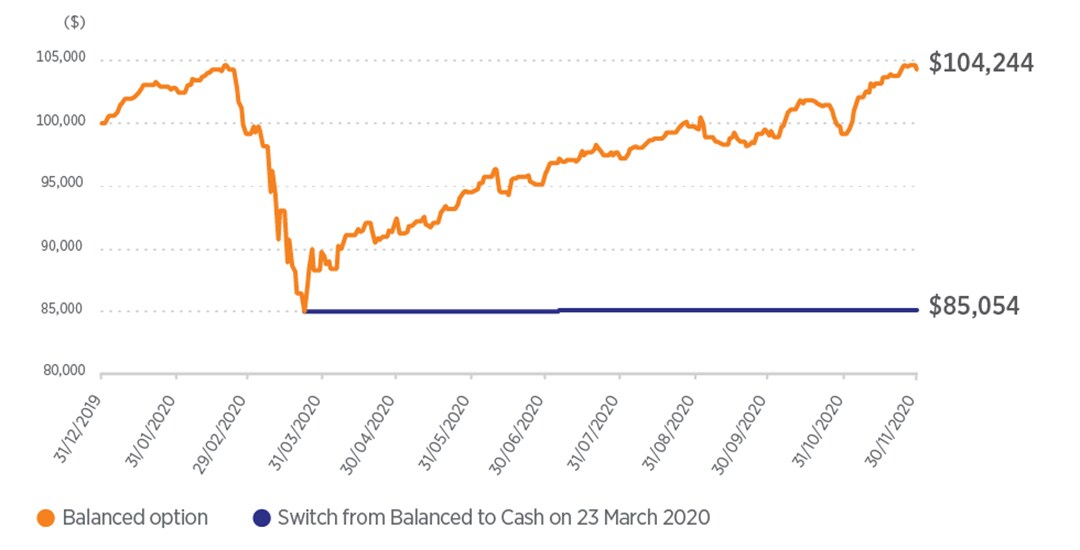 Example provided for illustrative purposes only, consider your personal circumstances when making investment decisions. Returns don't include administration, insurance and other fees and costs that are deducted from account balances. Investment returns are not guaranteed. Past performance is not a reliable indicator of future returns.
Cash returns and low interest rates – how they can impact the growth of your super
To help rebuild Australia's economy, the Reserve Bank of Australia has made it clear they expect to maintain low interest rates for a number of years. This has several significant implications for cash investments:
The returns for cash investments are likely to be low for some time.
With low interest rates, your returns after fees may be negative.
There is a very high risk that returns could be lower than the cost of living, over the long-term. This means that every dollar you save now will buy less in the future than it does today.
Given the anticipated prolonged low interest rate environment, it's important to think about the impact that investing a large part of your savings in cash, will have on your retirement savings.
READ NOW: ECONOMIC IMPACTS TO CASH OPTION RETURNS DURING 2020
Growth assets and options – how it can impact the growth of your super
As we can see in the chart below, share markets around the world have rebounded strongly from their March lows, with some international markets higher than their pre-pandemic levels. This has helped boost the super balances of many members.
Balanced option compared to Australian and International Equities2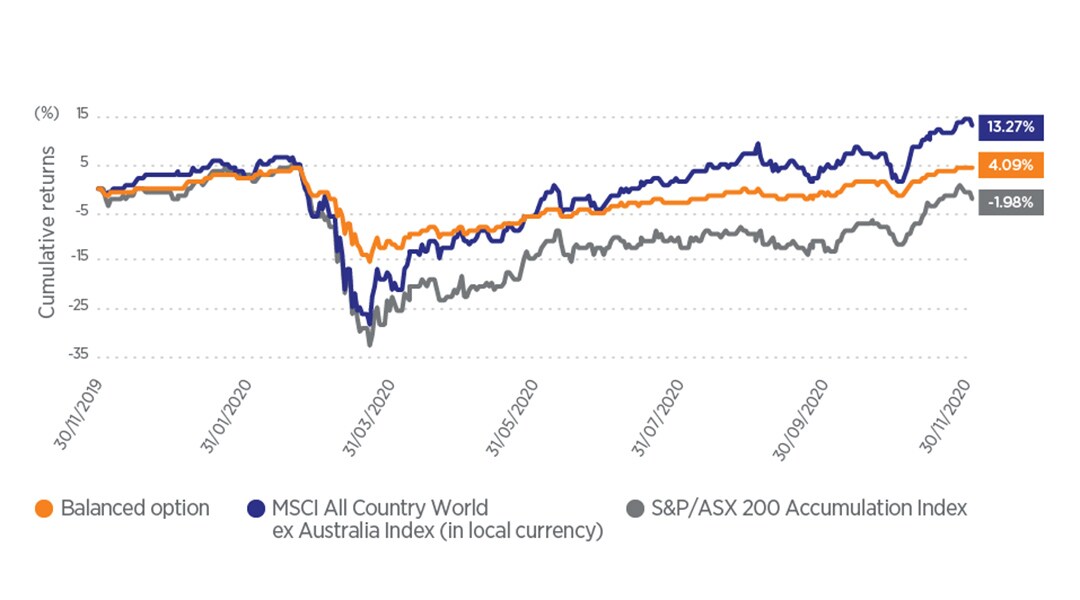 Returns don't include administration, insurance and other fees and costs that are deducted from account balances. Investment returns are not guaranteed. Past performance is not a reliable indicator of future returns.
Global economic recovery over 2021
While the future is uncertain, governments around the world, including the US and Australian governments, have indicated they will continue to support their economies with fiscal stimulus programs. In addition, central banks including the Federal Reserve in the US and the Reserve Bank of Australia are expected to maintain current low interest rates, according to their recent commentary. These conditions should in theory support growth assets like shares.
In contrast, the current low interest rate environment makes it challenging to generate investment returns for defensive assets like cash and fixed interest.
Managing your super your way – diversified investment options
We understand that everyone has different financial goals and tolerance to investment fluctuations. Pick an option that suits your personal needs, and consider speaking to adviser if you need some guidance to manage your super or help planning your retirement.
AustralianSuper offers several diversified investment options that include different levels of defensive and growth allocations. It's important that you select an option that's right for your needs.
It's not too late to re-invest
Take a long-term view of your super – even in retirement.
Data from the Australian Bureau of Statistics shows that we're now living longer [3], which means our super savings need to last much longer too. The returns on cash investments may struggle to achieve the growth you need to maintain your lifestyle in retirement.
While it's normal for investment markets to go up and down, history has shown that the markets continue to increase in value over the long term.
History has also shown, that members who stay invested in growth assets and stick to their long-term plan, often end up in a better position than those who keep changing investment options.
READ MORE: HOW INVESTING IN RETIREMENT CAN GROW YOUR RETIREMENT INCOME
Balanced option growth
The chart below shows that over a period of 20 years, despite ups and downs in the market, it has grown overall.
Growth of $100,000 from 30 November 2000 to 30 November 2020 in the Balanced option4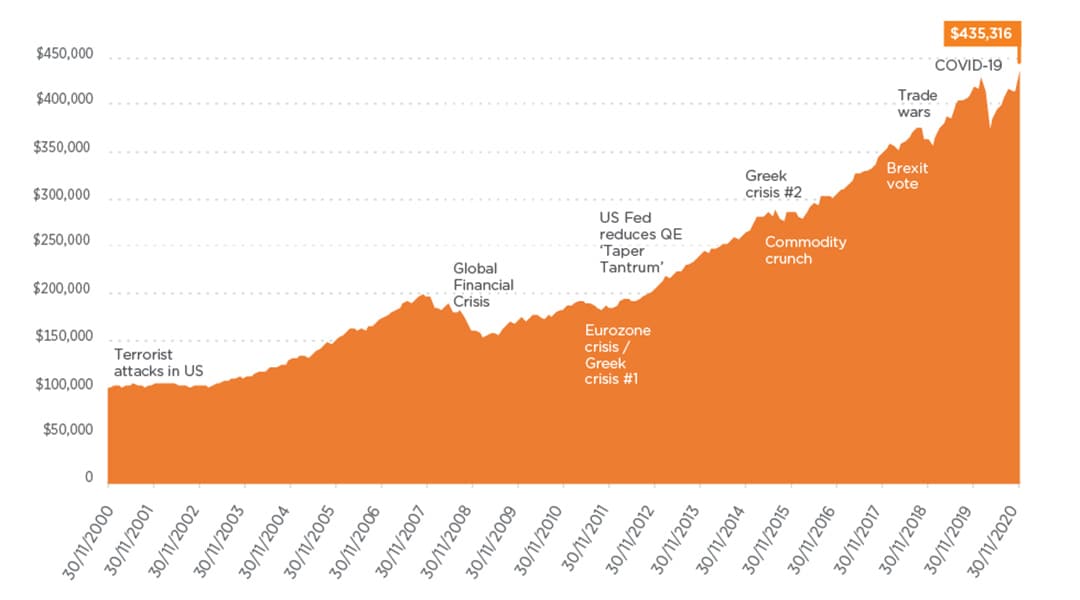 Returns don't include administration, insurance and other fees and costs that are deducted from account balances. Investment returns are not guaranteed. Past performance is not a reliable indicator of future returns.
The recent recovery in investment markets, after the declines experienced in February and March this year, highlights the benefits of staying invested in a diversified portfolio, throughout market ups and downs.
READ MORE: POTENTIAL RISKS OF SWITCHING INVESTMENT OPTIONS
Your next steps
The most important thing to do in the current environment is to review your investment options to ensure they will meet your long-term retirement plans and your appetite for risk.
If you would like help to do this, contact us and we can put you in touch with a Financial Adviser. An adviser can help you to understand the investment options available to you. They can also make sure that your investment choices are aligned with your personal circumstances and financial goals. If you only need advice on your AustralianSuper investments, this can be provided over the phone, at no additional cost to you.
READ MORE: WHAT TO EXPECT WHEN MEETING WITH A FINANCIAL ADVISER
Book a phone advice appointment today
References:
AustralianSuper data
MSCI All Country World ex Australia Index (in local currency), S&P/ASX 200 Accumulation Index; AustralianSuper, Balanced option performance."
AustralianSuper data
This may include general financial advice which doesn't take into account your personal objectives, financial situation or needs. Before making a decision consider if the information is right for you and read the relevant Product Disclosure Statement, available at australiansuper.com/pds or by calling 1300 300 273. A Target Market Determination (TMD) is a document that outlines the target market a product has been designed for. Find the TMDs at australiansuper.com/TMD.
AustralianSuper Pty Ltd ABN 94 006 457 987, AFSL 233788, Trustee of AustralianSuper ABN 65 714 394 898.
---
Compare us
Choosing the right fund could mean more money in the future, giving you more confidence in your long-term retirement plan performance.
compare us