4 May 2021
Fuelled by the prospects of economic recovery in Australia and overseas, share markets continued to rise in the three months to 31 March 2021 (March quarter). This is helping to grow member balances in both accumulation and retirement phases.
Members in the Balanced option (Super and TTR Income) received a return of 3.22% in the March quarter, 13.48% for the period 1 July 2020 to 31 March 2021 (financial year to date) and 21.95% for the 12 months to 31 March 2021.
The 21.95% return over 12 months to 31 March 2021 shows the strength of recovery in asset prices. The Balanced option has recovered from the market downturn in 2020 and provided long-term returns of 9.06% per annum over 10 years.
Balanced option performance (Super and TTR Income) as at 31 March 2021
Investment returns are not guaranteed. Past performance is not a reliable indicator of future returns.
For TTR Income accounts, the investment return is based on the crediting rate for super (accumulation) options. From 1 April 2020 the crediting rate includes an administration fee that is deducted from investment returns, that only applies to super (accumulation) accounts and does not apply to TTR Income accounts. TTR Income accounts will be adjusted to refund the administration fee deducted from investment returns, so that it does not apply.
The returns in the Choice Income Balanced option have been similarly strong – with a return of 3.49% in the March quarter, 14.74% for the financial year to date and 24.31% for the 12 months to 31 March 2021.
Balanced option performance (Choice Income) as at 31 March 2021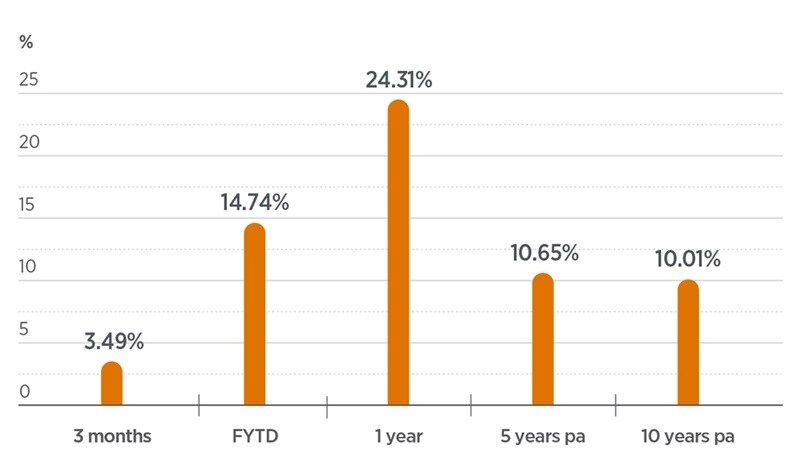 Investment returns are not guaranteed. Past performance is not a reliable indicator of future returns.
The performance of key asset classes
The response of each asset class to recent economic conditions has varied.
Australian and international shares
In Australia, significant levels of government spending and low interest rates have helped to lift business and consumer confidence, and strengthen the labour market.
Collectively, these factors have helped boost the value of Australian shares, especially in the banking and telecommunications sectors.
International share market values have also benefited from the economic recovery and the roll-out of COVID-19 vaccines, translating to strong returns in the March quarter and the nine months to 31 March 2021.
Unlisted assets
Both Infrastructure and Private Equity assets performed well in the March quarter. As the economy improves, infrastructure assets continue to have good prospects to increase their valuations, especially among toll roads, sea ports and renewable energy assets.
Like Infrastructure, Private Equity performance has also been supported by strong valuations and the economic recovery. With prospects of favourable long-term returns, the Fund is looking to increase the allocation to Private Equity assets in the portfolio, as opportunities emerge.
Property assets continued to face the lingering effects of the COVID downturn with reduced mobility affecting retail assets and changing working habits impacting office properties. Demand for quality office space is expected to rise as tenants demand A-grade facilities and attractive work environments.
Fixed interest and cash
In contrast to other asset classes, returns for the Cash option and cash investments in the March quarter have been minimal. This is a direct result of Australia's low interest rates. While the Reserve Bank of Australia maintains low rate levels, returns in this asset class are likely to remain supressed and can be negative after fees.
For global fixed interest markets, the economic recovery does lead to higher long-term interest rates for bonds. This results in lower returns for fixed interest in the short-term due to lower bond prices when interest rates increase.
READ MORE: UNDERSTANDING THE CASH INVESTMENT OPTION
Looking ahead
While the pathway to global economic recovery remains uncertain, there are several factors that may support continued economic growth in Australia and overseas, including:
The roll-out of vaccinations across the world;
The commitment of the Australian government and overseas governments to stimulus programs;
Favourable monetary policies like low interest rates. Central banks are expected to continue monitoring employment and inflation levels before making changes to interest rates;
Improvements in consumer activity, which are expected to drive corporate earnings, supporting valuations for growth assets;
The strengthening of business confidence in Australia and overseas.
Guided by prospects of economic improvement, we've adopted a pro-growth investment view for the portfolio.
How we're growing and protecting your super
The pro-growth investment view determines how we allocate asset classes in the portfolio. The asset allocation of the Balanced option at the end of March 2021 quarter is as follows:
The portfolio holds a higher allocation to growth assets, like listed shares and private equity;
The allocation to Australian and international shares is supported by expectations for stronger economic growth;
The portfolio has a higher exposure to infrastructure and reduced exposure to property investments. Strong balance sheets, improving economic conditions and increasing government investment provide a favourable outlook for infrastructure assets, while property investments are impacted by the effects of COVID-19;
The allocation to fixed interest investments is lower, due to lower expected returns, however fixed interest and cash allocations help to diversify portfolio risk by protecting against potential downturns in growth assets;
We now have a reduced allocation to foreign currency, as prospects of favourable economic activity provide support for a strong Australian dollar.
Balanced option asset allocation position as at 31 March 2021

Footnote:
The Trustee may alter the asset allocation or the composition of individual asset classes from time to time to suit prevailing market circumstances. Due to the Fund's different cashflow management approaches for Superannuation and Choice Income accounts, there may be a slight difference in the asset allocations for these options at any given time.
Economies, investment markets, and government policies are rarely static. Our team of 175 investments professionals continually monitor and adjust the portfolio on your behalf, to grow and protect your super over the long term.
Grow your super faster
Investment performance is just one way to grow your super. There are many other things you can do to save for your retirement, including salary sacrifice, after-tax contributions and spouse contributions. The more you add, the better your chance of achieving financial freedom in retirement.
Investing in your future today could make a big difference, and AustralianSuper has developed many useful resources to help you understand how adding to your super now could help your retirement in the long run.
CALCULATE YOUR PROJECTED SUPER
We're here to help
If you'd like more information on how to grow your super or manage your retirement plans, you can contact the AustralianSuper team. For personal advice, explore the advice options available to you on our website today.
This may include general financial advice which doesn't take into account your personal objectives, financial situation or needs. Before making a decision consider if the information is right for you and read the relevant Product Disclosure Statement, available at australiansuper.com/pds or by calling 1300 300 273. A Target Market Determination (TMD) is a document that outlines the target market a product has been designed for. Find the TMDs at australiansuper.com/TMD.
AustralianSuper Pty Ltd ABN 94 006 457 987, AFSL 233788, Trustee of AustralianSuper ABN 65 714 394 898.
---
Compare us
Choosing the right fund could mean more money in the future, giving you more confidence in your long-term retirement plan performance.
compare us