If you're an AustralianSuper member, your super is playing an important part in tackling climate change.
As a shareholder in some of the world's largest companies, AustralianSuper has the power to drive positive change. Our size and position mean we can tackle climate change head on – with the companies who are causing the most carbon emissions. This work centres around our core purpose: to provide members with their best retirement outcomes.
By working with the companies we invest in to reduce their carbon emissions, we can have a meaningful impact on climate change globally and deliver better returns to members over the long term* to help them achieve their best financial position in retirement.
There is an urgent need to address climate change. This need is not new, but recent findings from the Intergovernmental Panel on Climate Change (IPCC) have highlighted that not enough is being done now.
The IPCC is the UN body for assessing climate change science and is considered the global authority on the topic by governments and investors. In August 2021 it released its sixth assessment report: Climate Change 2021 - The Physical Science Basis. The report found that global warming is happening faster than predicted and likely to reach or exceed 1.5úC in the next 20 years, based on our current trajectory. This alarming fact highlights the need to act now to limit climate change impacts on the physical environment, people, the economy and businesses.
How AustralianSuper's position as a responsible investment is helping tackle climate change
Through our ESG and stewardship program we're tackling issues such as climate change. Companies which manage climate change well make better long-term investments, so this work supports our aim in providing members' strong long-term returns.*
Andrew Gray leads the environmental, social and governance (ESG), and stewardship program at AustralianSuper. In 2020 he completed a 6-month rotation as chair of an organisation called Climate Action 100+ (CA100+), which AustralianSuper co-founded.
CA100+ is an initiative created to tackle climate change. It brings together some of the world's most powerful investors and is the largest of its kind. Together these investors engage and work with individual companies to reduce their carbon emissions, helping to address climate change.
These companies are responsible for an estimated 80% or more of global industrial greenhouse gas emissions. By committing to carbon reduction plans, these companies would better positioned for future success, making them a better long-term investment opportunity for members.
Through our ESG and stewardship program we're tackling issues such as climate change.
Driving environmental change through CA100+
CA100+ had an initial focus on the 161 companies responsible for an estimated 80% or more of global industrial greenhouse gas emissions1. The initiative has made significant progress on driving the low carbon transition in the global economy.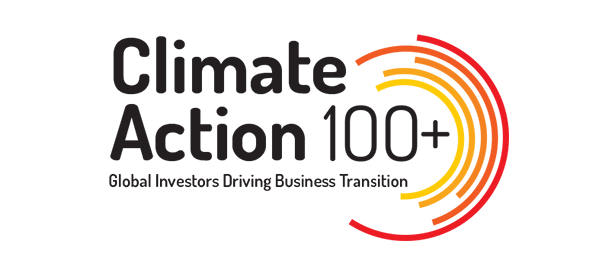 AustralianSuper is one of 5 founding members of CA100+, and Andrew has been a member of the global steering committee since the initiative's launch in 2017. Since then, the group has grown to include 550 global investors, who are responsible for about US $52 trillion in assets.
Driving the transition to a net zero global economy
In the first 4 years, CA100+ has guided companies to prioritise climate change in their business strategies. Key to this success has been engaging business leaders, creating a framework, and providing a clear set of asks.
Companies recognise that managing climate change is an essential part of future-proofing their businesses. As such, they're generally open to hear the expectations of long-term shareholders, such as AustralianSuper.
'The science tells us that the world economy needs to reach net zero emissions by 2050 to meet the goals of the Paris Agreement,' says Andrew. 'For investors, this is an important goal. We believe meeting net zero over time will result in the lowest economic cost transition to a low carbon economy and produce the best investment outcomes for members.'
'Companies that are not managing climate change well, and don't have a viable business strategy in place to meet this goal, will become less appealing to investors over time, and attract less capital,' he says.
Transparency from the Australia's top carbon emitters
In September 2020, CA100+ wrote to the CEOs and chairs of 161 companies. It called on them to develop and publish plans to reduce their carbon emissions to net zero. Among them were 12 Australian companies, including BHP, AGL, Rio Tinto, Woodside, Woolworths, and Qantas.
CA100+ wrote to 161 companies globally calling on them to develop plans to reduce their carbon emissions to net zero.
'In our engagements we've found that most companies welcome the clarity of the CA100+ Net Zero benchmark framework' says Andrew. 'By providing a consistent set of guideposts it's helping companies align their transition plans and actions to investor expectations while providing a clear pathway to net zero 2050.'
Of the 161 companies first targeted, CA100+ has seen 43% make Net Zero 2050 commitments. This includes some of the world's top emitters and companies in sectors which are hard to de-carbonise. In 2021 the initiative also expanded the list of focus companies to 167.
Defining progress: from climate change targets to clear actions
While commitments focused on Net Zero 2050 are important, Andrew says a shorter-term focus is also needed. 'We also need to see evidence of actions companies can take sooner than 2050 to achieve this goal,' he says.
For this reason, the CA100+ Net-Zero Company Benchmark was created. The Benchmark gives investors a framework and data to measure a company's progress.
'This is a real game changer,' says Andrew. 'The Benchmark provides much needed clarity for investors and companies. It outlines what a company needs to do to demonstrate their net zero commitment. The ability to measure through benchmarking means investors have a base to track the progress of companies.'
Delivering positive investment outcomes for members
'Members' retirement outcomes are at the core of every decision we make,' Andrew says. For a company to be a good long-term investment for members' super it needs to perform well on investment and ESG factors such as:
an effective and gender diverse board;
appropriate renumeration structures;
a positive workforce culture;
the right data security measures and controls;
and effective climate change management strategies.
CA100+ and AustralianSuper believe customers and the community prefer companies that are acting on climate change.
Members' retirement outcomes are at the core of every decision we make.
Discover more about how AustralianSuper is managing climate change and read our Net Zero 2050 commitment.
ESG: MANAGING CLIMATE CHANGE
*Investment returns are not guaranteed. Past performance is not a reliable indicator of future returns.
Sources:
1. Based on total 2018 emissions for all Climate Action 100+ focus companies (CDP data), compared to 2018 global emissions (Global Carbon Project data).


This information may be general financial advice which doesn't take into account your personal objectives, financial situation or needs. Before making a decision about AustralianSuper, you should think about your financial requirements and refer to the relevant Product Disclosure Statement available at australiansuper.com/pds. or by calling 1300 300 273. A Target Market Determination (TMD) is a document that outlines the target market a product has been designed for. Find the TMDs at australiansuper.com/tmd. AustralianSuper Pty Ltd, ABN 94 006 457 987, AFSL 233788, Trustee of AustralianSuper ABN 65 714 394 898.