In the last three months of 2021, the continued recovery of economies around the world has helped lift investment markets higher. Low unemployment, recovering consumer demand, low interest rates and significant levels of government stimulus, have helped support strong profits for many companies.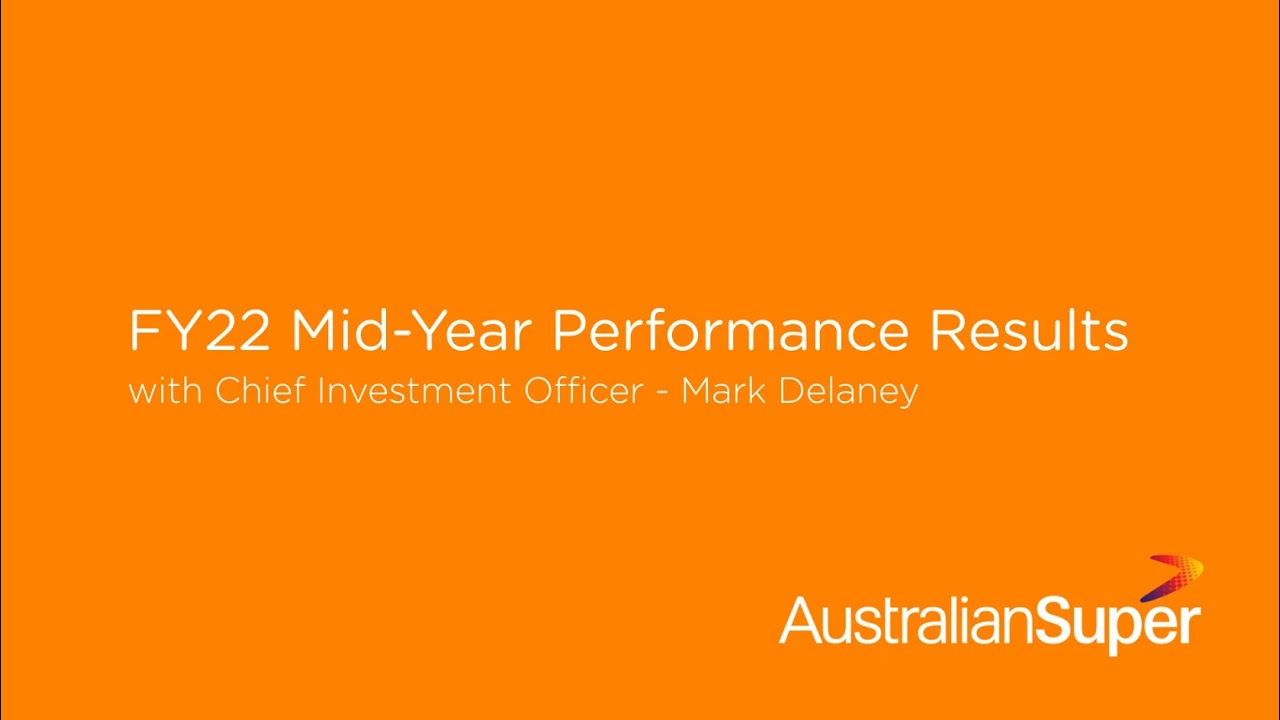 Show Transcript

Hide Transcript

Happy New Year everyone, and welcome to our latest performance update.

I'm really pleased to report that we've had a strong start to the 2022 financial year, delivering positive returns to members. For the six months to 31 December 2021, AustralianSuper's Balanced option returned 4.98% in accumulation and 5.29% in Choice Income accounts.

While listed shares have been a star performer, the contributions to the Fund's performance over the past six months, have been across many of the asset classes in the portfolio, especially among private markets. Private equity, infrastructure, property and credit have all provided valuable contributions to the overall return of the portfolio.

The recovery of economies around the world has helped lift investment markets, especially Australian and international shares. Recovering consumer demand, low interest rates and government stimulus have helped support strong earnings growth for many companies, leading to higher share prices. We're now seeing labour shortages and supply chain breakdowns that introduce some volatility to the markets as investors try to work out when central banks might make changes interest rates to manage inflation.

As investment markets move through different stages, we maintain our focus on delivering strong long term returns for members. In line with this, the Fund continues to invest in private market assets with strong long-term growth potential. Recently, we acquired two property assets located in Sydney. Both are state-of-the-art, logistics development sites. In the infrastructure portfolio, the addition of Australia Tower Network and an increase in our investment in WestConnex and Peel Ports in the UK, are delivering value to the portfolio. The growing size of the Fund means we can invest your super in large scale assets that have the potential to bring you higher returns as well as support the growth of our economy.

In looking ahead, investment markets are expected to move out of the current growth cycle. As this happens, we will continue to monitor and analyse market conditions and adjust the portfolio accordingly, to protect and grow your super over the long-term.

If you'd like to know more about our outlook for the economy and investment markets in the months ahead, visit the investments section of the AustralianSuper website. You can hear from experts across the Fund share their views.

Thank you for joining me today.

End Transcript
Balanced option performance
These favourable conditions continued to benefit member balances, with a return of 3.19% in AustralianSuper's Balanced option for the three months ending 31 December 2021. This brings the return in this option to 14.99% for the 12 months ending 31 December 2021 and 10.65% per annum over 10 years. The Balanced option for Choice Income accounts returned 3.43% for three months, 16.15% over 12 months and 11.72% per annum over 10 years* for the period ending 31 December 2021.
Balanced option (accumulation) performance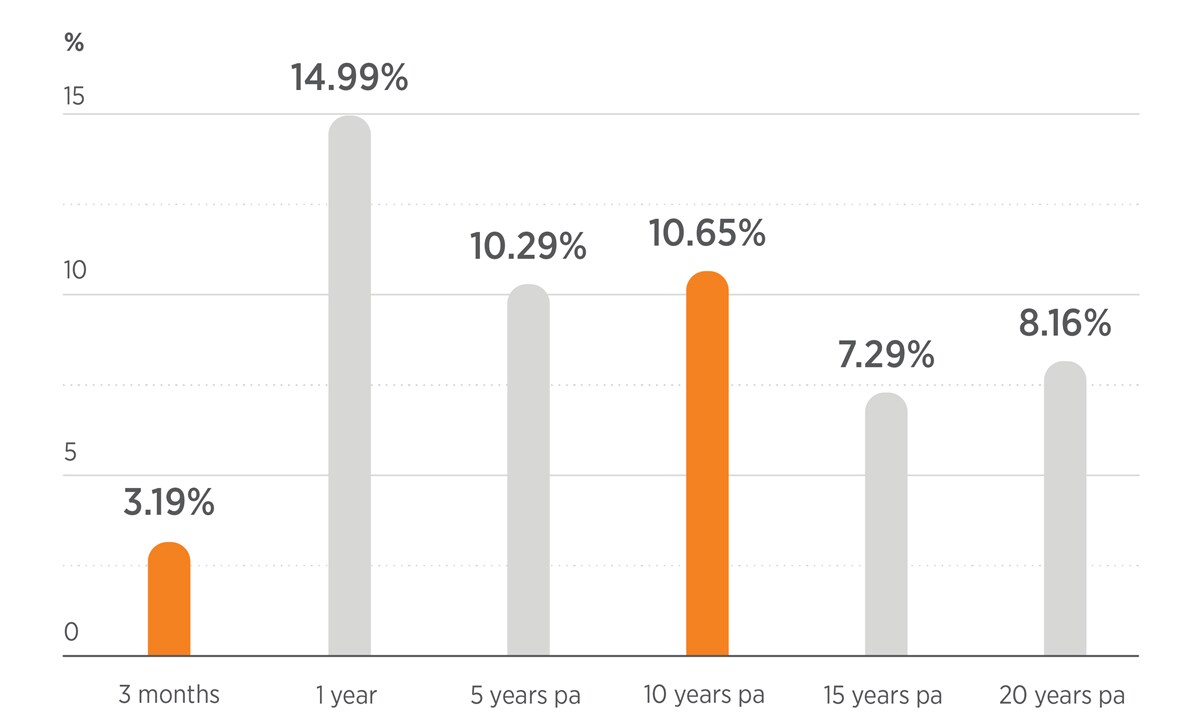 *Investment returns are not guaranteed. Past performance is not a reliable indicator of future returns.
From 1 April 2020 to 2 September 2022, the crediting rate includes an administration fee that is deducted from investment returns for super (accumulation) accounts. TTR Income accounts will be adjusted to refund the administration fee deducted from investment returns. All TTR Income account administration fees are deducted from account balances.
Balanced option (Choice Income) performance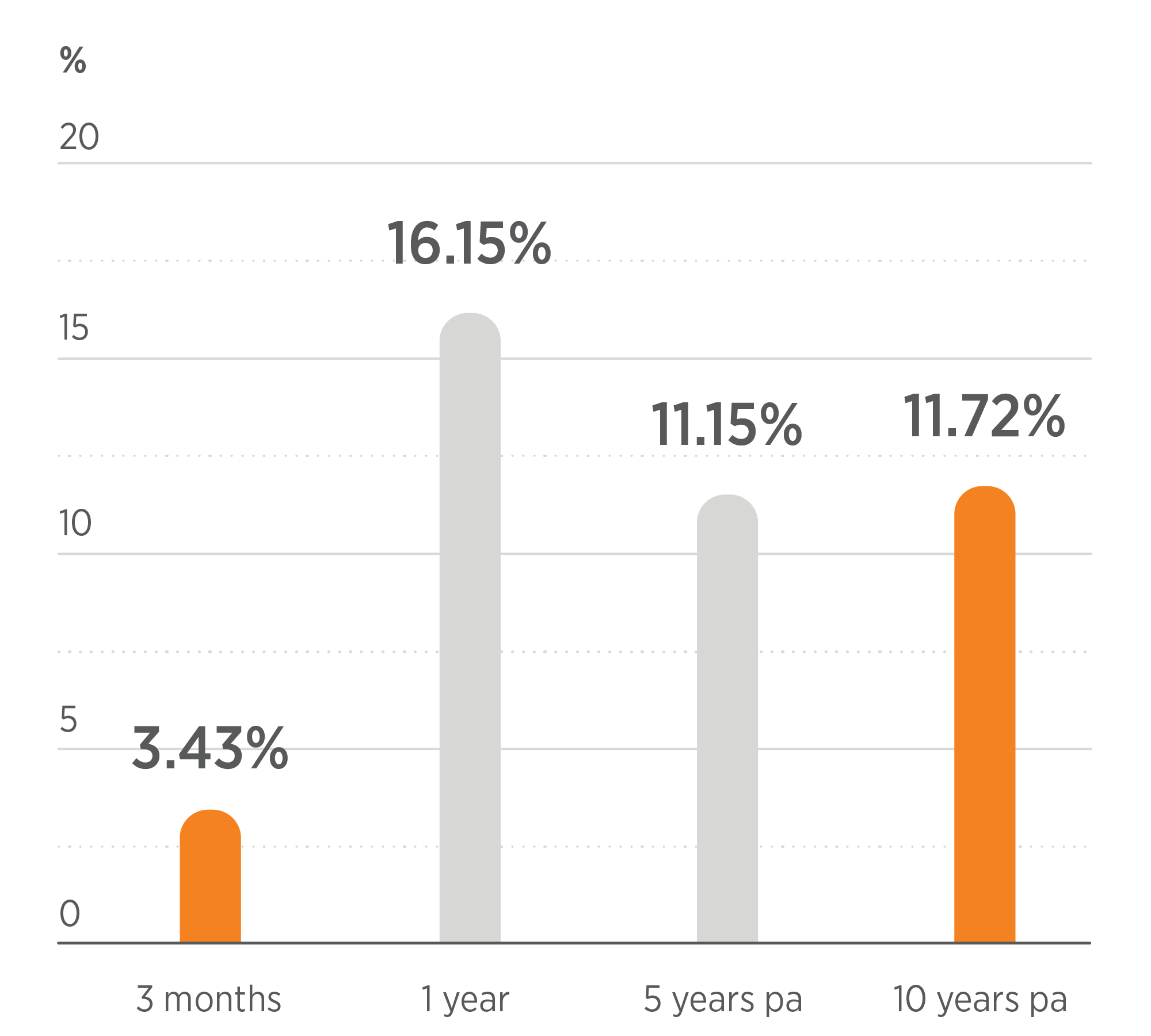 Supported by strong company earnings, Australian and international listed shares have been star performers. Share markets also overcame challenges including the prospect of less government stimulus in the future, disruptions to manufacturing and continued uncertainty about the pandemic. In the Australian share market, materials and utilities shares delivered strong returns, as did information technology and utilities shares, in international markets.
In addition to the performance of Australian and international shares, the overall return of the Balanced option was boosted by the returns delivered by private market assets. Private equity, infrastructure, property and credit investments have all provided positive contributions to performance over the quarter.
In comparison, returns from fixed interest investments have been subdued, impacted by rising interest rates.
READ MORE: INVESTMENT PERFORMANCE
The impact of rising interest rates on Fixed Interest investments
Fixed interest investments play an important role in providing diversification in investment portfolios and have historically provided stability when riskier assets are more volatile. There are however times in the market and economic cycle when fixed interest securities can have negative returns. The prices of fixed interest investments move in the opposite direction to interest rates. This means - when market interest rates rise the value of a fixed interest portfolio can fall. As the economy recovers from the COVID downturn, interest rates have moved higher which has lowered the value of fixed interest assets.
The outlook for economic growth and investment markets
In Australia, it's expected that economic growth will be supported by the reduction of pandemic restrictions, which should see interstate and international borders re-open. On the plus side, this may help improve the jobs market and boost wage growth, but on the downside, it may contribute to inflation. Globally, expansionary economic forces are expected to lead to the eventual tightening of monetary policy and lending regulations. Inflation is a key risk to future global growth. This is difficult to predict because of unknowns, like the potential re-emergence of pent-up consumer demand and supply chain problems. Shifts in central bank policy to manage inflation may lead to an economic slowdown.
The potential for an economic slow-down is one of the many factors taken into account by the Investment team, in working out the mix of investments in the portfolio. An economic slowdown would lead to reducing the exposure of the portfolio to risk assets like listed shares, and increasing the exposure to defensive assets like fixed interest.
Positioning the portfolio for long-term returns
Economies and investment markets move in cycles, each with different timeframes and levels of growth.
AustralianSuper has built a long-term track record of managing members' retirement savings through market cycles.
The investment team continually assess economic and investment market data to help formulate and adjust the Fund's investment strategies for each market cycle, to help deliver strong long-term returns for members.
After the March 2020 pandemic downturn, the positioning of the portfolio in favour of growth, has paid off for members. Members benefited from the rebound in share markets with historic returns of 20.43% delivered in the Balanced option (accumulation) in the 2021 financial year.
A possible shift from economic expansion to slowdown in coming years, means we're focussing on the asset classes that may provide a balance of growth and downside protection to meet each investment option's objectives. Our long-term view of economic and market conditions is reflected in the strategic asset allocation that is lowering the exposure to growth assets like shares, over time. As the economic cycle matures, we would expect to reduce risk in the portfolio, even further.
Balanced option asset allocation position as at 31 December 2021

AustralianSuper may change asset allocations and investments from time to time to suit prevailing market circumstances. Due to the Fund's different cashflow management approaches for Superannuation and Choice Income accounts, there may be a slight difference in the asset allocations for these options at any given time.
READ MORE: INVESTMENT MARKET CYCLES – HOW THEY WORK AND WHAT THEY MEAN FOR YOUR SUPER
Hear from economic and investment market experts
To learn more about the Fund's outlook for the economy, investment markets and investment allocations, over the short to longer terms, join specialists from across the Fund as they discuss their views. Speakers include the Fund's Global Economist – Mark Tierney.
Register for webinar
Investment returns are not guaranteed. Past performance is not a reliable indicator of future returns.
This information may be general financial advice which doesn't take into account your personal objectives, situation or needs. Before making a decision about AustralianSuper, you should think about your financial requirements and refer to the relevant Product Disclosure Statement. A Target Market Determination (TMD) is a document that outlines the target market a product has been designed for. Find the TMDs at australiansuper.com/tmd. AustralianSuper Pty Ltd ABN 94 006 457 987, AFSL 233788, Trustee of AustralianSuper ABN 65 714 394 898
Compare us
Choosing the right fund could mean more money in the future, giving you more confidence in your long-term retirement plan performance.
compare us