You may have heard the term pension fund from family or friends, on TV, or even seen it when searching for information about super online. To help with your retirement planning, it can help to know how the term is used in Australia.
Generally, a pension fund is an investment plan, fund or scheme. Its purpose is to provide you with an income stream after you finish work and retire. A pension could be managed by the government, an employer or super fund. The income may be guaranteed – sometimes known as a defined benefit – or variable and flexible.
Pension funds around the world
The meaning of the term pension fund varies depending on where you are in the world. In most cases it refers to a retirement income option. The terms Social Security and 401k are common in the USA, and Pension Scheme in the UK.
For Australians, it's superannuation (super) and the Government Age Pension. Take a look at how other countries refer to pensions.
Pension funds worldwide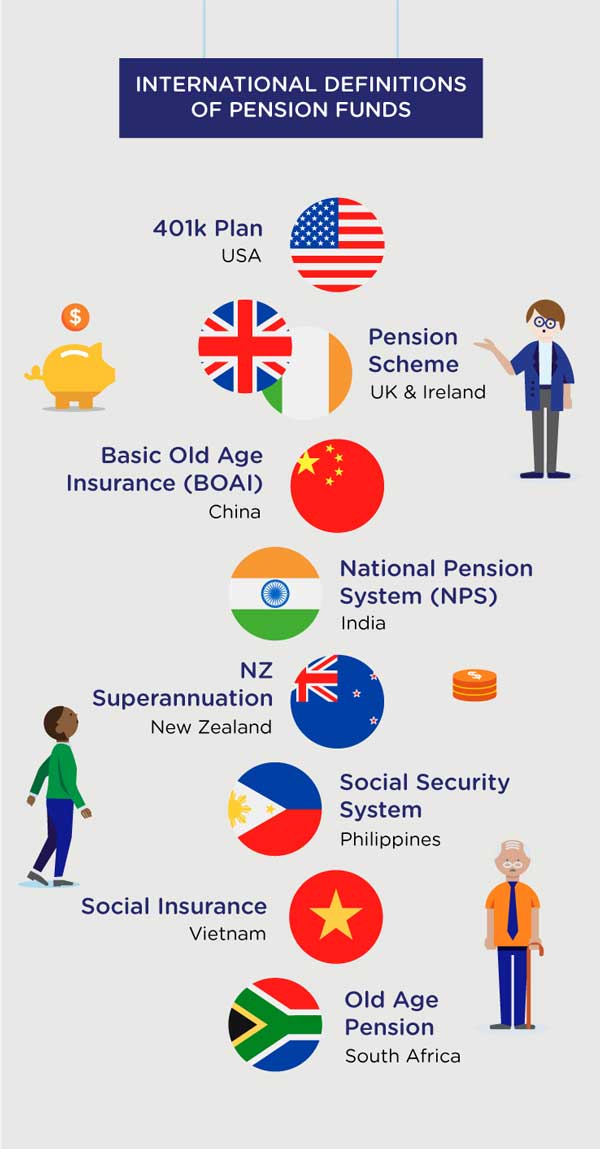 The Pension Scheme in the UK and Ireland operates with 3 main divisions: state, occupational and individual. India's National Pension System uses a voluntary contribution model, allowing for control over balance and investments.
Other countries use different terminologies but have similar approaches to pensions. China's Basic Old Age Insurance has a pension and mandatory employee contributions. New Zealand has a basic age pension called NZ Super, which pays a set amount to those deemed eligible by the government, and a voluntary retirement savings scheme called KiwiSaver.
What the term 'pension' can mean in Australia
In Australia, if you hear people refer to their pension, they often mean one of 2 things:
the Government Age Pension, or
their super.
Super can be accessed once you've reached your 'Preservation Age' and retired. At this stage you might decide to open an account based pension – which helps you manage your super savings and keeps them invested for growth. Or you can withdraw your super in a lump sum. Either way, your super becomes your income stream.
In Australia, super is the often the main source of retirement income for retirees. But, around 62% of Australians over the age of 65 also qualify for some level of Government Age Pension payment1. If you're eligible for the Age Pension, the payments could top up your super as extra income to support your retirement.
READ MORE: HOW SUPER WORKS WITH THE GOVERNMENT AGE PENSION
Age pension eligibility
There are several factors that the government looks at to determine your eligibility for the Age Pension, including your age, residency status, income and assets. It's a fortnightly income provided by the Australian government to help pay for the cost of living in retirement. In some countries, people refer to this as social security in retirement.
READ MORE: AM I ELIGIBLE FOR THE GOVERNMENT AGE PENSION?
Getting ready for your future in retirement
If you need help planning and preparing for life after work, AustralianSuper offers free webinars, helpful online articles and guides, and free, simple personal advice for members2.
Sources:
Australian Bureau of Statistics and Department of Social Services 2019
The financial advice you receive will be provided under the Australian Financial Services licence held by a third party and not by AustralianSuper Pty Ltd. AustralianSuper has also engaged Industry Fund Services (IFS) ABN 54 007 016 195 ASFL 232514 to facilitate the provision of financial advice to members of AustralianSuper. This advice is provided by one of our financial advisers who are Authorised Representatives of IFS. These advisers are not authorised to provide financial product advice (or any other financial service) on behalf of the Trustee of AustralianSuper. Some personal advice may attract a fee, which would be outlined before any work is completed and is subject to your agreement. With your approval, the fee for advice relating to your AustralianSuper account(s) can be deducted from your AustralianSuper account.
This may include general financial advice which doesn't take into account your personal objectives, financial situation or needs. Before making a decision consider if the information is right for you and read the relevant Product Disclosure Statement, available at australiansuper.com/pds or by calling 1300 300 273. A Target Market Determination (TMD) is a document that outlines the target market a product has been designed for. Find the TMDs at australiansuper.com/TMD.
AustralianSuper Pty Ltd ABN 94 006 457 987, AFSL 233788, Trustee of AustralianSuper ABN 65 714 394 898.
---