You may have heard people talking about 'retail and 'industry' superannuation funds - or maybe you're hearing these terms for the first time. Either way, there are some important differences between them and this handy guide will help you navigate the various types of superannuation funds available.
What's out there?
There are multiple types of superannuation funds but most Australians are with a retail or industry fund.
Industry Super Funds were mainly started by trade unions and employer associations as a joint enterprise to ensure Australians had money set aside for retirement. They are profit to member organisations, which means that profits are returned to members, not shareholders. This in turn has led to higher net benefit, as illustrated in the graph below. These days, most industry super funds are open to the public although some are linked to particular industries.
AustralianSuper is an industry super fund and we're also Australia's largest super fund overall. We're not linked to any specific industry, which means any Australian can invest with us, regardless of the industry they work in.
Retail Super Funds are run by financial institutions (such as banks) and wealth management companies. Technically, as they're considered trusts, no super fund is allowed to make a profit, but many Retail Funds outsource functions, like administration and investment management, to companies that are owned by the same financial institution that owns the super fund. These administration and investment management companies are allowed to make a profit which can then be returned to parent company's shareholders.
When a financial adviser recommends a retail fund to their client, they can receive a commission. When it comes to returns, on average over the 10 years up to 30 June 2017, Retail Funds returned around $15,000 less to their members than the average Industry SuperFund3.
Corporate funds are created by a company to provide superannuation for their employees. Once quite common, many have now closed.
Public sector funds are created for employees of a Federal or State government. Most are only open to government employees.
Self Managed Super Funds (SMSFs) are private superannuation funds that are regulated by the Australian Tax Office and managed by individuals, called trustees, for up to four members. Anyone can run their own SMSF but they must stick to rigorous regulation like setting up an investment strategy and arranging an annual audit by an SMSF regulator. As set-up and running costs can be high, SMSFs are typically most cost-effective for individuals with large balances.
So what does this mean for my super balance?
While past performance is not a reliable indicator of future performance, or the sole factor to consider in relation to super, the net benefit graph below shows how AustralianSuper compared to the average super fund and the average retail super fund over the past 15 years. The totals show what a member would have had after 15 years, in addition to their $50,000 starting balance and employer contributions, assuming they started with a $50,000 annual salary*.
And, if the same member had been with AustralianSuper for only the previous 5 or 10 years, the net benefit would also be higher relative to averages for all super funds and retail super funds.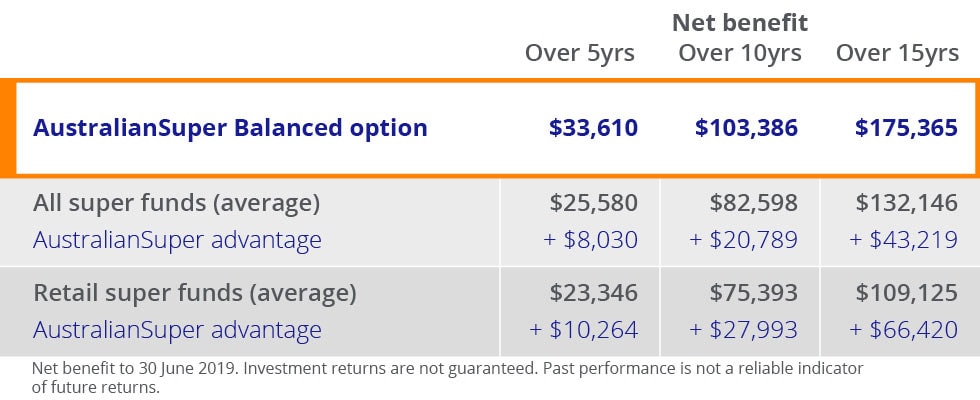 Discover          why working Australians choose us
The right fund today could mean more money down the track.
Learn more
1https://www.canstar.com.au/superannuation/largest-super-funds/
2https://www.moneysmart.gov.au/superannuation-and-retirement/how-super-works/choosing-a-super-fund/types-of-super-funds
3https://www.industrysuper.com/compare/retail-super-funds/
Disclaimers:
*Investment returns are not guaranteed. Past performance is not a reliable indicator of future returns. AustralianSuper investment returns are based on crediting rates. Crediting rates are the investment return less investment fees, the percentage-based administration fee (applicable from 1 April 2020) and taxes. Investment returns aren't guaranteed. Past performance isn't a reliable indicator of future returns.
Comparisons are modelled by SuperRatings, commissioned by AustralianSuper. Modelled outcome shows the average difference in 'net benefit', a measure of past investment earnings after administration and investment fees and taxes have been taken out. The results compare the AustralianSuper Balanced option and the main balanced options of funds tracked by SuperRatings that have a comparable option and performance history, for historical periods to 30 June 2019. The model uses return and fee data that is submitted to SuperRatings. Insurance premiums and other fees and costs may apply. Outcomes vary between individual funds. See Assumptions for more details about modelling calculations and assumptions. The comparison does not consider the new percentage component of the administration fee of up to 0.04% pa of your account balance which was introduced from 1 April 2020. This fee is deducted from investment returns daily before they are added to your account.
This information may be general financial advice which doesn't take into account your personal objectives, situation or needs. Before making a decision about AustralianSuper, you should think about your financial requirements and refer to the relevant Product Disclosure Statement. AustralianSuper Pty Ltd ABN 94 006 457 987, AFSL 233788, Trustee of AustralianSuper ABN 65 714 394 898. Investment returns are not guaranteed.