The current market
After a year of very low market volatility, you may have noticed an increase in share market fluctuations in 2018.
While there are a number of investor concerns driving these short-term ups and downs, the outlook for the global economy remains positive with solid economic growth and company earnings. Against this backdrop, the Balanced option, which most members invest in, has returned a positive 6.62% so far this financial year (to 31 March 2018).
What's been driving the recent pick-up in volatility?
There have been three main issues causing the recent increase in volatility:
An increase in US inflation data and concerns that interest rates would rise faster than expected in the US has added to investors' concerns.
After being the driving force behind the strong performance of US share market in 2017, there are some problems impacting the technology sector. Facebook is facing issues over the collection of personal data which is then used for advertising, while Google's ad sales and data collection is also getting negative attention, along with growing concerns from regulators about its monopoly like position in many markets.
The fear of a 'trade war' with China sparked by US President Trump's proposed tariffs on Chinese imports. Investors are worried that this might cause China to retaliate and impose tariffs on US goods and services, which could lead to trade war that dampens economic growth and company profits.
Investors have been surprised by some of the Twitter comments coming out of the White House on policy issues. While singularly these concerns shouldn't worry investors too much, they do tend to have a collective impact and add to short-term market volatility.
Putting the recent volatility in perspective
It's normal for markets to fluctuate over short periods of time as investors anticipate and react to economic events like these. While these fluctuations can be concerning, it's important to look at them in a long-term context.
Since 2010, the investment returns of the Balanced option have increased members' retirement savings by more than double – every $100 invested at the beginning of 2010 was worth $201 at the end of 2017#. This is despite a number of negative events that caused fluctuations along the way. Some of these include the slowing Chinese economy, Brexit and political uncertainty in the US and Europe. This is why we focus on what's happening in the real economy and what it means for company earnings, profits and interest rates.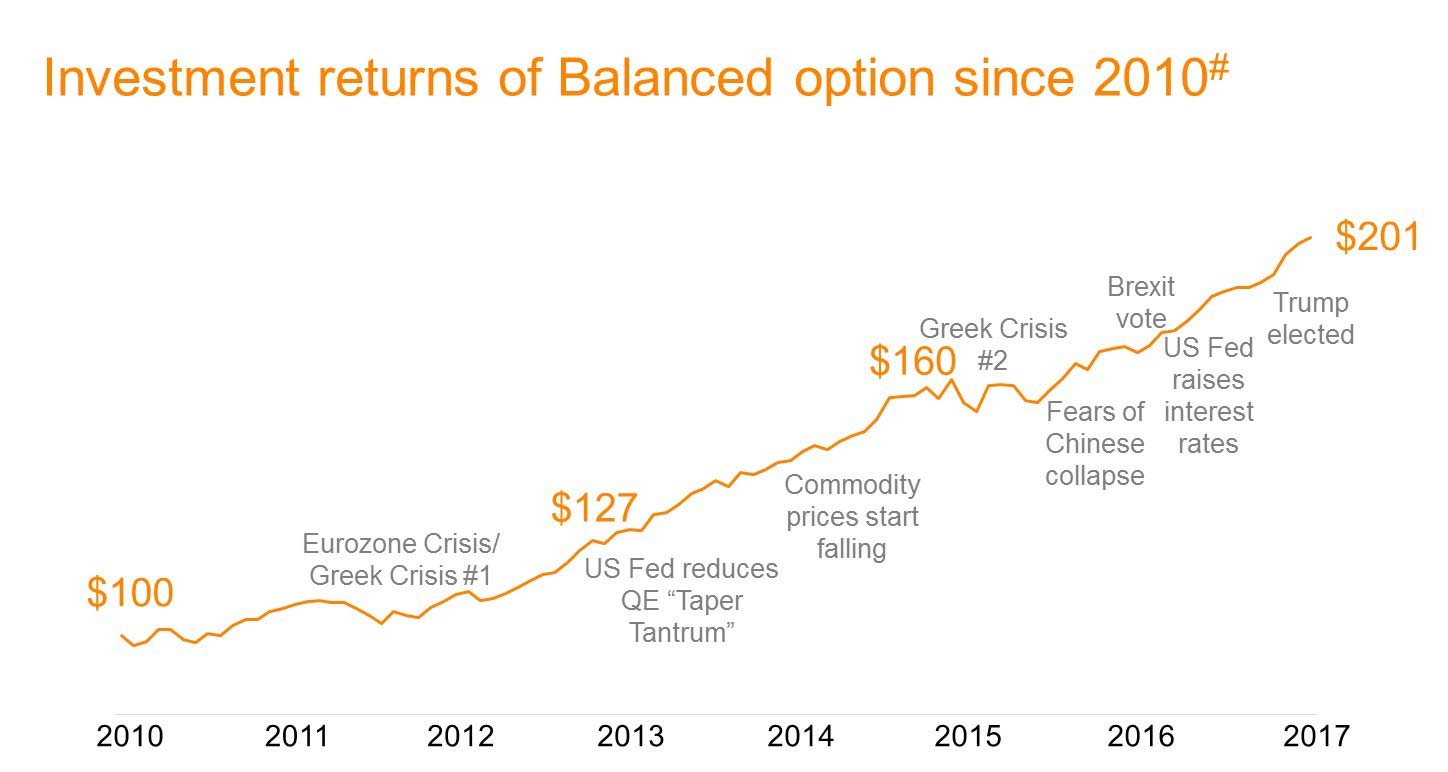 The recent falls have effectively reversed the gains seen in international share markets since the start of 2018, and those in Australian shares since November last year. These falls come after a very strong 2017 where markets delivered their best returns since 2003.
Market fluctuations are a normal part of investing
Reacting and changing strategies because of the events of the past, week, month or even year can sometimes be costly. Research shows that some investors may lose money when they change investments in reaction to short-term market movements.* Investors may lock in losses and also miss out on the potential for higher returns by being out of the market when it recovers.
If you're concerned about volatility and whether your investment strategy is right for you, speaking to a financial adviser can help. Find out more
Managing your super for the long term
Investing across a range of different assets (like shares, infrastructure, property, fixed interest and cash) helps us to manage market fluctuations over the long term. We've been preparing the portfolio for this increase in volatility by adjusting the allocation to these asset classes, and in December lowering the exposure to shares in our PreMixed options.
Share markets have been performing very strongly in recent years, and have been a major contributor to the strong returns in both the super and retirement income options. As the economic cycle matures, share markets can become more volatile as inflation and interest rates start to rise. This can cause periods where investment returns aren't as strong as they have been.
As long-term investors, we look beyond the daily news and focus on investing in a mix of quality assets that can grow your savings over time. The Balanced option has returned 10.20%pa for the five years and 6.80%pa for the ten years to 31 March 2018. The Balanced option for retirement income accounts returned 11.31%pa for the five years and 7.82%pa for the five years to 31 March 2018.
* Sources: Owen Scott, AustralianSuper: The Age of Flawed Reasoning: The Rationally Ignorant, the Return Chasers and the Flight to Safety, Empirics 2017 # Source: AustralianSuper. Investment returns of the Balanced option from 1 January 2010 to 31 December 2017. Investment returns are net of investment costs and taxes, but do not include the impact of administration fees that are deducted from member's account balances. Investment returns are not guaranteed. Past performance is not a reliable indicator of future returns.