For too long, the super industry's thinking about how people will feel in retirement has been based on the dollar value of their balance, and projections on their spending and investment returns. But a study carried out by AustralianSuper and Monash University has shown that several non-financial aspects of retirement have a massive impact on how retirees feel: confidence in retirement is not only about feeling secure that you have enough money.
Put it down to the fear of the unknown – but many Australians feel apprehensive as they approach retirement and it's become natural to worry about whether you have enough money to last, or about how you will fill your time.
But, the Retirement Confidence Index1, carried out by AustralianSuper and Monash University has shown that the fear of retirement often subsides after you've actually retired, with most retirees saying they feel more confident about their goals than pre-retirees.
Introducing the AustralianSuper-Monash University Retirement Confidence Index
The Retirement Confidence Index is in its third year, and surveys over 3000 Australians aged over 50. The study is planned to continue across the next decade and provides a comprehensive look at Australians' attitudes toward retirement – both before and after retiring, – and behaviour in retirement. Approximately, half of the individuals in the survey are pre-retirees and the other half have already retired.
For the first time, on behalf of Australians planning for, and heading into retirement, an attempt is made to gain an understanding of the subjective perspective of retirement – how it affects individuals.
The 4 pillars of retirement confidence
The study indicates that there are 4 distinct pillars of confidence in retirement, with 9 sub-pillars within them, which predict an individual's confidence in retirement. Interestingly, the actual size of their account balance is not one of them.
The 4 pillars are:
Financial awareness and skills
Health and wellbeing
Social factors
Retirement awareness and planning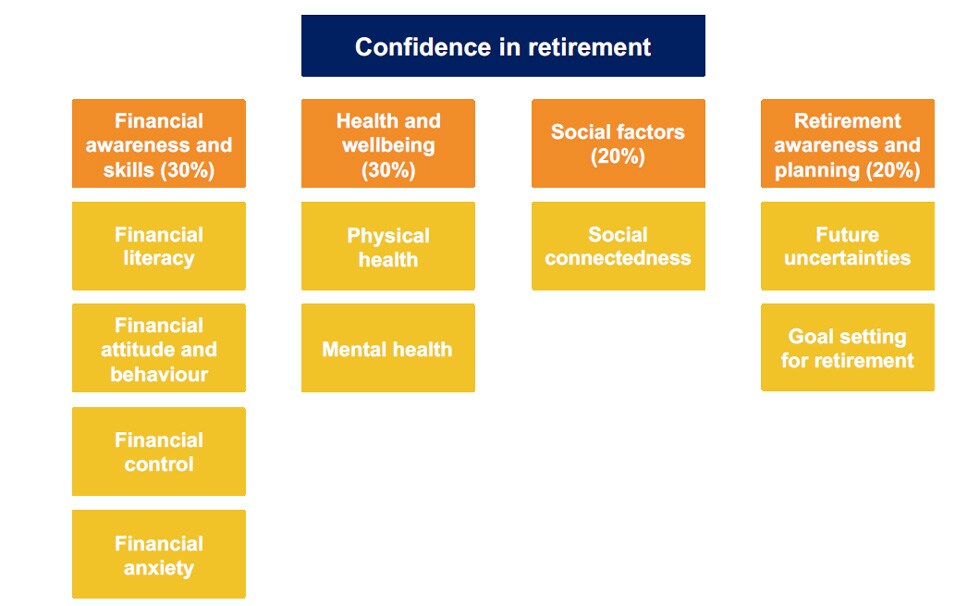 As you can see from the above chart, good financial literacy is an important part of confidence in retirement, but non-financial aspects – such as good physical health, social connectedness and future goals, are even more crucial to a retiree's outlook.
Clear goal setting helps boost confidence in retirement
Setting clear goals is an increasingly important predictor of retirement confidence, says Eraj Ghafoori, behavioural economist at AustralianSuper.
"More than half of the surveyed respondents were clear about their goals and expectations for retirement. Retirees were more confident about their retirement goals than the pre-retirees," he says.
"When setting goals, it's important to visualise the kind of retirement you want. The next step is to start gathering information about what you need to do to achieve the retirement you want. Once you know what you need to do, you can start setting specific and clear goals."
Heading into retirement, Ghafoori says there are 2 behavioural-finance trends that hold true for most individuals:
people underestimate their life expectancy, and
people overestimate their day-to-day spending needs in retirement.
"It's a very interesting paradox, and it's one that people probably need a couple of years of experience in retirement to come to terms with. Pre-retirees believe they will need to spend more money, but once retired, we've found they feel less anxious on this point. There's an element of their day-to-day spending while they were working, which they don't need anymore. For example, they may have bought lunch every day, or paid for a car park, or public transport – things they no longer have to do, but they're used to considering those items in their level of spending."
Physical wellbeing plays an important role
In addition to the 4 key factors, having a permanent shelter can also boost retirement confidence, says Ghafoori, and so do health and wellbeing, and social connectedness.
"A person's physical and mental health are extremely strong predictors of retirement confidence," he says. "Healthier individuals have a better retirement experience, and have a more positive attitude toward retirement. Even with money and friends, without a healthy body and mind, it may be difficult to enjoy retirement."
The importance of social connectedness
The mental health aspect is linked closely to social connectedness. "People who feel connected with families, friends and the wider community are more confident about their retirement – social connectedness is a 30% predictor of confidence," says Ghafoori. "I believe the significance of social connectedness in the level of confidence is understated, because social connectedness also influences your mental health."
"When you transition to retirement, there are natural changes to how you're connected to people. Your social and work-related connections change, and so do friendship connections. This is because you'll have different time schedules and commitments once you retire, which can all impact on the way you interact with people," comments Ghafoori. "You only experience the negative ramifications of not transitioning well once you are in retirement. Things like volunteering in your local community and joining social and hobby groups are excellent ways to help you become more socially connected."
People who retire in their own community are a lot more comfortable, says Ghafoori. They know where the shops are, they know where their friends are, they know where the local golf course is. "Whereas if someone retires into a new community, for example, if they transition into a new retirement village, then establishing new social connections early on is very important."
It comes back to planning and goal-setting, he says. "In retirement, people need to have a plan around income, around spending, and around shelter. Most people get that, but many don't realise before retirement that they also need to plan around staying active, and staying connected."
Find a seminar in your area
READ MORE: 2018 - AustralianSuper-Monash University Retirement Confidence Index
Sources
1. AustralianSuper Retirement Confidence Index 2018, 2019
This information is general financial advice which doesn't take into account your personal objectives, situation or needs. Before making a decision about AustralianSuper, you should think about your financial requirements and refer to the relevant Product Disclosure Statement. AustralianSuper Pty Ltd ABN 94 006 457 987, AFSL 233788, Trustee of AustralianSuper ABN 65 714 394 898.
Investment returns are not guaranteed. Past performance is not a reliable indicator of future returns.