Some of us have a picture perfect vision what our retirement holds – a holiday (or two), volunteering in the community or simply more time with the grandchildren. Whatever your unique plan may be, we all have different paths to retirement.
Although retirement might not be on your radar just yet, a report from Investment Trends (2016) reveals that over half of Australians retire earlier than they expected.i Some key reasons for unexpected retirement include health issues, becoming unemployed and caring responsibilities. This draws in to question, the role of retirement planning and when is the best time to start. Although it's never too late to begin, starting to plan now can help you live the retirement you deserve, no matter when that time rolls around. There are simple steps you can take today to prepare.
Know your financial position today
Early retirement may be a dreamy ideal, but not being able to choose the date you retire, can impact the money you have available in retirement.
Consider this scenario:
Let's say someone retired 10 years before they planned to because of health issues. That means less money is put aside for them in retirement.

A salary of $80,000 with super contributions from their employer of 9.5% amounts to = $7,600 added to their super balance per year.

Retiring 10 years early than expected could mean: $76,000 less added to their retirement money.
We had to make some assumptions to calculate the above which are listed for you below:
Salary does not increase over the 10 years

The amount could be higher than what is stated if the Superannuation Guarantee rate increases as per the Government prescribed schedule
Similarly, some people may think about retiring when they become eligible to apply for the Age Pension at around 65 years of age.ii But being forced into retirement at an earlier age may have an impact on their ability to apply for the Government Age Pension, leaving them more reliant on other income sources.
Having a good knowledge of the money you have available to you if you stopped work unexpectedly - including super, savings, government entitlements or income from other investments such as property or bonds - is a great first step in your planning process.
From here, you could then try to calculate your daily expenses such as bills, food and entertainment as well as any emergency costs such as repairs or health costs. But remember, factor in the costs that may also go down such as work expenses or the kids moving out of home. Your current financial position can be best summarised by knowing if you have got enough money coming in to cover all the expenses.
Know when you can access your money
Super is a long term investment. It is designed to support you with an income source when you retire. That's why super is 'preserved' until an age determined by the Australian Government. Currently this age is between 55 and 60 depending on when you are born.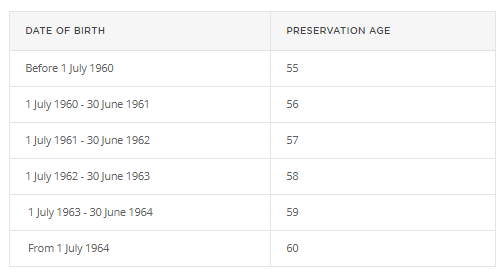 Reaching preservation age means you could use your super as an income source if you happened to retire unexpectedly. Your choices include:
Accessing super as income payments - similar to receiving a paycheck from your employer - such as through a retirement income account

Taking your super as a partial or full lump sum, or

Keep your money in super to give it more time to grow
Find out more about the benefits of accessing your super as payments in retirement
Speak to someone
As you approach retirement, planning for your financial future doesn't need to be a something you tackle on your own. There are several education and advice options available. Attending retirement seminars, such as those run by AustralianSuper, can provide you with an overview of things to think about as you approach retirement. AustralianSuper offers members different types of advice to suit the level of help they are looking for.
Register to attend a How to Save More Super seminar
Learn more about our advice options
Ready to start planning your retirement?
Whatever your plans are, your retirement journey is unique to you. Planning ahead can make a big difference in the quality of your finances in retirement and help you feel in control even if retirement comes earlier than you expected.
References:
i Investment Trends (2016) 'Retirement Income Report'
ii Age pension eligibility: You must be 65 years or older to apply for the age pension. From July 1, 2017 the eligibility age is 65 years and 6 months
Disclaimers:
This information is general financial advice which doesn't take into account your personal objectives, situation or needs. Before making a decision about AustralianSuper, you should think about your financial requirements and refer to the relevant Product Disclosure Statement. AustralianSuper Pty Ltd ABN 94 006 457 987, AFSL 233788, Trustee of AustralianSuper ABN 65 714 394 898.
The financial advice you receive may be provided by a third party and not by AustralianSuper Pty Ltd (AustralianSuper) and therefore will be their responsibility. Some personal product advice provided may attract a fee, which will be outlined before any work is completed and is subject to your agreement. With your approval, the fee for advice relating specifically to your AustralianSuper account(s) can be deducted from your AustralianSuper account